From diabetes to medicine-free: How FFD changed my life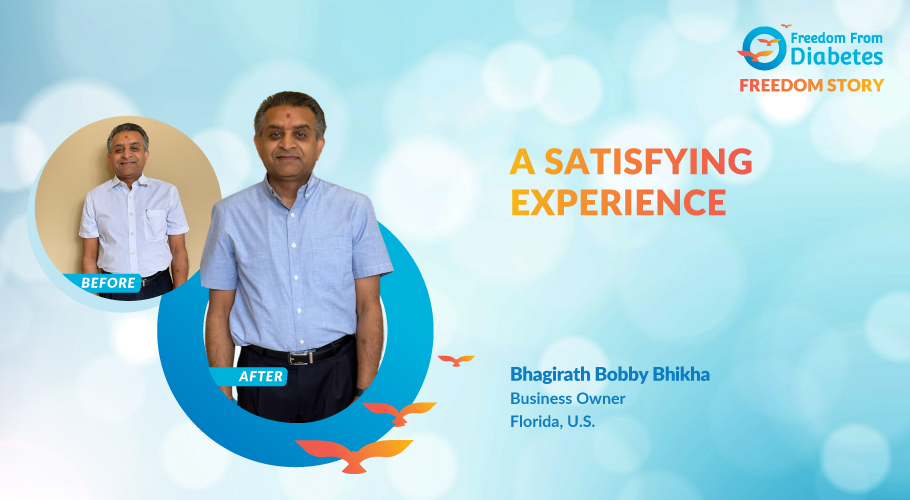 A satisfying experience
Name- Mr. Bhagirath Bobby Bhikha
Age- 58 Years Young
Profession- Business Owner
Place - Florida, U.S.
Hello all,
I'm Bhagirath Bobby Bhikha, a business owner from Florida, U.S.
My diabetes story


I was diagnosed with diabetes in 2013 after a medical exam.

On my father's side, I do have a history of diabetes, and my long workdays only add to my stress.

I have also been taking medicine for high cholesterol since 2010. Underwent surgeries like gall Bladder and Spleen removal in 2007, kidney stones in 2007 & 2013.
How did FFD happen?


FFD was introduced by a friend.
What made choose FFD?


I was only 57 years old and generally in good health. I didn't want my diabetes to ruin my life. I noticed that there are no drugs used in the treatment of FFD. Just the food and exercise. All of this was motivating. I enrolled in Freedom from Diabetes type 2 diabetes reversal program - HTP immediately

Mr. Bhagirath Bobby Bhikha
Reversal story


The four FFD protocols are truly remarkable.

The best piece of news for me was that the need for my diabetes medications completely stopped after only 6 weeks.

I never expected my nine years of diabetes medication to end so quickly. I've never been overweight, but FFD helped me lose a sizable 5 kg.

My HbA1c improved from 6.5 to 5.7. My goal is to appear at least 10 years younger.
Key quote
'It feels great to be medicine free and healthy'
Key takeaways
Medicine stopped
Weight loss 5 kg