HOW I BECAME FREE FROM INSULIN & CHOLESTEROL TABS IN JUST 9 DAYS!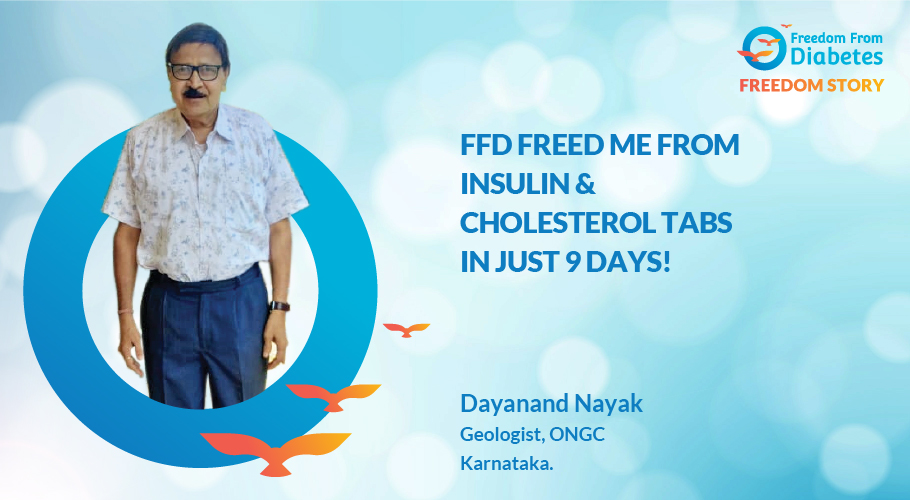 All his life, Dayanand has been busy exploring for oil, ironically he discovered an excess of it in his own body—in the form of high triglycerides. And that was not all. He also discovered he had diabetes. For over 30 years he battled his afflictions with tablets and insulin shots. But as his medicines and dosages kept increasing, so did his medical problems. Finally, after 3+ decades of mounting complications and medicines, he found the way back to good health. And it took him just 9 days in all!
How did he do it? Read on to find out.
When did you find out you had diabetes.
I am a geologist. For about 35 years, I worked with ONGC exploring for oil. Annual medical check-ups are a routine part of my occupation. During one such checkup, I was diagnosed with diabetes, with a borderline PP count of 135 -145 and relatively high triglycerides. A double whammy.
I was 34 years, and little did I know how drastically my life would change
I must mention that I do have a family history of diabetes. My mother was a diabetic, she took medicine for about 30 years, and died due to heart attack.
How did you manage your diabetes?
When I was in the 35-45 year range, I faced problems of frequent urination, thirst, and occasional giddiness. From 45-55 years, the intensity of my problems increased, i.e. frequent urination & thirst; I also began to suffer from numbness at my fingertips, tiredness, low levels of energy & stamina, hunger, and memory loss. After a few hours of work, I used to suffer from headaches, too.
From 55-61 years, all the above problems intensified. At 61, I was prescribed insulin, as my HbA1c levels had crossed 13. I started with 18 units. Within 2 years the dosage went up to 28 units per day.
In short, things were getting worse. It was time to take concerted action.
What about your cholesterol?
When I was 35 I was posted at Ahmedabad. Tempted by the easy availability of local fried foods, like Gota, Pakaudi, etc. I overindulged. This increased my oil intake and was the major reason behind my rising cholesterol levels.
When and how did you get on the reversal track?
I came to know about FFD through my elder brother Vishwanath Nayak. Both of us joined the 62nd batch of FFD's Intensive Reversal program. Joining FFD was the wisest decision I could take.
Tell us about your reversal journey.
I diligently started following FFD's 4 protocols, of medical, diet, exercise, and internal transformation, and my insulin units dropped drastically. My FFD doctor was reducing almost 3 to 4 units every alternate day. In just 9 days my daily dose of 28 units of insulin dropped to 0. Interestingly, the cholesterol tablets which I was taking for 21 years stopped just within 5 days' time. Weight-wise too, I was a big winner, losing 10 kg in 90 days. I had made progress from all angles.
Stopping 21 years of cholesterol, tablets was a big and rare achievement, for which FFD nominated me in the "Longest dyslipidemia reversal" category in the annual Muktotsav event.
Today, I am totally free from many ailments. I feel light, calm, fresh. Even my skin texture has improved visibly.
Although I occasionally take diabetic medicine as advised by the FFD doctor, I do not need any medicines for high cholesterol, neuropathy or any other problems.
What's next for you?
My next target is to become free from tablets with the blessings from FFD team.
I am deeply grateful to Dr. Tripathi and his well-organized and talented team, their guidance and support brought me back to good health.
FFD's ONLINE FIRST SESSION is the starting point of your road to Freedom From Diabetes. It gives you an overview of how Diabetes Reversal actually happens. Join the online session from the comfort of your home
For details, click at https://bit.ly/3bxW9pv