How I lost 27 kg with FFD's help - Sagar from Canada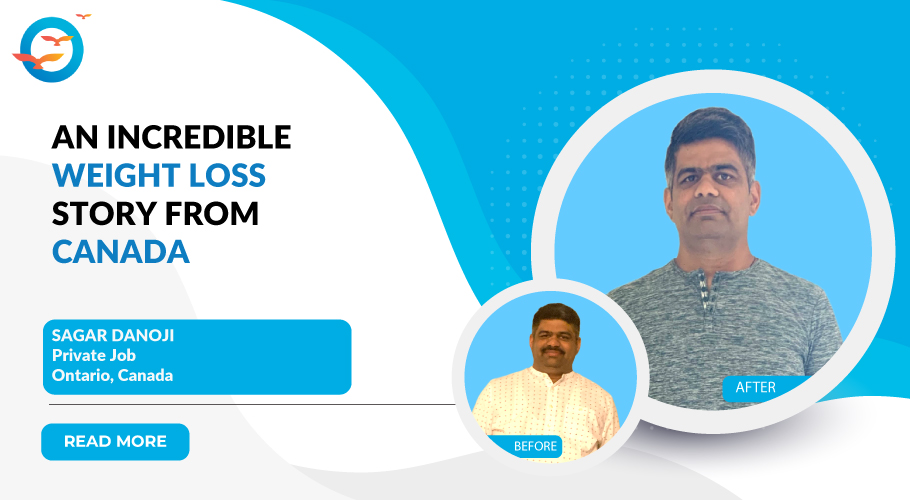 An incredible weight loss story from Canada
Name - Mr. Sagar Danoji
Age - 42 Years Young
Profession - Private Job
Place - Ontario, Canada
Hello all,
I'm Sagar Danoji from Ontario, Canada.
My story


My primary concern at the time was my weight, which had reached an uncomfortable peak of 113 kg. I had been feeling sluggish and lethargic for the past two years.
Initially, I experimented with free online diet programs to shed some pounds, but they only yielded temporary results as my weight inevitably returned to its original level.
I also attempted strategies like skipping dinner and incorporating salads into my diet, but these efforts proved ineffective in achieving weight loss.
I also needed medicines for high cholesterol and hypertension.
How did FFD happen?

I first learned about FFD through Mr. Mayur Hittin, who is not only my college classmate but also a participant of FFD program.
What made me choose FFD?

My friend Mayur initially introduced me to the FFD program, instilling strong optimism in me regarding its effectiveness.
The introductory webinar by Dr. Pramod Tripathi added to my confidence and I enrolled in Freedom from Diabetes type 2 diabetes reversal program - HTP immediately.

Mr. Sagar Danoji
My FFD story

In simple terms, my experience with the FFD program can be compared to a book with pages that detail various foods and exercises.
I began by carefully discerning which options were suitable for me and which ones to steer clear of. During the initial three months, I diligently adhered to the FFD chart, faithfully following the recommended exercises without any deviations.
However, in the fourth month, I occasionally indulged in restaurant food, roughly about 2-3 times.
As for exercise, while FFD offers a diverse range of workouts, my body seemed to respond best to activities like running, the nitric oxide dump, and, of course, yoga.
Lastly, I couldn't have succeeded without my wife Prema's efforts in preparing diet meals. In actuality, she was a time manager and meal planner.
Below are the details about weight loss and medicines.


Total Weight loss - 27 kg in 4 months
May 15, 2023 to June 15, 2023 - 13 kg Loss.
June 15 to July 15- 7 kg Loss
July 15 to Aug 15 - 4kg loss
Aug 15 to Sept 15 - 3
Medicines

In the month of June my doctor reduced the Blood Pressure medicine from 40 mg to 20 mg. August month completely stopped medicine for Cholesterol.
I take immense pride in my current state, and I feel a profound sense of well-being in every aspect – physically, emotionally, and mentally. When I encounter individuals who struggle with excess weight, I find myself urging them to consider joining the FFD program. In simple terms, I now feel like I am a decade younger than my actual age!
In terms of my daily routine, I make an effort to wake up early, usually around 6 am. I incorporate three days of strength exercises lasting 45 minutes each, two days of 30-minute yoga sessions, and five days dedicated to jogging for 30 minutes.
Additionally, I engage in water exercises for 45 minutes on three days of the week. I strictly adhere to the FFD diet plan, and I particularly enjoy breakfast and lunch while often skipping dinner.
I would like to thank all the FFD team especially my dietitian, Mrs. Sushmita Shekhar, who has made a significant impact, deserving recognition for her exceptional contributions.
I'm particularly impressed by her guidance for two main reasons. Firstly, she maintains a concise and informative approach when addressing my queries, avoiding unnecessary embellishments in her responses.
Secondly, her responsiveness is remarkable – she consistently provides prompt and timely responses to my questions, promptly returning calls or messages.
Key quote
"Losing 27 kg is a great accomplishment. Thank you FFD for doing a commendable job."


Key takeaways
Weight loss 27 kg in 4 months
Superb diet plan
Enhanced confidence