How I went from 92 to 75 kg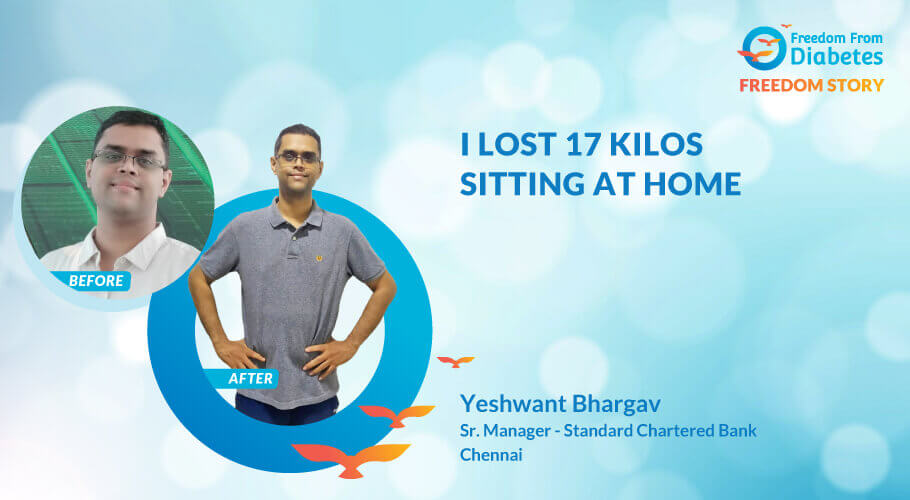 Weight Loss Success story: "I became a New person After Losing weight"
Name- Mr.Yeshwant Bhargav
Age- 36 years
Profession- IT Professional, Sr. Manager
Place - Chennai, India
Being overweight is definitely not a good thing. Excess weight brings in a lot of other problems too - like in my case, it gave me high triglycerides.
I am an IT Professional. I work as a Sr. Manager - Business Solutions at Standard Chartered Bank, Chennai.
A sedentary lifestyle plus work stress might have led me to be overweight. I was already obese with 90 kgs and COVID lockdowns added to my weight.
The excess weight had done its job, I was on medications for high triglycerides. My HbA1c was also in the pre-diabetic zone.
All this was definitely worrying. Plus I had to look for some solution for my father as well, who is a diabetic.
Two of my close relatives were FFD alumni. Their transformation inspired me to take this up. I joined FFD (Non-diabetic program) along with my father Narayan Bhargav (joined the diabetic program) who has been on insulin for 25 years.
joined FFD in December 2020, Diabetes Reversal Program i.e HTP Batch 65. I was 92 kgs at that time. By May 2021 (within 5 months) I reached 75 kgs a good 17 kg drop and very proud to share that have been maintaining this weight since then.
FFD Diet protocol and exercise regime made all the magic. I have stopped my Triglycerides medicines now and my HbA1C is back in control at 5.4.
My dad has also made amazing progress with his HbA1c dropping from 12 to 6.1. He is on his path to freedom from insulin.
FFD has been a life-changing experience for me and my father. Sincere thanks to Diabetes Specialist Dr. Pramod Tripathi and the entire team of doctors, diet and exercise experts.
They all have been so motivating. It is great to undergo this transformation sitting in the comfort of our homes (with Discover Reversal Session). My family has been very supportive and all of them have benefitted from traveling this journey with me.