Jayashree Savkar: 9 Years of Diabetes Reversed just in 2 Days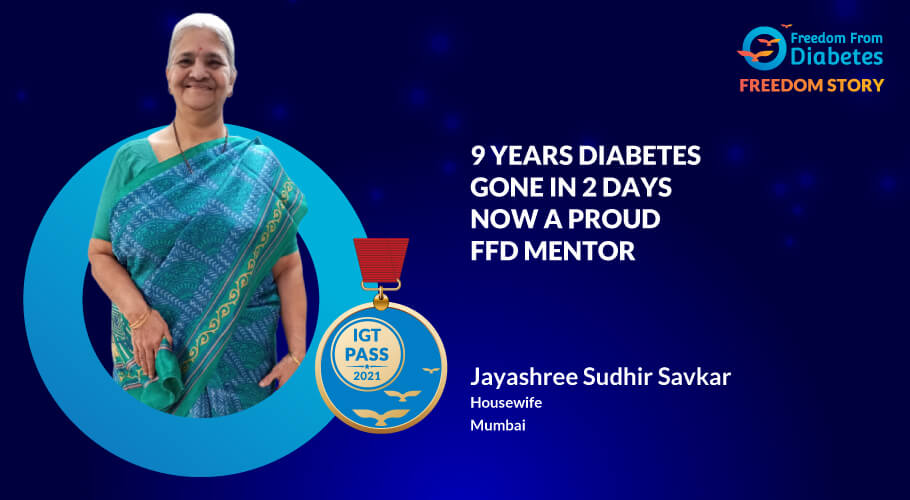 Name- Mrs. Jayashree Sudhir Savkar
Age- 67 years
Profession- Housewife
Place - Mumbai
We all know, health is not just physical fitness. It is achieved by balancing oneself physically, emotionally, and mentally - in all spheres. FFD showed me the right way to become healthy.
I am a housewife but have many hobbies which I pursue regularly. I play the sitar, enjoy sewing and stitching, and listening to music.
Earlier, I also used to volunteer as a reader for visually-impaired girls at a school in Andheri, Mumbai. Currently, I am a proud FFD Mentor.
I clearly remember the date, my diabetes was diagnosed on 9th July 2011. I was experiencing itching in my private parts for some time.
My brother, who is a doctor, advised me to get my sugar checked. Sure enough, I was diagnosed as diabetic and started consulting a local diabetologist immediately. Fortunately, my sugar levels were not very high.
My father was diagnosed with diabetes in his late 60s. Later I came to know, it is called adult-onset diabetes, diabetes happening in the later years of life. This also means, there is no strong family history.
Thanks to timely diagnosis, my sugar levels were not very high. Though I had issues with high cholesterol, hypertension, back pain, I did not have to face any major problems as such. I was maintained on, 3 tablets - 2 for diabetes, 1 for blood pressure.
I came to know about FFD through my sister-in-law (who also joined FFD with me). Incidentally, within the next few days, I came to know that an introductory program by Dr. Pramod Tripathi was going to be held near my house.
Mrs. Jayashree Sudhir Savkar
I immediately registered and attended the Discover Reversal Session with my husband. We both loved it and registered for the upcoming TRP batch then and there.
For the uninitiated, TRP is Transcendental Residential Program a special 7 nights/8 days program conducted by FFD which provides a live experience of the FFD protocols.
TRP experience was superb - the atmosphere at the hidden oasis, the charged up FFD team of doctors, exercise experts, diet experts, meditation sessions, etc. On the very second day of TRP, I became free from diabetes medicines. I was declared 'Free Bird' then.
Weight loss was interesting. When I had joined FFD, my weight was 87 kg. Within the first 3 months, I lost 16 kg. Thereafter, I was further reduced to 62 kg.
I was very happy and motivated by this, as I had been trying for years to lose weight but in vain. Also, I had faced much ridicule over the years for my weight.
But after my weight loss, I began getting many compliments from people. This further encouraged me and also built my self-confidence. I also felt much more energetic and fresh.
FFD treated me not just at the physical level but also mentally and emotionally. I realized that I had been holding on to many negative thoughts which were harmful to my health.
Doing the inner transformation processes and with the support of all my batch mates and doctors, I could break out of this mindset.
This further helped me become a healthier and more positive person. Most importantly, I realized that it all began with ME - by changing my perspective and learning to value myself, I could bring about many good and happy changes in my life.
I also cleared the GTT in 2019, and IGT in 2018, 2020, 2021.
As of today, I am still free of all diabetes medicines. My BP medicine dose has also been reduced to half, and my thyroid (which had been diagnosed during TRP) is also under control.
I also discovered some hidden talents in me. I got the opportunity to speak for a few minutes during Muktotsav 2019, and also during a Mentors Meeting recently.
This was my first ever public speaking experience and it made me feel really proud and confident.
After seeing my progress, I thought I should give it back by helping others. So, have voluntarily become an FFD mentor and I enjoy interacting with my mentees. I try to support them in their freedom Journey to the best of my ability.
Thank you, FFD, for this great life!