Kishore: A miraculous freedom story from Hyderabad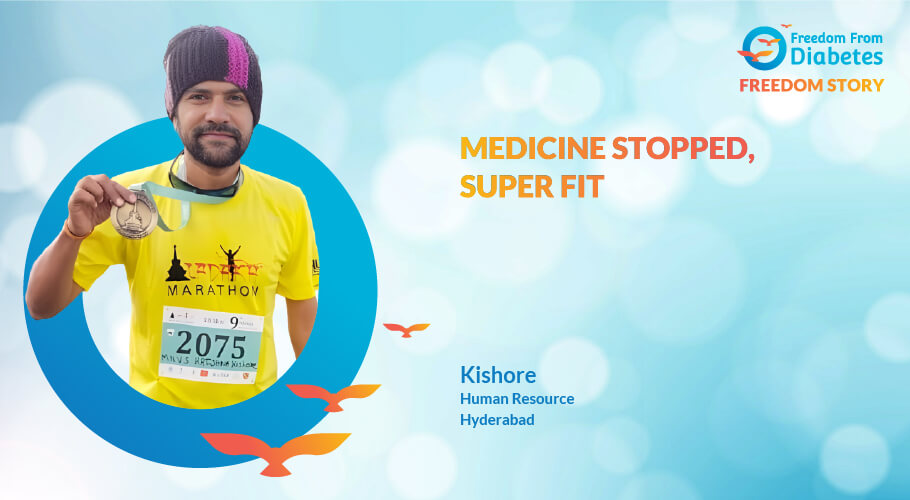 Medicine stopped, super fit
Name- Mr. Kishore
Age- 45 Years Young
Profession- Human Resource
Place - Hyderabad


Hello Friends,
I'm Kishore from Hyderabad. I am into Human Resources with a specialization in recruitment for the last 18 years.
My diabetes story




I used to be very active. I realized I had gained weight at some point in time and then faced a sudden weight loss. I did not realize what was the reason and kept doing wrong having non-diabetes-friendly food. As a result, I lost more weight.
Concerned, I consulted my doc who asked me to go through the tests. My diabetes was shocked to find PP sugars in the 600s with HbA1c 16.5.
I was prescribed Metformin by my local doctor but that also was not helping. I felt Metformin was not the solution to control diabetes and I need to do something about it.
How did FFD happen?


I started browsing the internet, came across the FFD website, and went through the videos. FFD people have vast knowledge about diabetes and health. Nobody provides so much information.
Why did I choose FFD?


All the research done about FFD gave me a feeling of trust. I felt this is reliable and that I should take this course. I enquired and came to know that there is a one-year program named HTP which has helped thousands become free of diabetes medicines and other lifestyle disorders too.
I signed up for Freedom from Diabetes type 2 diabetes reversal program - HTP immediately.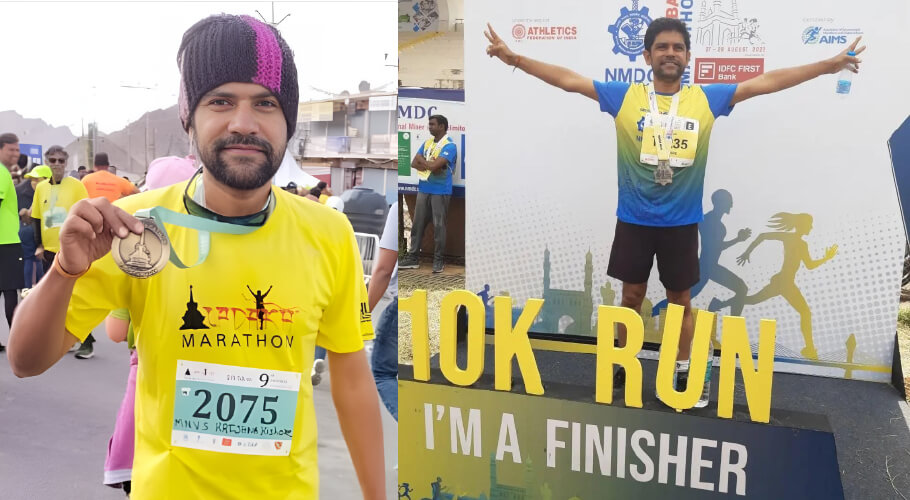 Mr. Kishore
Reversal story


I was dealing with diabetes for 8 years and at one point had got very depressed. FFD showed me a ray of hope. My intuition to opt for this program was right.
My diabetes medicines took only two months to fully stop which I think is a great achievement. I was in the correct BMI category so did not need to reduce weight. Still, I lost around 5 kg which was helpful.
When I joined FFD, my HbA1c was 9.5, after 3 months it came down to 7.2 and now it is between the 5.5-6 range. I have always dreamt of climbing mountains so trekking is my area of interest.
My fitness story with FFD




Before beginning to describe my journey toward fitness, I would like to share that I suffered from a heart attack in January 2022. At that point, I was advised to forget my dream of climbing mountains and to restrict myself to just walking.
My heart was not ready to accept this. I followed the FFD diet, exercised more than what was recommended, and grew my fitness level.
By now I have successfully -
Travelled to the Himalayas at least 3 times after a heart attack
Climbed the Sikkim Mountain with an altitude of 17800 feet.
Finished first marathon run of 10.5 Km (Ladakh marathon) within 1 hour 48 minutes.
Recent run was in Frozen Lake - 21.9 km


My cardiologist was astonished to see my results and gave me the green signal. I am the first cardiac person to have run that high altitude. I owe all this success to FFD.
Without their guidance on diet, I could not have achieved this kind of success. I would like to thank my wife for all the support she has given me on this journey.


Key quote
"Thanks to FFD for showing me the path to health and fitness"


Key takeaways
Medicine stopped
HbA1c drop 9.5 to 5.5
Super fit