Motivational shoulder pain reversal story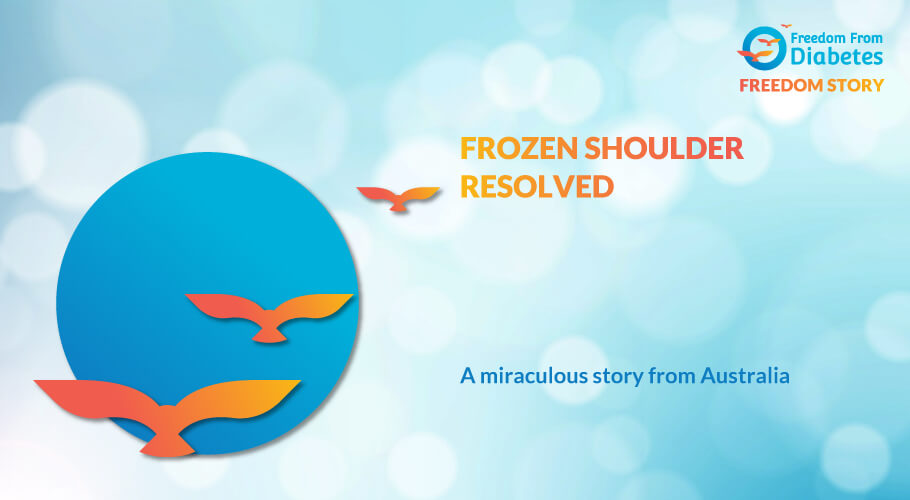 Frozen shoulder resolved
Hello All,
I am a housewife, presently residing in Australia with my son and daughter-in-law.
My pre-diabetes story


The routine medical checkup in 2022 disclosed I was borderline diabetic. Family history-wise, there is a history of diabetes on my paternal side, it was never on my mind.
Shoulder pain story


The pain in my shoulder came to notice one year ago. It happened suddenly. I realized that I could not move my hand normally, and it was painful too. The pain score was 7 on a scale of 1-10. I also suffered from knee pain.
How did FFD happen?


My son's father-in-law was getting treatment at FFD and his progress was very impressive.
What made me join FFD?


I wanted to reverse my pre-diabetes and lose weight too. Saw hope in FFD and enrolled in the FFD type 2 diabetes reversal program - HTP.
Reversal story


As I had to go back to Australia I could not follow the program properly. Now it has been just one month into the program and I hope to get magical results like others.
Pain reversal story


The FFD team took all my details before beginning the program. That time, I had mentioned my frozen shoulder and knee pain. The FFD exercise expert was of great support. I was recommended some simple yet effective stretches and shoulder pain exercises.
The pain has resolved to a large extent. I can rate it at 4-5 now. The knee exercises have also helped me a lot. Thanks to the FFD exercise expert.


Key quote
"It is a great feeling to have associated with FFD."
Key takeaways
Frozen shoulder resolved
Knee pain resolved