My freedom from diabetes came with a pleasant bonus: a totally new wardrobe!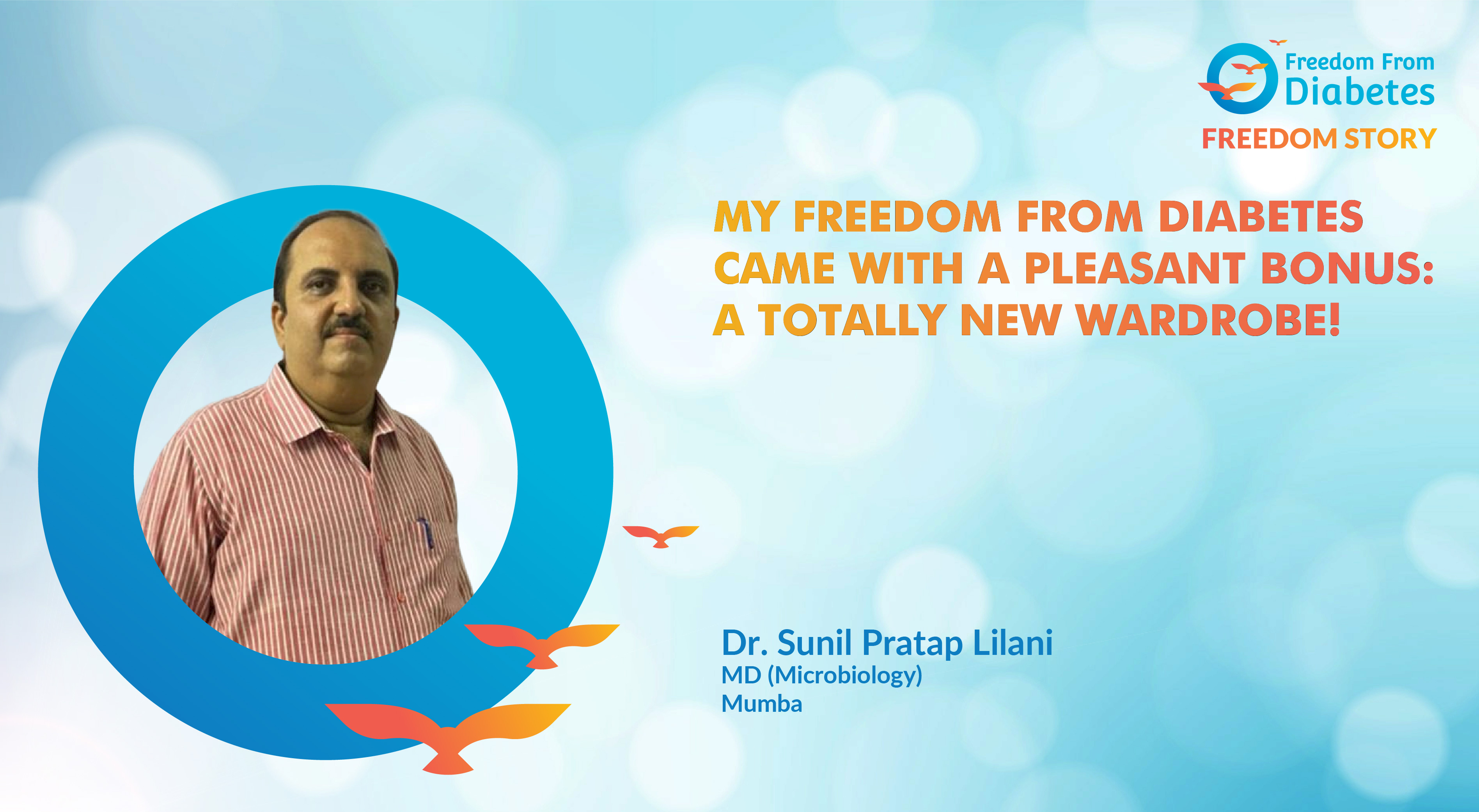 Name- Dr. Sunil Pratap Lilani
Age- 51 years
Profession- MD (Microbiology)
Place - Mumbai
I'm the Head of the Department of Microbiology at SBH Govt. Medical College, Dhule, currently posted at Directorate of Medical Education & Research, Mumbai as an Officer on Special Duty.

In 2010, during a routine health check-up, I was diagnosed with diabetes, which possibly has a genetic cause as my father too has diabetes. The diagnosis came as a bit of a surprise as I hadn't experienced any symptoms at all.
My doctor put me on oral medication (Metformin) and later I was also taking Inj. Victoza (Liraglutide), which is a non-insulin medication taken once a day, and administered with the Victoza pen.
Nobody likes to have to take medicine daily, least of all doctors. I used all the knowledge and information at my disposal to find a way out. But, frankly, it didn't look good.
Then one day a friend of mine, who happened to be a past participant of the FFD program, told me about it and convinced me to give it a go. I did my due research and was quite impressed with the organization's diabetes reversal program and the success it had enjoyed.
Dr. Sunil Pratap Lilani
And so, in August 2021, I enrolled in FFD's Holistic Transformation Program, Batch 73. My weight at the time was 121.25 kg. My sugar levels HbA1c were in the normal range—but only with the above medication.
I committed myself to the program and stringently followed all the protocols. FFD's experts are truly deserving of the 'expert' tag and quite empathic to boot. With their support and guidance, I was able to get off all my diabetes medication (both Metformin and Victoza), and have been free from both since the past 5 – 6 months. My fasting sugar level did spike a bit when I stopped all medication, but now that too is under control.
As a big bonus, my weight dropped to 108 kg. And I also have achieved significant inch loss. My waist size has come down by more than three inches. I have had to invest in a totally new wardrobe!
I am not on any medication for diabetes, currently. My HbA1c reading—tested in Feb 2022, just a couple of months ago—was 6.8
I consider myself very fortunate to have be part of FFD and pray that the good work that Dr. Pramod Tripathi and his team are doing continues to bring hope and happiness to many more lives across the world.