Overcoming diabetes: My journey to becoming medicine-free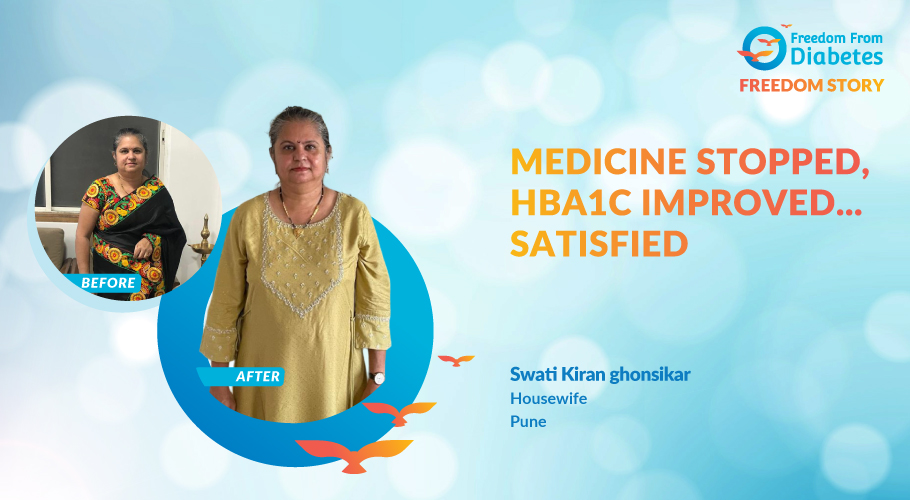 Medicine stopped, HbA1c improved... satisfied
Name- Mrs. Swati Kiran Ghonsikar
Age- 54 Years Young
Profession- Housewife
Place - Pune, Maharashtra
Hello all,
I'm Swati Kiran Ghonsikar a 54-year-old housewife from Pune.
My diabetes story


I started to experience an odd itching in the year 2020, which prompted me to visit my doctor. Unexpectedly high sugar levels were found.

My doctor informed me that having high sugar levels was the cause of my itching. I started taking medications at that point. My mother did suffer from diabetes.
How did FFD happen?


My husband and Dr. Pramod Tripathi are good friends. When he discovered that FFD was helping diabetics become free from medicine, he advised me to join.
What made choose FFD?


People who received FFD treatment saw amazing results. I also desired to be medicine-free. FFD offered assistance. I immediately signed up for the FFD type 2 diabetes reversal program HTP.

Mrs. Swati Ghonsikar
Reversal story


I was determined to stop the medication. My sincere approach to the program produced positive results.
In 15 to 20 days, I stopped taking medication, which was fantastic.

The four FFD protocols are truly remarkable. I did not notice much improvement in my weight. I only lost up to 2 kg.
I reduced my HbA1c from 10 to 6.0 which I think is amazing progress.
I enjoy exercising at home and going for walks.
Key quote
"FFD helped me achieve my goal. I am extremely satisfied with the treatment. "
Key takeaways
Medicine stopped
HbA1c improved