Parag Purushottam Deshpande: How I reversed 19 years of diabetes with FFD's help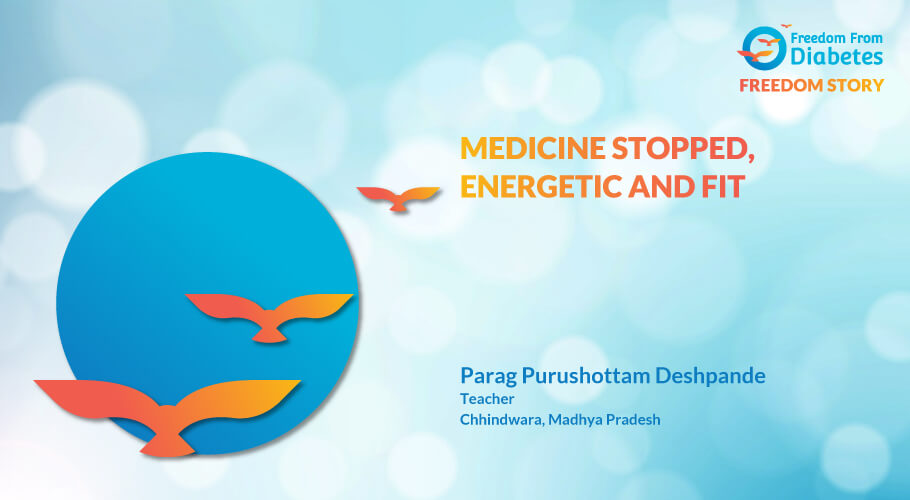 Medicine stopped, energetic and fit
Name- Mr.Parag Purushottam Deshpande
Age- 55 Years Young
Profession- Teacher
Place - Chhindwara, Madhya Pradesh
Hello all,

I am Parag Purushottam Deshpande from Chhindwara, Madhya Pradesh.
I am into teaching and conducting coaching classes.

My diabetes story
A sudden weight loss in 2002 led me to visit my doctor. Test results confirmed diabetes.

Family history-wise, I do have a diabetes history on the maternal side. Both my parents got it but in their old age.

My sugars were so high that I was put on 15 units of insulin in the morning and 12 units in the evening. I started exercising walking, pranayam, surya namaskar and saw good results. Insulin got stopped from then on but needed to be maintained on medicines.
How did FFD happen?

I learned about FFD through a past participant.


What made me choose FFD?

I wanted to be free from medicines and become fitter. With FFD, I saw a hope of going free of medicines.

The introductory webinar by Dr. Pramod Tripathi added to my confidence and I enrolled in Freedom from Diabetes type 2 diabetes reversal program - HTP immediately

Reversal story
Joining the FFD program was the right step I took. The 4 FFD protocols namely diet, exercise, inner transformation and medical are true pillars of good health. My diabetes medicines took 6-7 months to entirely stop, but I am extremely happy.

My HbA1c which used to be 6.9 on medicines has come down to 6.3 without medicines which is great.

I was never on the heavier side weight-wise, but I have lost around 4 kg which is good.

My morning exercise routine consists of walking, cycling, pushups, and pranayama. Evenings, I go to the gym.


Key quote
"FFD has taught me how important it is to work on all fronts for good health."


Key takeaways
Medicine stopped
Improved energy
Improved fitness