Puran Poli Recipe | how to make puran poli | Diabetes-Friendly maharashtrian Dish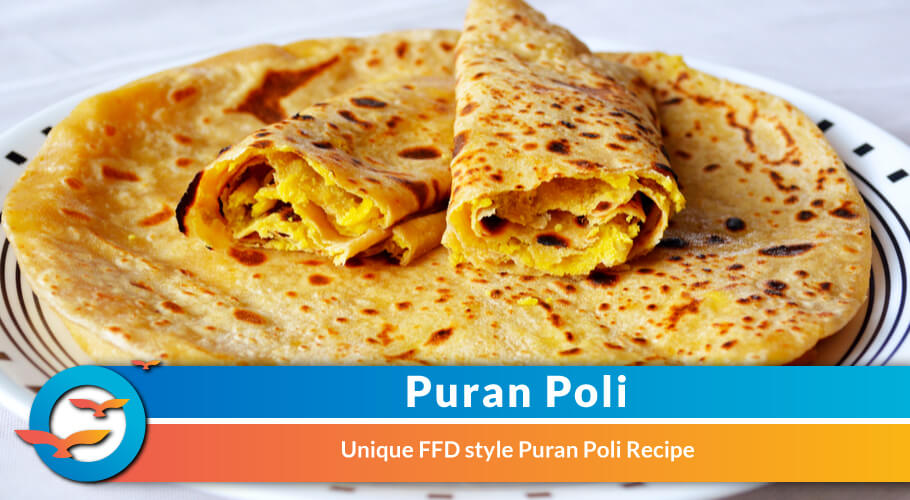 What does the name "Puran Poli" remind you?
Does it not remind you of the festive time. True! It is a famous Maharashtrian recipe prepared during Holi, Ganesh festival, Diwali, or any other festival. The various names for Puran Poli are vedmi in gujrati, oliga in Telugu, holige in Andhra Pradesh, payasabolli in Malayalam, etc.
What is Puran Poli?

Puran Poli is an Indian flatbread that is sweet in taste. It is made by stuffing a sweet lentil filling made from chana dal or spilt bengal gram and jaggery.
calories?

One puran poli gives you around 291 calories, which puts it in the high-calorie food category.
Now the immediate question that arises is


Is Puran poli good for diabetes?
What we generally know is a high-calorie diet. But if its ingredients are modified it can fall into a beneficial food item category too. The key should be to have it in moderation.
Today, we are going to learn to prepare 'how to make Puran Poli ' in FFD's special style. We guarantee you will like it and prepare it more often.
Recipe Features
This is absolutely a diabetic's delight. It's each ingredient is chosen wisely to make it diabetes-friendly. Usage of khapli wheat flour instead of American wheat flour, date paste instead of jaggery, and use of saffron all make it simply great.


| | |
| --- | --- |
| Course | Main/snacks |
| Cuisine | Indian |
| Total preparation time | 45-50 mins |
| Serving | 2-3 |
For Puran:
1¼ cup split Bengal Gram (Chana dal)


3/4 Cups black date paste


Stevia drops as needed


Pinch of Saffron (Kesar)


¼ tsp Green Cardamom Powder


Pinch of Nutmeg Powder
For the Dough;
1½ Cup Khapli Wheat Flour


Salt to taste


2 Tbsp Oil
Method:
Wash and boil chana dal.


Drain and coarsely grind it.


In a pan add the dal, grated black date paste, saffron, cardamom powder, and nutmeg powder and mix well.


Cook, stirring all the time till dry.


Add stevia drops as per the taste.


It should resemble a softball.


Remove and cool.


Divide the stuffing into 16 to 20 equal portions and roll it into balls.


Mix khapli wheat flour, oil, and salt.


Add sufficient water to make a soft dough.


Cover with a damp cloth and keep aside for one hour.


Divide dough into 16 to 20 equal portions and roll into balls.


Flatten each ball in your palm, stuff with one portion of Puran (stuffing), cover and seal the edges.


Roll out into 6 inches diameter thin poli or chapati.


Dust it if needed.


Heat the pan or tawa and cook until done on both sides.


Serve this puran poli hot with nut milk and virgin coconut oil.
Storage suggestion
It tastes best when served hot. You can store it in a cool dry place for a few hours too and then have it by reheating it.
Diabetics must keep a check on the food they eat. If we eat right each time, controlling sugars would become easier and more manageable. Plus, innovation and modification give us a lot of satisfaction too.
So, diabetics go for this "FFD style Puran Poli Recipe' and enjoy.
For many such modified and innovative diabetes-friendly recipes, do visit FFD's recipe section.
Personal care/personal attention adds value and gives good and speedy results. Who knows it better than FFD. Join our Discover Reversal Session, experience customized care, and see the difference!
For More similar Diabetes-friendly Snacks, you can check