Regaining health: My journey to a medicine-free life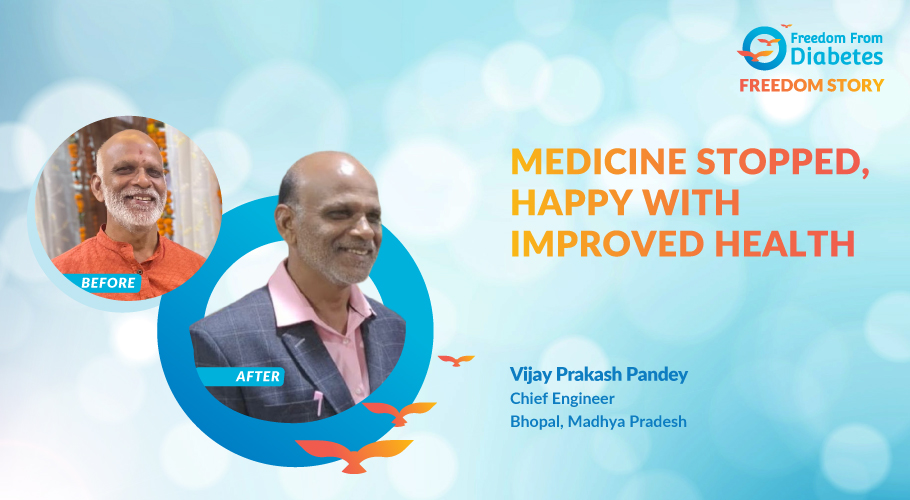 Medicine stopped, happy with improved health
Name- Mr. Vijay Prakash Pandey
Age- 56 Years Young
Profession- Chief Engineer
Place - Bhopal, Madhya Pradesh
Hello all,
I'm Vijay Prakash Pandey from Bhopal. I work as a chief engineer in a company and my job involves field work.
My diabetes story


One of the main factors to cause diabetes is stress. It was the stress of my father's illness and hospitalization for prolonged period that disturbed my system. Luckily, there is no family history of diabetes.

I was feeling hungry, weak with headaches. Tests reflected I was a diabetic. My sugars were not very high but Doctor put me on regular tablets for diabetes.
How did FFD happen?


My family and I believed that taking long-term medications was not a good idea, so we started looking for alternatives. My friend informed me of FFD and encouraged me to try it because it is safe, effective, natural and scientific way to reverse diabetes.
What made me choose FFD?


I never liked being on medicines. I also wanted to regain health. With FFD, I saw a hope of going free of medicines. The introductory webinar by Dr. Pramod Tripathi added to my confidence and I enrolled in Freedom from Diabetes type 2 diabetes reversal program - HTP immediately

Mr. Vijay Prakash Pandey
Reversal story


Joining FFD was one of my best decisions. The 4 protocols namely diet, exercise, inner transformation and medical are true health pillars. I was on cloud 9 when I got the best news of stopping my diabetes medicines. This took only one month.

My weight is stable and I am happy about it. I follow all the exercises advised by FFD exercise expert . I have been told to join a gym which I will by April.

FFD treatment has two positive aspects I think. One is stoppage of medicine has brought a lot of peace in me. Secondly, FFD just does not concentrate on reducing sugar levels but they also look into other health aspects like in my case, B12 level was borderline and I was advised pills to rectify it.

Just recently my uric acid level was found to be high. FFD doctor has also suggested me appropriate medicine for it. I would like to thank my FFD doctor Dr. Ashwini Bhanagay and other team members.

I wish you all success and hope to live fine as well as me.
Key quote
"My FFD journey has been wonderful.'
Key takeaways
Medicine stopped
Weight stable
Other parameters improved