Sushma Mathur: Not just my Diabetes Reverse but BP & cholesterol also in under control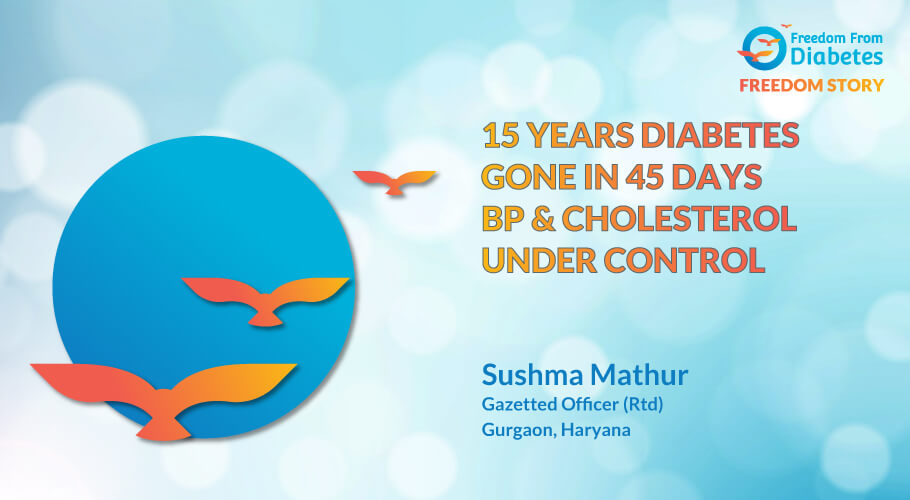 Name- Mrs.

Sushma

Mathur

Age- 64 years
Profession- Gazetted Officer (Rtd)
Place - Gurgaon, Haryana
How would you feel if you ask for one wish and all your wishes get fulfilled? I feel the same with FFD.
I am Sushma Mathur, a 64-year-old Retired Central Govt Gazetted Officer from Gurgaon, Haryana. I loved my job but there were times when I had to live alone due to transfers in my job.
My husband and daughter could not accompany me at each place. This was quite distressing. My diabetes was diagnosed in a medical check-up done in June 2006.
The test results were very shocking with my fasting reading being 250 and PP 350. My doctor was also surprised by these high numbers. I have no family history, how did I get it? was the question running through my mind.
Whenever the sugar levels go high beyond limits, our body definitely gives some indication. I suffered from boils in the armpits, skin irritation, uncontrolled urination, and weakness which I never had in my early life.
One more unusual thing that happened with me was I also used to sweat sitting in an Air-Conditioned room.
I did not take any insulin but was taking Vildagliptin 50/1000 bd and Metformin 500 mg after lunch for diabetes. Was also on medicines for hypertension since 2003 and medicines for cholesterol since 2019.
I got to know about FFD through a relative of mine. His experience was very encouraging for me and I decided to try it this way out.
Attended the Discover Reversal Session of Dr. Pramod Tripathi first and then enrolled for HTP program batch 73.
My journey with FFD started in July 2021. I was explained about the 4 FFD protocols on which we were going to work for the whole year of my program. Understanding, accepting, learning, and implementing was the process I followed.
Speaking to my mentor was the first step. My mentor gave me the right motivation by sharing his own experience. I had several diet and exercise-related queries which were solved by FFD people to my satisfaction.
The food program is excellent and very well-balanced. I was given various options and alternatives for my problems too. It was the point where I strikingly realized FFD's deeper knowledge and command over the topic.
In just a span of 45 days, the medications that I was taking for the last 15 years stopped. My blood pressure and cholesterol are under control now.
Weight-wise, I was never very overweight. My weight was around 56.7 kg initially and now my current weight is 49.4 kg.
I feel much more energetic and healthy from within. My confidence level has boosted. I have developed a positive frame of mind and leading a happy and healthy lifestyle. I would like to thank the entire FFD team for their amazing guidance and efforts.