12-years Medicine Stopped in just 3 days & Reverse Diabetes successfully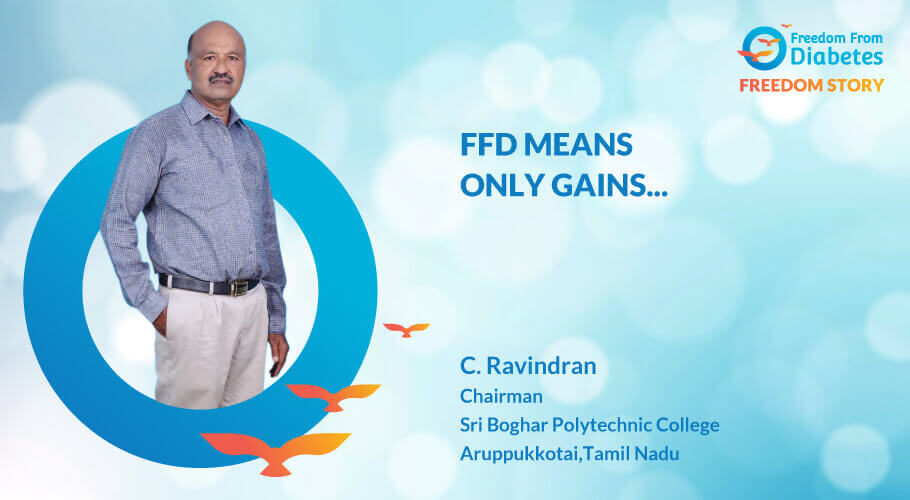 Name- Mr.C. Ravindran
Age- 57 years
Profession- Chairman
Place - Aruppukkotai, Tamil Nadu
The list of benefits coming to FFD is endless. The only side effect is my family is also benefitting along with me (jokingly).
I am B.E. M.B.A. positioned as a chairman at Shri Boghar Polytechnic College.
None of my family members suffer from diabetes. I came to know about my Diabetes during my Master's Health Check-up, 12 years back.
The news is definitely shocking but one has to accept the reality. Medicines began and the damages of the disease also.
Diabetes had affected my heart function and I suffered from a heart attack in 2017. Got angioplasty done and underwent stent placement for it.
Through these years I also suffered from constipation, Gases, Tiredness, Anger, Hypertension, Sensory Neuropathy, Hair Loss, Skin issues, Knee Pain.
Troubled with health, I was always in search of some solution. Came to know about FFD through YouTube and from then everything positive only has happened to me.
I first attended the online session of FFD's Diabetes specialist Dr. Pramod Tripathi gave me a rough idea about how diabetes reversal happens and in what way it is approached.
The diabetes Reversal Program session was an eye-opener and convinced me immediately joined HTP 59 starting from 13th June 2021.
My HTP batch 59 started by explaining to us to follow the phase 1 diet and exercise. Surprisingly, on the very third day of my joining FFD, I was told to stop my diabetes medicine.
It was something unbelievable as I just could not understand how 12 years of medicine can go off in just 3 days. But it was the truth. I was actually medicine-free in 3 days!
My gains in FFD's Diabetes Reversal Program are-
12-year long medicine stopped and free from medicine from day 3 to till now for more than a year.
30 kg weight loss
Waist size reduced by 27 cm.
HbA1C reduced to 6.1 from 12.
IGT cleared.
Heart-related medicine is half reduced.
Side effects of diabetes started reducing
Kidney function improved ( eGFR 78 from 65).
Foot numbness improved by more than 50%
Confident of full reversal in both kidney and foot issues (diabetes complications.
My monthly medicine bill was reduced from Rs 4000 to Rs 750 (Only for heart-related)
100 % relief from acidity and constipation
Regular suffering of cold /running nose/ fever once in every 3 months fully gone.
No cold, fever & no Doctor in the pandemic period of 1-1/2 years
Feel young, energetic & very light.
More confident & more clarity in thinking
The final big one is my son & my wife both started losing more fat, & are more fitter than ever without joining FFD just by doing 50 % of FFD's Diabetes reversal protocols along with me.
With such an amount of progress, I am voluntarily working as an FFD mentor and feel very happy in supporting people to improve their health.
I wish people should understand the importance of FFD's Holistic Transformation Program for the sake of their health.
Thank you, FFD.