126 units of insulin stopped in 75 days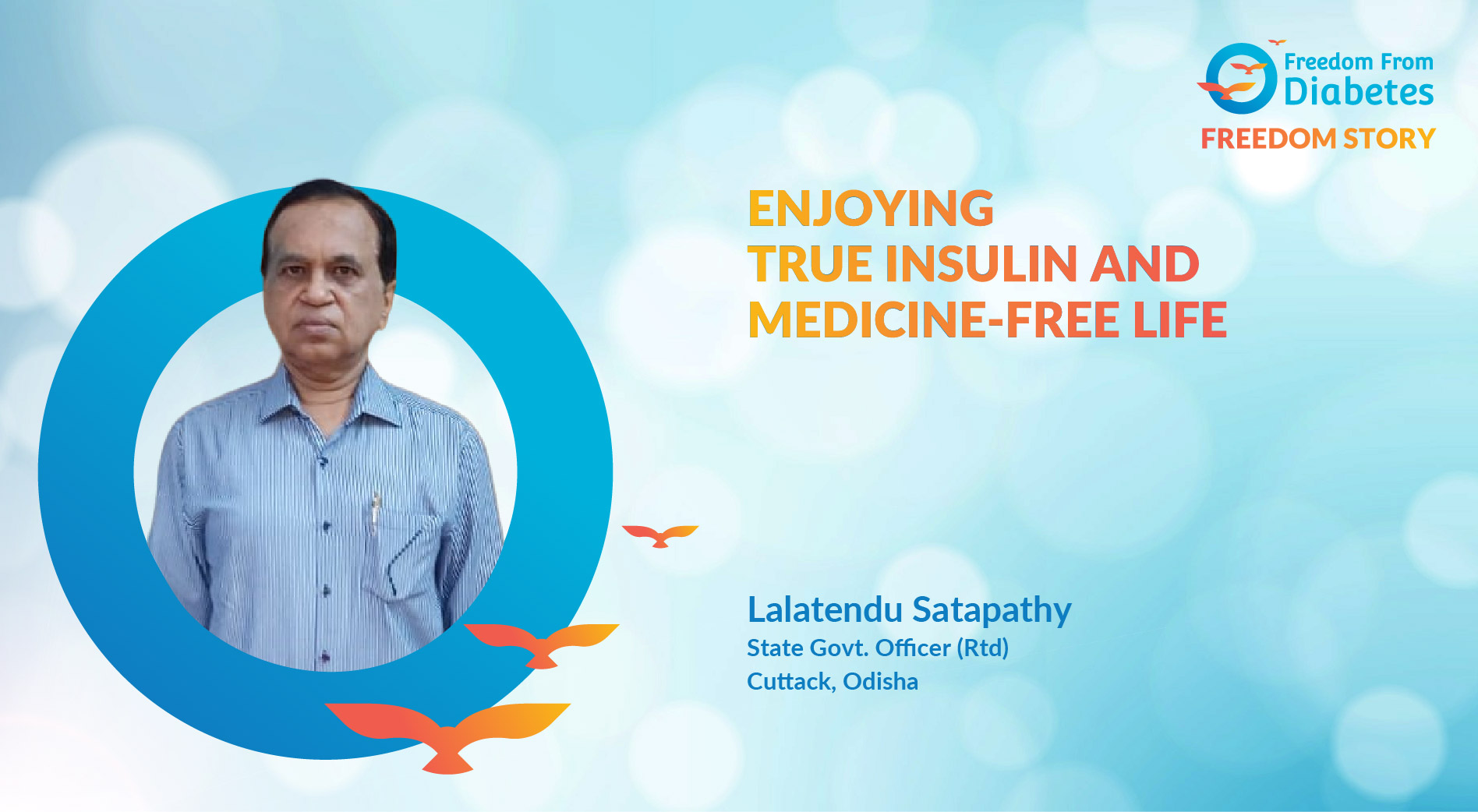 Name- Mr. Lalatendu Satapathy
Age- 59 years
Profession- State Govt. Officer (Rtd)

Place - Cuttack, Odisha, India
What made me join FFD?

Reversal of diabetes was the only way for my survival and Freedom from Diabetes was doing it.
Introduction

Hello friends,

I am Lalatendu Satapathy, a 59-year-old, retired State Government Administrative(Revenue) Officer, now doing consultancy in the field of Land Administration e-Governance projects. I do not have any medical history of diabetes in my family. Stress-wise, there has been some amount of professional stress.
How did I come to know about my diabetes?

I was declared diabetic in June 2006 following a blood test but looking at the high fasting blood sugar level of 376 it was said to me that I must have been diabetic for a minimum of five years earlier.
Problems faced

I faced a lot many health problems like loss of vision (myopia), allergy reactions, skin problems, cardiac issues (angioplasty in the year 2015), hypertension (High Blood Pressure), fatty liver, high cholesterol leading to hardening of arteries, muscle cramps and most important of all fatigue and irritation.

For a few years, I was on oral tablets to control sugar, but by 2017, my doctor felt the need to put me on insulin. Before coming to FFD, I was on 126 units of insulin per day.
Mr. Lalatendu Satapathy
My introduction to FFD

In December 2020, I happened to watch a video of Dr. B M Hegde where he mentioned Dr. Pramod Tripathi doing a good job regarding diabetes reversal. At that moment, I knew I got what I wanted.

I first booked my seat for the online introductory session of Dr. Tripathi named Discover Reversal Session and then enrolled myself in the FFD diabetes reversal program - HTP batch 76.

The HTP is a full one-year program based on 4 protocols - diet, exercise, inner transformation, and medical assistance. I started following all the protocols as per the FFD experts' instructions and got positive results.

My Insulin intake stopped from 126 units a day to nil within 75 days and all diabetic medicines stopped within 90 days. I am happy to share I am free from both to date. Body weight loss also has been remarkable. I lost around 19 kg from 80 kg to 60.60 kg at present.
Experience

I am free from insulin and medicine, both. The next step is to prepare for GTT to test my Glucose tolerance and know my level of reversal.

I feel confident, fit, and physically fine with a calm and peaceful mind.

Takeaways
Freedom from insulin
Freedom from medicine
19 kg weight loss
Confident and Healthy