20 Years Diabetes Reverse in just 1 Month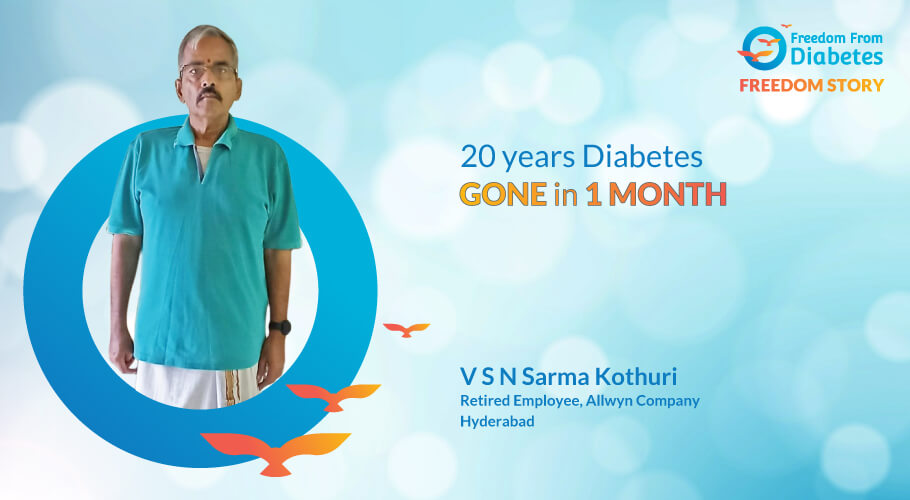 FFD gave me back my healthier and happier life!
Name- Mr.V S N Sarma Kothuri
Age- 55 years
Profession- Retired Employee, Allwyn Company
Place -Hyderabad
Diabetes according to me meant high sugar levels with symptoms like Polyuria (excess urination), Polydipsia (excessive thirst), Polyphagia (excess hunger).
I never knew there are many other indications also. It is due to this, I got shocked when I came to know about my diabetes. Later on, I also got to know the most interesting fact that 50% of diabetics are asymptomatic and do not show any apparent signs.
In my family, both my parents had diabetes. In 2002, I suffered from urine infection and so my family doctor asked me to go for a sugar test. Coming to know that I had diabetes was pretty shocking for me as I had no apparent symptoms before, only the infection.
Later on, due to some issue, I had to go for bypass surgery, were on I put on a lot of weight. I also had to be put on Insulin for uncontrolled sugars. My doctor prescribed 30 units of insulin a day (15 in the morning and 15 in the night).
Professional stress, the heavy workload had affected my health a lot. As a result other than high sugars, I also suffered from symptoms of constipation, gases, tiredness, hypertension, nephropathy, infection, etc.
I also underwent several surgeries like popliteal angioplasty in 2020, bypass surgery in 2018, laser treatment for the eye, right septic toe amputation in 2016.
I was introduced to the FFD's Diabetes Reversal Program by my brother-in-law (Sister's husband) Mr. Satyaprakash. He was the one who first motivated me towards FFD and I enrolled myself in HTP batch 63. My batch began on 10th October 2020.
Even a small positive result is motivation in itself! I started following all FFD's 4 Diabetes reversal protocols sincerely and the results followed. My sugars started improving, the weight started reducing.
This push was a great motivation for me which prompted me to go for more weight reduction. My weight was 100 kg before joining the program and now it is 76.6 kg.
The best part is 20 years medicines stopped in one month. Insulin stopped in 15 days' time and tablets stopped in 1 month.
Really, FFD's Holistic Transformation Program is so well-knit that not only diabetes reversal but overall progress in health is bound to happen. The same happened to me...I got freedom from insulin, medicines, and excess weight which is another big hurdle in the path of wellbeing and fitness.
Life has become happier & healthier. All big thanks to Diabetes specialist Dr. Pramod Tripathi & his entire team. He is doing wonders… Best of Luck.