21 years Diabetes tablets stopped in just 2 weeks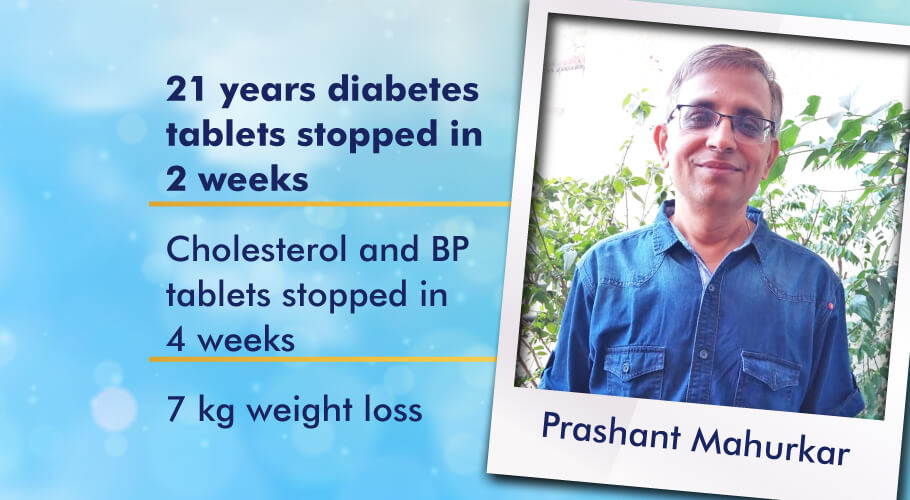 Prashant Mahurkar, 51 years old. I work in IT Industry. I have a diabetic history of 21 long years.
Earlier, I tried all types of medicines but my sugars remained uncontrolled.
I also tried ayurvedic and homeopathic treatment but did not get much support from them either. All this was causing a lot of distress.
One fine day, my wife told me about Freedom from Diabetes and I would like to give all the credit for my good health to her who encouraged me to join it.
I joined FFD in February this year. To my pleasant surprise, my tablets related to diabetes got reduced just within 2 weeks and within 4 weeks my cholesterol and BP tablets also stopped.
My weight also reduced 7 kg from 59 kg down to 52 kg.
Since I am in the IT field, I had a lot of problems in my mind regarding diet but the FFD diet being a low carb diet benefitted me a lot.
It made me feel lighter and energetic throughout the day. The most important thing is that since there are no tablets now my worries have lessened.
Earlier, I had to lose a lot of opportunities due to diabetes and other health problems which now I can take up without a second thought. I think that if you have good health you can create good wealth also.
On checking, my cholesterol levels were found to be 94 ...much much below the normal levels (160-180), and 45 days after the stoppage of cholesterol tablets, my cholesterol level was found to be 136 which meant that I do not need those tablets at all.
FFD's close monitoring and follow-up helped me get rid of my cholesterol tablets. I have explained a very valid point that if the cholesterol levels go down to such a level it can affect brain functioning, cause memory problems, tiredness, the sensation of fainting, skin problems, etc...
hence close monitoring as the FFD people do is a must.
Thanks to Diabetes specialist Dr. Pramod Tripathi sir and his team.
Hear the complete reversal story @ https://soundcloud.com/dr-pramod-tripathi/prashant-mahurkar