30 Days Diabetes Reversal Challenge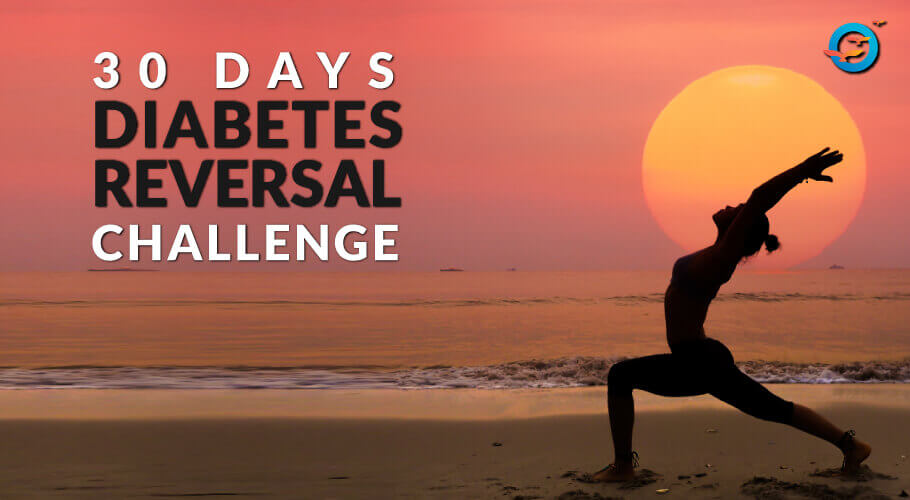 Who doesn't love a challenge?
Especially one that has an end date and promises a wealth of health benefits.
Which is why there are so many fitness challenges around. But a diabetes reversal challenge…and that too in just 30 days!?

To begin with, diabetes has always been considered a lifetime disease: You get it, it gets progressively worse, complications crop up, medications increase, and it goes on and on, and on, till…you get the idea. But one person has successfully bust that belief.

In 2013, less than a decade ago, Dr. Tripathi put together a program that integrated four protocols: diet, exercise, inner transformation, and medical, to help diabetics go beyond just managing their diabetes. Today, with over 10,000 complete reversals to his credit, and tens of thousands more on various stages of their own reversal journeys, Dr. Pramod Tripathi is truly India's Diabetes Reversal Doctor.

So when he promises to get you free from diabetes-medicine 30 days from today—or at least en route to your reversal goals—one tends to sit up and take notice. And that's what happened when FFD announced its 30-Day Diabetes Reversal Challenge in 2019. Diabetics from all over the world registered for the event.

The program drew on protocols from Freedom From Diabetes own Reversal Programs, which have seen phenomenal results, helping people across the world reverse their diabetes, bring their BP, cholesterol, PCOD/S, and a host of other lifestyle disorders, under control.

Conceived and created by FFD's founder, Dr. Pramod Tripathi, the 30-Day Challenge promised a host of side effects—all of them good! Stabilized Blood Pressure, Reversal of neuropathy, retinopathy—and the one we all want—weight loss.

The Challenge comprises 30 sessions live-streamed daily for a month on YouTube and Facebook in the morning at 7.00 am IST. For the convenience of participants from other time zones, the sessions were recorded and uploaded on FFD's YouTube channel.

Stronger, Healthier, Happier.

Participants have consistently experienced several beneficial results, including:
Lowered Blood Sugar levels
Improved Blood Pressure levels
Improved strength, endurance, and flexibility
Higher energy levels, alertness, mental acuity

The success of the program can be judged by the fact that it continues to attract new participants. All one needs to do is be consistent in following the program for 30 full days. It takes just about 60 minutes from start to finish. Since it's online, you don't have to bother about specialized equipment, or group classes, or going to a gym.
You can participate from just about anywhere in the world where there's an internet connection.
No special equipment, exotic foods, or the gym, is required; you won't even need to step out of your home.

One hour from your day is all it takes
An Hour a Day to Keep Diabetes at Bay

To reap all the amazing benefits of the 30-day Challenge, you only need to commit to a daily one hour session during which you can follow along as Doctor Tripathi guides you through the day's exercises. In each session, the doctor also shares insights on the various medical aspects of illness in general and diabetes in particular.
Ready To Accept The 30-Day Challenge?
Disclaimer:
This Blog solely serves our marketing purposes, for Authentic knowledge for this topic, Please join our upcoming Discover Reversal Session