5 Best East Indian Diabetes Friendly Dinner Recipes- FFD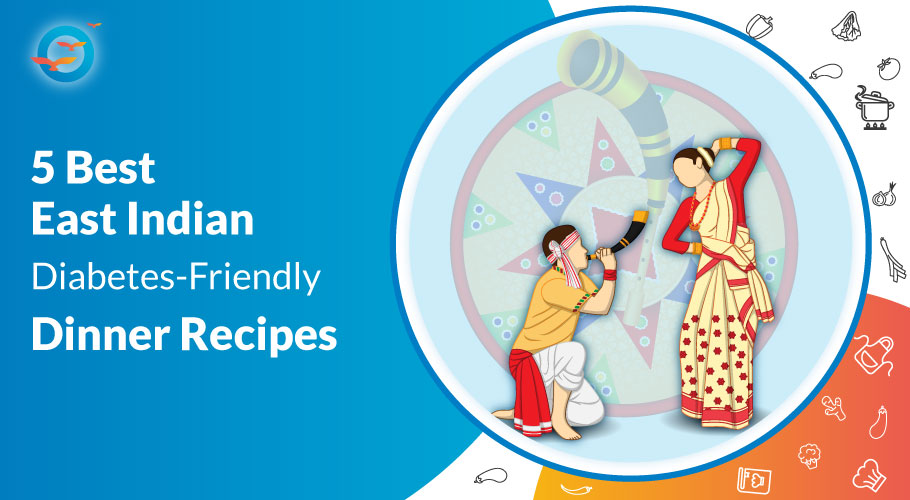 East India is a region consisting of various states of India like - Bihar, West Bengal, Odissa, and Jharkhand. There are many varieties of food from this region that are good for health. And this is because of the choice of homegrown organic ingredients and the method of preparation. Plus, the dishes from this region are less spicy and allow the main ingredients to really shine through.
In the last 2 articles, we saw about breakfast and lunch recipes. Today, we are going to see top 5 East Indian dinner recipes
1. Thukpa


This is a popular noodle soup from East India prepared with veggies or meat. It is one pot-meal perfect for dinner or considered as one of the dinner recipes.
Recipe features

FFD has given a special diabetes-friendly twist to this traditional recipe by adding khapli wheat dough strips instead of regular noodles to it along with veggies like tomatoes, spring onions, radish, spinach, etc. This is a 100% vegan recipe.
Here is the detailed recipe
Ingredients
2 Cups Khapali Wheat Flour (Atta)
2 Tbsp Mustard Oil
3 Tomatoes (Chopped)
1 Tsp Lemon Juice
¼ Cup Coriander (Dhaniapatta)
½ Cup Spring Onion Greens (Chopped)
½ Cup Spring Onions (Chopped)
1 Cup Radishes (Chopped)
1 Cup Spinach (Chopped)
1 Tsp Black Pepper
1½ Tsp Cumin Powder (Jeera)
8 Clove Garlic (Crushed)
Salt to taste
Method
Heat oil.
Fry onions and garlic till translucent.
Add tomatoes and cook till mushy.
Add cumin powder, garam masala, pepper along with chopped vegetables.
Add water and bring to boil.
Knead dough from flour.
Make irregular bite-sized dough strips and place them in simmering broth.
Cook for 10 mins.
Add salt and garnish with coriander and green onion leaves.
Serve Thukpa hot.
2. Momos