5 Best East Indian Diabetes-Friendly Lunch Recipes- FFD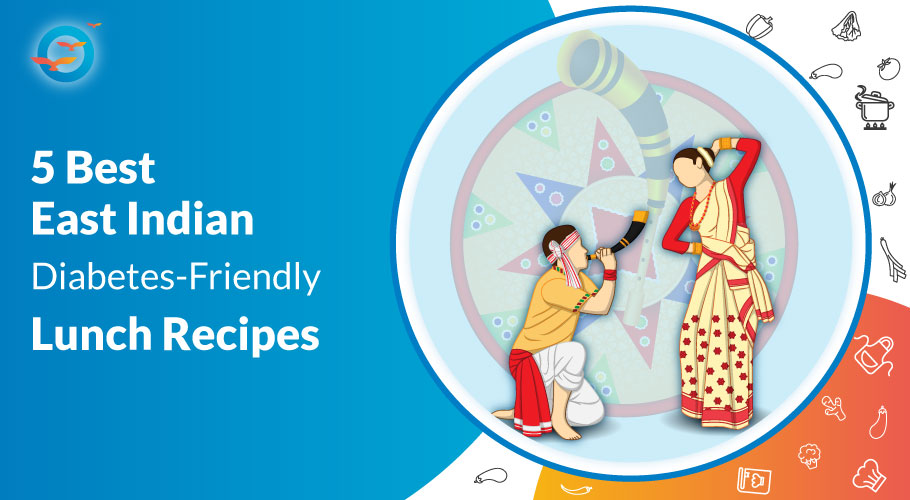 India is a country of diverse cultures, rich heritage and host of regional cuisines. The influence of geographical location also has a lot of impact on them. The east Indian food though based on three schools of food- Bengal, Assam and North eastern can be described as 'simple'. Today, we are going to see top 5 East Indian Lunch Recipes which are good for diabetics.
Here are the top 5 East Indian Lunch Recipes
1. Mochar Ghonto


Mocha ghonto is a crazily popular traditional Bengali dish where the banana flowers are cooked along with aromatic spices and potatoes and garnished with grated coconut. It is a dry curry recipe often served along with steaming hot rice and ghee. It is a niramish recipe which means it is without onion and garlic recipe. So one can have on any puja day, especially during holy Durga puja festival. This can fall in the diabetic friendly lunch recipes category.
Plantain Flowers or banana flowers come with amazing health benefits. They are high source of minerals and vitamins and also help prevent infections. The magnesium in the banana blossom makes it a 'happy' flower as it is believed to alleviate your mood and reduce anxiety.
Recipe features

FFD style mochar ghonto has a little twist to it. This recipe is prepared in mustard oil instead of ghee. Plus usage of brown rice cuts down the extra calories and carbs. Instead of normal potato FFD suggests use of sweet potato good for diabetics.
Here is the detailed recipe
Ingredients
1 Banana Flower, Cleaned and Chopped
½ Cup Sweet Potato, Cubed
½ Tsp Turmeric Powder (Haldi), Divided, For Soaking The Plantain Flower And The Curry)
½ Tsp Red Chilli Powder
¼TspGaram Masala Powder
1 Drop Stevia
Salt to Taste
For Masala
To Be Ground (Without Water)
¼ Cup Fresh Coconut, Finely Chopped
2 Green Chillies, Finely Chopped
For Tempering
2 Tsps Mustard Oil
2 Bay Leaf (TejPatta)
½ Tsp Cumin Seeds (Jeera)
½ Inch Ginger, Grated
4 Garlic, Grated
For Garnish
2 Tsp Grated Coconut.
Method
Clean the banana blossom/plantain flower, then with oiled hands, peel the purple layers and remove the florets.
In each floret remove the longest string with a round head called the 'stamen' and the translucent thin cover.
Chop the florets finely and soak them in lemon water with a pinch of turmeric for 1 hour.
Drain the water from the florets and pressure cook with ½cup water upto 2 whistles.
Once cool, gently mash using the back of a ladle.
To make the curry, heat a heavy-bottomed pan and add mustard oil.
Keep the flame on low.
When the oil starts to smoke, add bay leaves and cumin seeds and let them splutter.
Add the grated ginger and garlic and saute for 30 seconds.
Stir in the cubed sweet potatoes, chili powder, salt, and ¼ cup water let it cook for 5 to 7 minutes.
Once the sweet potatoes are cooked and dry, add the cooked banana blossom, and stevia and mix well. Cook covered for 2 minutes.
Add the ground coconut-chili masala and mix well.
Adjust salt as needed, then add the garam masala powder and mix well.
Cook for 2 minutes more.
Take out in the serving dish and garnish with grated coconut.
Serve hot with brown rice.
2. Shukto


Shukto is a famous vegetable dish from Bengali cuisine usually served with rice. The tradition of starting a meal by consuming bitter-tasting food is considered to have a medicinal value. Shukto has a slightly bitter taste and is especially served in Bengali social ceremonies like Annaprasana or Bengali Wedding as a part of traditional Bengali thali.
This dish can be prepared in different ways.
Recipe features

FFD style shukto has all the goodness of sweet potato, brinjal, raw banana, green beans, drum sticks etc. This dish is given a vegan touch by using vegan milk instead of normal milk. Use of bodi or vadi which are the lentil dumplings add to the dal portion very well in this. We can add this in lunch for diabetic patients.
Here is the detailed recipe
Ingredients
1 Cup Sweet Potato
1 Cup Bitter Gourd/ Karela (Sliced)
1 Cup Raw Banana/ Kanchkola (Cut in 1 inch size)
2 Cup Brinjal/ Egg Plant (Cut in 1 inch size)
2 Cup Green Beans & Drumsticks (Cut in 2 inch size)
1 Cup Bori/ Vadi/ Lentil Dumplings
1 Tbsp Ginger Paste
5 Tbsp Vegan Milk
1 Tbsp Horse Gram Flour (Kulthi)
1 TbspRadhuni or Carom Seeds (Ajwain)
2 Bay Leaves (Tejpatta)
2 Whole Dry Red Chilli
1 Tsp Bengali Five Spice or PanchPhoran (Mix 1 tbsp each to make PanchPhoran - cumin seeds, brown mustard seeds, fennel seeds, kalonji, methi seeds)
½ Tsp Mustard Seeds
½ Tsp Oil
1 ½ Tsp Stevia Powder
Salt to taste
Method
Prepare shukto masala by heating 1 tsp of panchphoran and ½ tsp mustard seeds in a pan and then powder this and set aside.
Heat oil and add the ginger paste along with whole dry red chillies, the radhuni or caraway seeds and the bay leaves. Sauté for a min.
Add all the vegetables and sauté the above mixture.
Add saltthen cover and shallow fry the vegetables for 7 mins by turning them from time to time.
Add a cup of water then cover and cook for another 10 mins over medium heat.
Then Mix the horse gram flour with the vegan milk and make a lump free mixture.
Add this and mix well and let the curry to simmer for 2 mins.
Then add in the fried boris or vadis.
Cook covered for 3-4 mins more.
Finally turn off the heat, add the shukto masala.
3. Singju


Singju is a popular salad dish from Manipuri cuisine ideal for hot and spicy food lovers. This salad is made from different green vegetables available in this region which is eaten as snacks, starters or a side dish in the main course. It can be made in different ways.
Recipe features

FFD style singju is prepared from lotus root (kamal kadadi), methi leaves and coriander leaves in addition to the lomba flowers from Manipuri region. These variations are good for diabetics and hence this dish gets a tick mark on the food list of diabetics.
Here is the detailed recipe
Ingredients
1½ Cup Cabbage (Finely sliced)
1 Cup Lotus Root/ Kamal Kakri (Thinly sliced)
½ Cup Fresh Fenugreek/ Methi Leaves (Roughly chopped)
1 Tsp Ginger (Finely chopped)
1 Tbsp Fresh Coriander Leaves (Chopped)
2-3 Lomba Flowers (A Manipuri local herb). (Optional)
Dressing
2 TbspPerilla Seeds (Roasted and crushed)
1½ Tbsp Gram Flour (Roasted)
1 Tsp Salt
1 Tsp Red Chilli (Roasted and crushed) or as needed
1 Serving Spoon Dry Peas (Roasted and crushed) or You can also use Boiled Black Beans or Kidney Beans instead of Roasted Dry Peas.
1 Serving Spoon Gram Flour
Method
Mix all the vegetables and herbs on a salad plate.
Mix the dressing ingredients in a separate bowl.
Spread the dressing on the mixture and mix well.
Make sure the dressing is mixed well with the entire salad.
Enjoy.
Note:
There are hundreds of possible variations for Singju
4. Suva methi baigan sabji