Top 5 East Indian Diabetes-Friendly Breakfast Recipes- FFD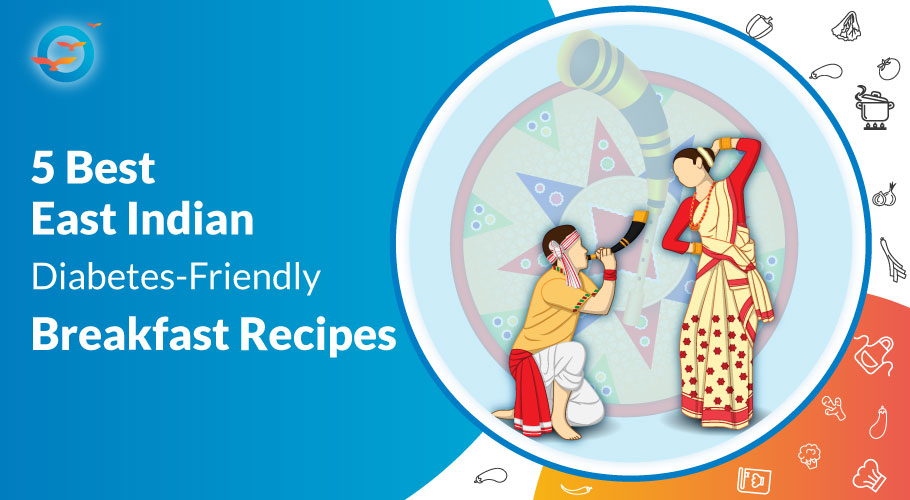 Each region has its own list of food items. Geographical location also has its influences on it. Today we have chosen 5 East Indian breakfast recipes for study.
East India is comprises of the states of West Bengal, Assam, Sikkim, Arunachal Pradesh, Manipur, Meghalaya, Nagaland, Mizoram, Tripura, and Orissa. This region is home to mountains and beaches. East India has mainly three schools of cuisine— Northeastern, Bengal and Assam. But the speciality of the food in this region can be described in one word 'simple'.
Here are the top 5 East Indian Breakfast Recipes-
1. Dhokar Dalna Recipe


We all know dals or lentils are good for diabetes. They are not only nutritious but help in maintaining sugar levels too. Hence we have chosen this first recipe named as "Dhokar Dalna' which can be considered as one of the best Indian breakfasts for diabetic patients.
Dhokar Dalna is a signature vegetarian Bengali dish. This dish is made from lentil cakes prepared from chana dal and yellow split peas immersed in delicious Bengali style curry.
Recipe features

This is a diabetes-friendly recipe. FFD has given a little twist to this dish by eliminating the potatoes which helps in cutting down the extra carbs from it.
See the detailed recipe given below
Ingredients

For the Lentil Cakes
2 Cups Bengal Gram/Chana Dal/Cholar Dal
1 Cup Dried Peas/Matar Dal
1 Tsp Cumin Powder
1 Tsp Coriander Powder
1 Tsp Chilli Powder
½ Tsp Turmeric Powder
1 Tbsp Ginger Paste
Salt to taste
3 Tbsp Mustard Oil (Vegetable Oil)
1 Tsp Asafoetida
½ Tsp Onion Seeds
4-6 Green Chillies (Finely chopped)
Oil for shallow frying
For the sauce
3 Tbsp Mustard or Vegetable Oil
1-2 Bay Leaves
3-4 Whole Cardamoms
Method

To make the lentil cakes
To make the lentil cakes mix the 2 kinds of dal and soak in water overnight.
Drain the water and grind the dals/lentils into a smooth paste.
Add coriander powder, chilli powder, turmeric powder, ginger paste, and salt and mix well.
Heat oil in a thick-bottomed pan.
Add asafoetida, onion seeds, and green chillies.
When they start to splutter, add the dal paste.
Cook over medium heat, stirring continuously until all the water evaporates and the mix starts sticking together and comes off the side of the pan easily.
Remove from heat and form the lentil cakes. Shallow fry the lentil cakes till golden brown (3-4 mins).
To make the sauce
To make the sauce heat oil in a pan and temper with bay leaves, cardamoms, ginger paste, and green chillies.
Add the puréed tomato and cook for 10-12 mins.
Add cumin powder, coriander powder, chilli powder, turmeric powder and salt.
Cook for 10-15 more mins or until oil separates.
Now add the fried lentil cakes and stir lightly.
Turn off the heat and add garam masala powder.
Serve with steamed brown rice.
Notes:
Do not cook for too long after adding the lentil cakes to the sauce or they will break. The lentil cakes will absorb a lot of sauce, so make sure that you make extra sauce. Add some water to the sauce if necessary.
2. Gatte (Besan) Ki Sabzi




Gatte ki sabzi or Besan Ke Gatte Ki Sabzi is a traditional dish. It can be described as besan sausages cooked in a gravy that is spicy and yoghurt-based. The recipe is generally made with curd as its base. It is the best breakfast for diabetic patients when we run out of veggies.
Recipe features

FFD has modified this recipe to make it completely vegan. This is achieved by eliminating the milk curd from the original recipe. Instead, we use onions and tomatoes to make the curry which is healthy for diabetics. Its chief ingredient chana dal/besan puts it directly into a diabetes-friendly category.
Click here to know the detailed recipe
3. Chana Dal Kachori


This recipe can be one of the best breakfast recipes for Indian diabetics.
Recipe features-

Chana Dal Kachori's main ingredient is chana dal or Bengal gram which is rich in B-complex vitamins that help in glucose metabolism. Plus it is rich in antioxidants and helps in reducing inflammation all good for diabetes. This dal gives 13 g of protein in 100 g of serving which is very good. FFD style chana dal kachori is made with very little oil as it is made in appe patra. Plus use of wheat as an outer covering is eliminated.
Here is the detailed recipe
Ingredients


2 Cups Split Chickpeas/ Chana Dal (Soaked in water for 3-4 hours or overnight)
1 Medium Size Onion (Chopped finely)
1 Inch Ginger (Chopped finely)
7 Cloves Garlic (Chopped finely)
3-4 Green Chillies (Chopped finely)
1 Bunch Coriander Leaves/ Dhania Leaves (Chopped finely)
1 Tsp Red Chilli Powder
1 Tsp Coriander Seed Powder/ Dhania Powder
1 Tsp Cumin Powder/ Jeera Powder
1 Tsp Turmeric/ Haldi
Oil
Salt
Method


Wash the soaked dal and grind it into a coarse (very important) paste using little water.
Mix all the ingredients listed above, except oil, to the dal paste.
Make small unevenly round spheres of the dal paste and cook them in appe patra using very little oil.
Serve with tamarind chutney or brown rice dal, or put it in gravy.
4. Nimki Recipe