Gatte ki Sabzi | Gatte ki Sabzi Recipe | Besan ke Gatte ki Sabzi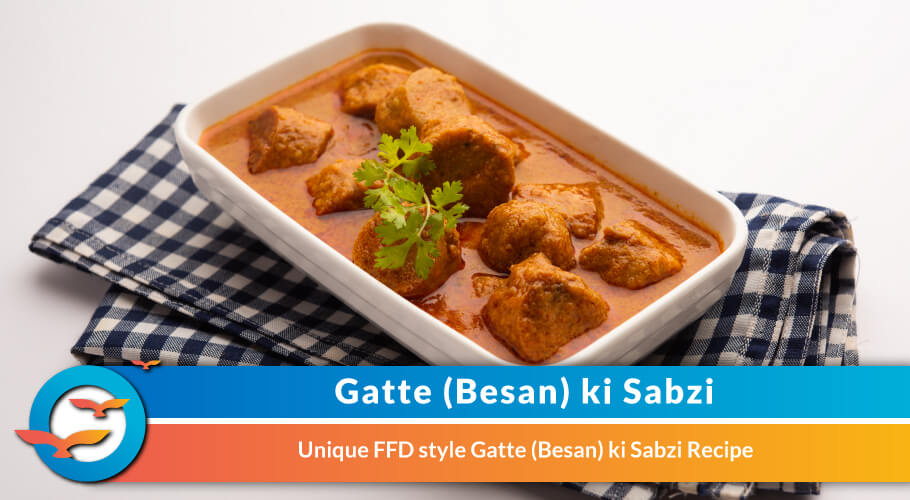 Having more vegetables and salads in your daily meals is ideal. But there can be times when these may not be available. In such circumstances, choosing healthy alternatives is always a good practice. On one such day when your refrigerator has run out of veggies, you can opt for Gatte ki Sabzi.
Gatte ki sabzi or Besan Ke Gatte Ki Sabzi is a traditional dish from the state of Rajasthan. It can be described as besan sausages cooked in a gravy that is spicy and yogurt-based. The recipe is generally made with curd as its base.
Today, we are going to learn how to make gatte ki sabzi without curd - that is in FFD style.
Recipe features
FFD has modified this recipe to make it completely vegan. This is achieved by eliminating the milk curd from the original recipe. Instead, we use onions and tomatoes to make the curry which is healthy for diabetics. Its chief ingredient chana dal/besan puts it directly into a diabetes-friendly category.
| | |
| --- | --- |
| Course | Main |
| Cuisine | Rajasthani |
| Total Time | 30-35 mins |
| Serving | 4 |
Gatte ki sabji ingredients:
100 gm Chickpea Flour/ Besan /Gram Flour
3 Tomatoes Medium Size (Finely chopped)
2 Onion Medium Size (Finely chopped)
4 Green Chillies (Finely chopped)
1 Tbsp Ginger & Garlic Paste
½ Tbsp Turmeric Powder
½ Tbsp Mustard Paste
¼ Tbsp Red Chilli Powder
¼ Tbsp Coriander Powder
Pinch of Asafoetida
1 Tbsp Cumin Seed
½ Tbsp Carom Seed (Ajwain)
¼ Tbsp Gram Masala
Oil
Salt to taste
Water
Method:
Mix well besan, 2 green chilies, carom seeds, red chili powder, and 1 tbsp oil.


Add water into besan to make dough.


Make a 1 cm diameter round and 5-6 inches long (like seekh kabab).


Immerse it into boiling water and boil for around 10 mins.


Take out from the water and cut this into small round pieces and keep aside (Besan rounds are also called 'gatte').


Heat oil, add asafoetida, cumin seeds, 2 green chilies, and stir-fry till well browned.


Add ginger-garlic paste and mustard paste heat for 1 min.


Add chopped onion, and heat for 3 mins.


Add finely cut tomatoes and heat for 2 minutes.


Add turmeric powder, red chili powder, coriander powder, salt, garam masala, and 1.5 cups water and boil for 5 mins.


Now the gravy is ready. Put gatte into the gravy and boil for 3 mins (Heat until gravy is thick).
All the health-conscious, diabetics should opt for this kind of vegan recipe. It's tasty and good for health too. FFD's recipe section has a collection of a number of diabetes-friendly recipes. Definitely visit it.
Our Holistic Transformation Program is a unique program that primarily focuses on Diabetes Reversal. Join us to get customized treatment from a team of experts for your speedy reversal.
Looking for other healthy Diabetes-friendly Recipes? Try these:

1. Falafel Recipe