Fenugreek Broccoli Roll | Veg Roll Recipe | Simple Veg Roll Recipe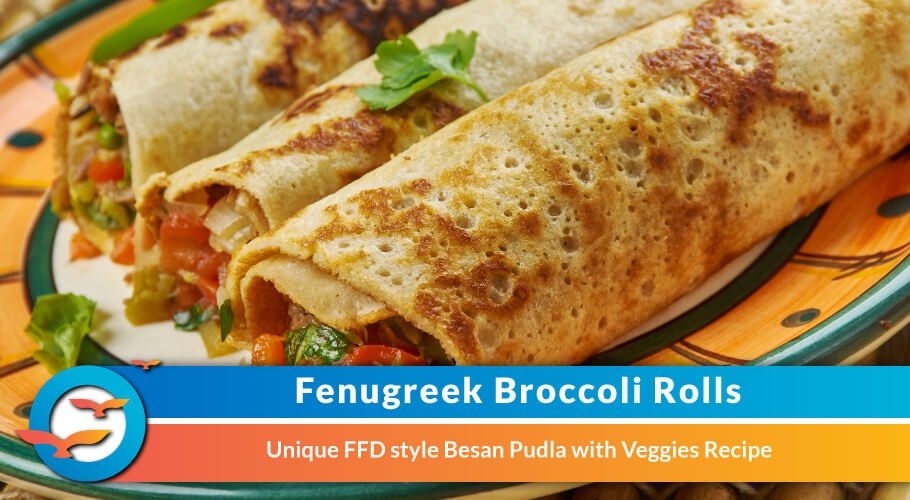 Diabetes is a medical condition indicated by elevated blood glucose levels. If nothing is done to keep sugar levels under control, diabetes may also lead to complications like eye problems, cardiovascular complications and kidney failure.
Millions of people are suffering from this metabolic condition currently and the number is still counting. Luckily, there are various ways to control your blood sugar levels. One of the major factors of diabetes management is diet and you need to be extra cautious of what you add to your plate. It is a always good wise to stock up on fresh vegetables that are packed with fibre to ensure slow release of sugar.
Today, we are going to learn the recipe of Veg Roll Recipe, a special innovation from FFD to the diabetic world.
Is broccoli good for diabetic patients?


Broccoli is also known as a superfood and suitable for diabetics for the following reasons- Broccoli has a high amount of dietary fibres which help in preventing untimely blood sugar spikes. Broccoli is a low-cab vegetable with 100 g consisting of only 7 g of carbohydrates.
Low carb diet is always good for keeping blood sugar levels in control. Broccoli is very low in calories and dense with antioxidants and minerals that assist with so many body functions. Studies on broccoli have shown it to immensely help in improving insulin activity.
Does fenugreek seed reduce blood sugar?

Fenugreek seeds have a high amount of soluble fibre that helps by slowing down digestion and absorption of carbohydrates all which help in lowering blood sugar levels in diabetics. Fenugreek seeds have a positive impact on metabolic symptoms like type 2 diabetes as they improve glucose tolerance.
How much fenugreek seeds should I take?

The dose of fenugreek seed also affects the blood sugar levels and higher dosages do show more hypoglycemic effects. A daily dose of 10 grams of fenugreek seeds soaked in hot water may help control type-2 diabetes.
Recipe Features

This recipe consists of a unique combination of broccoli and fenugreek, both. The usage of khapli wheat along puts it even more in the diabetes-friendly category.


| | |
| --- | --- |
| Course | Snacks |
| Cuisine | Indian |
| Total preparation time | 15-20 minutes |
| Serving | 1-2 |
Here is the Simple Veg Roll Recipe (fenugreek, Broccoli)
INGREDIENTS:
1 small cup - Fenugreek Seeds sprouted


1 small cup (finely Chopped) Broccoli


Lemon juice to taste


1 cup - Khapali wheat


½ tsp Fresh Red chilli paste


5 Garlic cloves


2 tsp Olive oil


Salt to taste
Method
Soak Khapali wheat for 1 day and night.


On the next day, grind it and sieve it.


Keep the batter aside for 4 hours.


Add some salt to taste.
For filling:
Mix finely chopped broccoli and sprouted fenugreek.
For Greasing:
Mix Fresh Red chili, Garlic, olive oil, lemon juice, and salt to taste
DIRECTIONS:
Spread the wheat batter like the dosa on Nirlep tawa.


Just after 20-30 seconds grease the dosa with the chili mixture.


Make a thin layer of broccoli and sprouted fenugreek mixture by spreading on it.


Roll it and cut it into small horizontal pieces.
A wise combination of food items is always good. Fenugreek and broccoli rolls are one such healthy and tasty recipe that diabetics must add in their food list.
FFD is an organization that specializes in 'Diabetes Reversal'. They have a big list of diabetes-friendly recipes and this is the only place where you will get to know interesting facts about diabetes and topics related to it.
Do enroll in our Discover Reversal Session to get your diabetes and other lifestyle disorders reversed speedily. We understand each person is different and needs customized treatment which we are expertise in.


Looking for other healthy Diabetes-friendly Recipes? Try these:



2. Diabetic Eggplant Recipes (Brinjal Fry)