8 Years Diabetes Medicine Stopped in 5 Days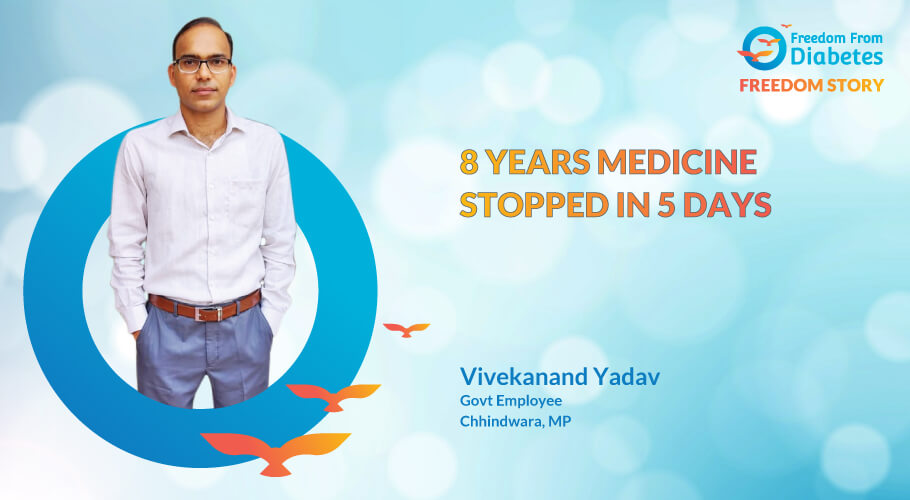 Name- Mr.Vivekanand Yadav
Age- 36 years
Profession- Govt Employee
Place - Chhindwara, MP, India
"Diabetes is hereditary' was all I had known until I came across FFD. But after coming to FFD, I do not feel that same. FFD has successfully busted this myth not only in my case but for several.
I, Mr. Vivekanand Yadav, am a 36 years young Government Employee from Madhya Pradesh.
I asked how I came to know about my diabetes? I can say that somewhere in my mind I was prepared that I may get diabetes due to my strong family history. It all started in the year 2014 with a lot of work stress, skin infection (rashes), frequent urination, and feeling all the time thirsty & hungry.
So went for a medical checkup and after getting my reports I got to know that I am diabetic. My fasting sugar was 270+ and post-lunch sugar was 450+, a very high number.
Later on, many other issues occurred...high cholesterol, weight loss, back pain, hair loss, skin issues. It was too very irritating and annoying. I cannot even explain what I went through because I was just 28 years old when I got diabetes. It was very hard to face it.
                                                            Mr.Vivekanand Yadav
My 3 main concerns were - having tablets each day(diabetes), work-related stress, and lack of fitness which made me keep looking for solutions.
One of my friends who was a participant at FFD told me about it. Because of him, I saw many videos of Dr. Pramod Tripathi which generated a ray of hope that there is a way to get out of medicines.
Also, I got introduced to a new aspect of health - inner transformation. I had realized by then that I desperately needed inner transformation also. Without wasting a second, I joined FFD.
Before joining FFD, I used to have Vildagliptin 2 times a day. On the very 5th day of my joining FFD, I was told to stop my diabetes medicines which meant 8 years medicines stopped in 5 days! WOW. In my case, I can say I am lucky enough I did not have to take Insulin. I know how painful it is.
I was around 66 kg when I joined FFD. Later, with the help of the FFD dietician Ms. Sanjana, I could successfully reduce my weight down to 57.6 kg. I am very happy about it also.
I am grateful to all the FFD team members - Dr. Mrunalini, Ms. Sanjana, Mr. Parthiban Kannan, Dr. Sharvari Samant, and last but not least the MAGIC MAN working for a good cause, Dr. Pramod Tripathi - Thank you very much for helping me in giving my life back again.
You all have helped me to be Mentally Satisfied. I really feel Motivated.
Thank you!!!