9 years diabetes reversed just in 3 weeks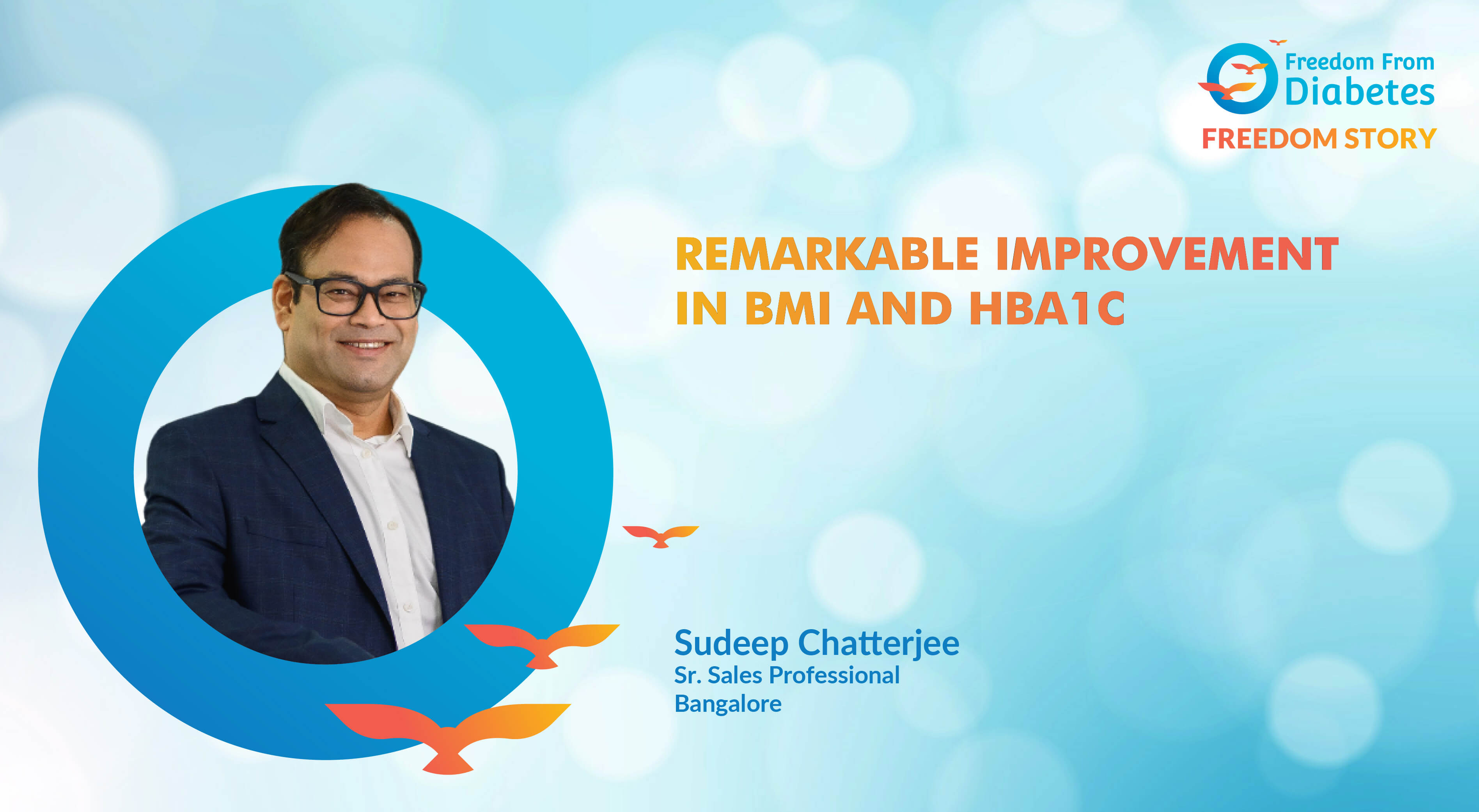 Name- Mr. Sudeep Chatterjee
Age- 45 years
Profession- Sr. Sales Professional

Place - Bangalore
What made me join "Freedom from Diabetes"

Inner push to come out of diabetes
Introduction

I am Sudeep Chatterjee, 45 years young, career sales professional from Bangalore. I work for a leading global software company. I was surprised when I was diagnosed with diabetes as no one from my immediate family suffers from diabetes. I believe my disease is the outcome based on lifestyle choices and a sedentary lifestyle.
About my diabetes

I was diagnosed 9 years back. It was a random discovery when I undertook a few tests as part of regular checks. I was an 'asymptomatic' patient as my condition did not manifest any diabetic complications or side effects.

When detected, my HbA1c was 14.1 with no visible symptoms. I was on medicines like Metformin 500 in the initial stage. Over the last few years, I was on Istamet 50/1000 and Glynase XL10.
Mr. Sudeep Chatterjee
About my reversal Journey

Even though I suffered from no major complications, there was always an underlying feeling to come out of diabetes. I came to know about Freedom from Diabetes through personal research on the reversal program.
I joined FFD diabetes reversal program HTP soon after attending their introductory session Discover Reversal Session (DRS). The whole program is based on the 4 pillars - diet, exercise, inner transformation, and medical assistance blended beautifully and executed by experts.

Following them, I got the results. I became free from medication within 3 weeks of joining the program and was able to reduce my weight and improve my HbA1c over the next 3-4 months. I am happy to share my progress report below -
Weight & BMI: 6 points BMI drop in 3 months
Feb (joining): 93+ kg (29 BMI)
March 1st week: 84 Kg (25 BMI)
April 1st week: 79 Kg (24 BMI)
May: 75 Kg (23 BMI)
HbA1c: 5 pointsHbA1c drop
Feb: 10.1
Apr: 7.1
May: 6.5
June: 5.8
Why I recommend Freedom from Diabetes

My lifestyle has changed dramatically. I follow a vegan diet. Do antigravity exercise and cycle up to 15-20 km a day. You too can do it.
Takeaway
Freedom from medicine
The remarkable drop in BMI
The remarkable drop in HbA1c
Improved fitness