A diabetes reversal story from Pune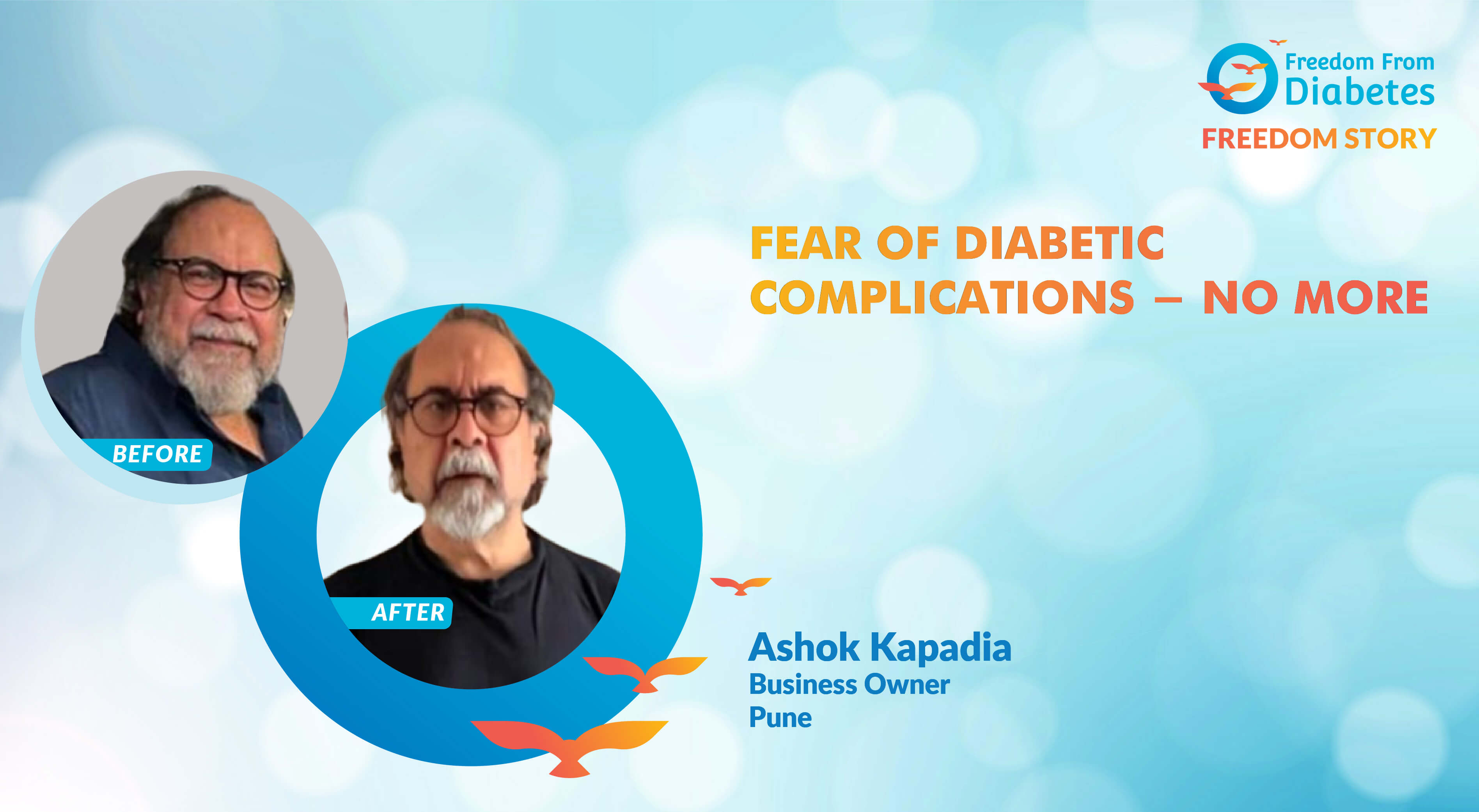 Name- Mr. Ashok Kapadia
Age- 63 years
Profession- Business Owner

Place - Pune
Trigger

Fear of diabetes complications and the urge to live a better and peaceful retirement, and pursue hobbies made me join FFD.
Introduction

Hello
I am Ashok Kapadia, 63 years young, an Engineer, from Pune. I have my own business for the last 35 years, mainly in imports, and handle the technical, legal & admin side of the business. A few months before being diagnosed with diabetes, in 2012, I had symptoms of extreme fatigue with frequent urination, especially at night. Got tested and diagnosed with diabetes. My elder brother & my younger brother both have diabetes and are under medication.
Difficulties faced

I started taking my diabetes seriously in 2014 when I had an attack of arrhythmia where my resting heart rate had shot up to 180 & my sugar levels were 250+. Had an angiography then, and no problem was diagnosed. Started consulting Dr. Yajnik & was on medication thereafter. Frequent urination did not allow me to sleep well. I was on 2 tablets Jalra M 50/500 1- 1 and Diamicron MR 30 1-1 for diabetes.
In Jan 2022, when I met my Cardiologist & got my physical done, my HbA1c was 8.7. That's when I decided to correct it.
How I met Freedom from Diabetes

My wife came across Dixit diet & Intermittent fasting & when she started reading, she found a lot of cross-references to Freedom from Diabetes and its YouTube videos. We both attended a webinar named Discover Reversal Session (DRS) by Dr. Pramod Tripathi, it was the first time someone could tell me why I should do some things, like fasting/ stop milk etc.
Normally, I have found people who tell me to do something but don't have an explanation. So both of us, my wife (non-diabetic) & myself got enrolled. In the meantime, I studied & went through videos of Dr. Jason Fung & some others. Got convinced and took up this seriously.


Mrs. Ashok Kapadia
My Freedom from Diabetes journey

My main goal was diabetes reversal and lifestyle modification, both of which I have achieved success with FFD's help. Soon after joining FFD diabetes reversal program HTP, my diabetes medicines stopped. I had started with a weight of 97 kg. Within 3 months, I came down to 80 kg which was a great achievement for me. My next goal is to clear GTT. Special thanks to Dr. Kiran Vaswani/ Palak & Afrin who really pushed me & guided me.
Suggestions

I was always under the impression that to work out I needed protein, eggs & a diet. Freedom from Diabetes made me learn that I could do an intense workout without food or with a very little amount of food. Started sleeping well. When one can do without something, one feels a different power. You too can experience this power.
Takeaway
Freedom from medicines
Freedom from excess weight
No fear of complications