Ajay Kale: FFD helped me remove "Diabetes Tag'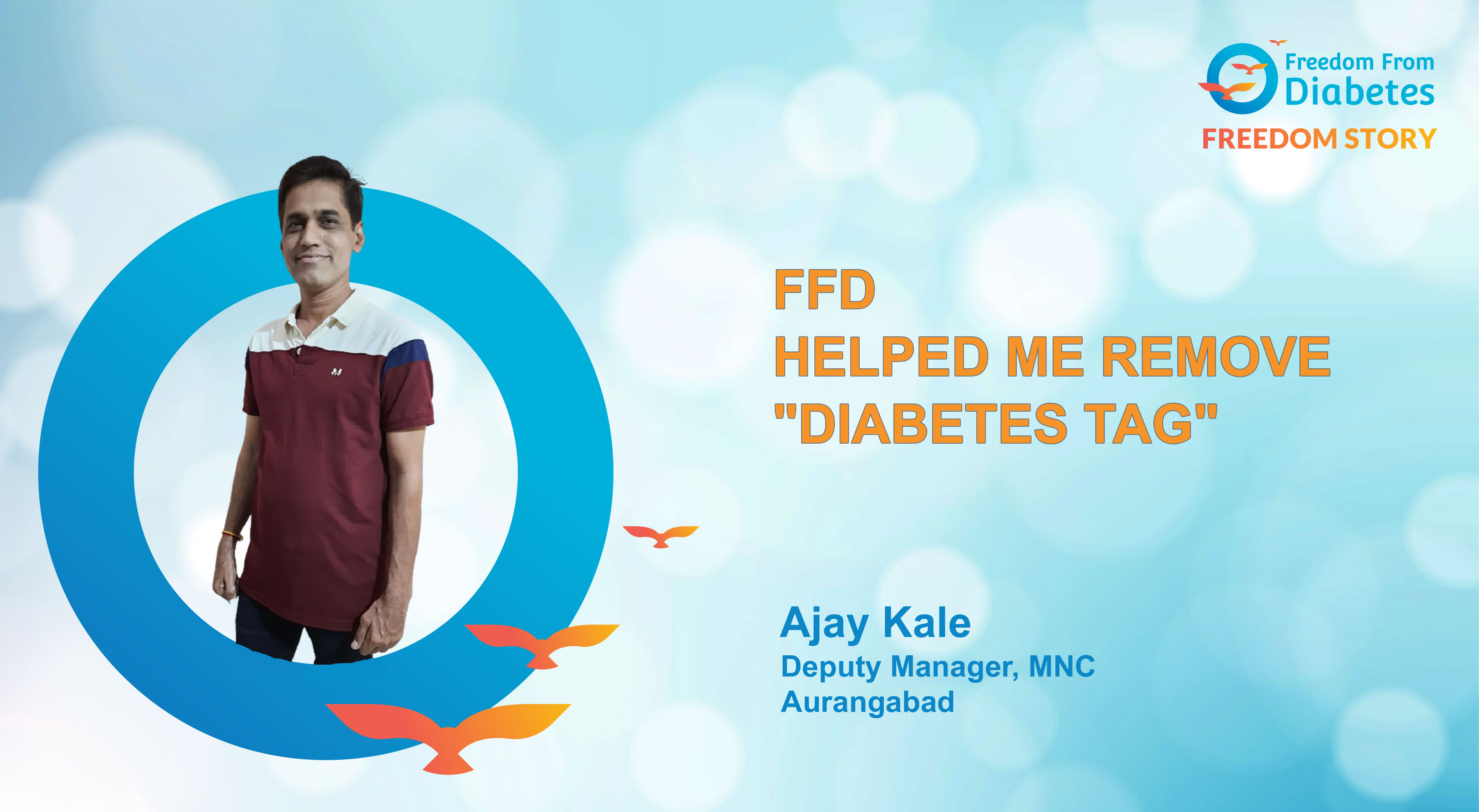 Name- Mr.Ajay Kale
Age- 45 years
Profession- Deputy Manager, MNC
Place - Aurangabad
Life is very interesting. Even though apparently you feel everything is okay, it is not so. Everything should be balanced for good health and I learned this more clearly after coming to FFD.
Hello, I am Ajay Kale from Aurangabad, working with an MNC firm as a Deputy Manager. I clearly remember, 9 years ago, I had got an infection around my nose.
At first, I did not take it very seriously but later on, I noticed that this time the infection was not healing as it would normally heal. It was taking a lot of time to heal.
So I went to see my doctor. Listening to my complaint, my Doctor asked me to go for a sugar test and to my surprise, I got to know I am diabetic. When checked my fasting was 160 and post-lunch sugars were as high as 180 -200.
This was quite bad news for me as nobody in my family suffers from diabetes. Maybe, it would have been due to work stress.COVID time was difficult for me too.
During this time, my sugars rose to very high levels up to 400. later on, they reduced up to 210 but then somewhere I was not satisfied. I was thinking about how many days am I going to wait for my sugars to be normal and whether this has any solution to it or not.
My prayers were answered and one day I came across a past participant of FFD. He gave me the reference of FFD and told me how it works. His words convinced me and I immediately enrolled myself for the DRS the Discover Reversal Session of Dr. Pramod Tripathi. This session with Dr. Tripathi was an eye-opener.
Before joining FFD, I was regularly taking medicines for type 2 diabetes. I also suffered from kidney stones (2000,2012,2013). Consuming high-power medicines added another problem to my life. These used to give me a lot of acidity. I also suffered from cramps on and off in my legs.
I joined FFD and this was the best decision of my life. The struggle of taking medicines was stopped in 3 months. Of course, this was the result of a lot of efforts by me and the FFD Doctors both.
My excess weight also got balanced. I used to weigh around 74 kg. After joining FFD and following all the protocols, it came down to 63 kg. I am really very happy.
I follow everything recommended by all the FFD doctors, Dr. Subodh Deshmukh, Mr. Rajendra Jhirmiria, Ms. Neha, Dr. Yogini Makhijani. They have really helped me and special thanks to Dr. Pramod Tripathi because the day I attended his DRS, I was just blown up.
I also want to share that I have cleared my IGT.
Wishing all the best to the entire team of FFD.