Ajitha P N: A great life with no diabetes and cholesterol medicines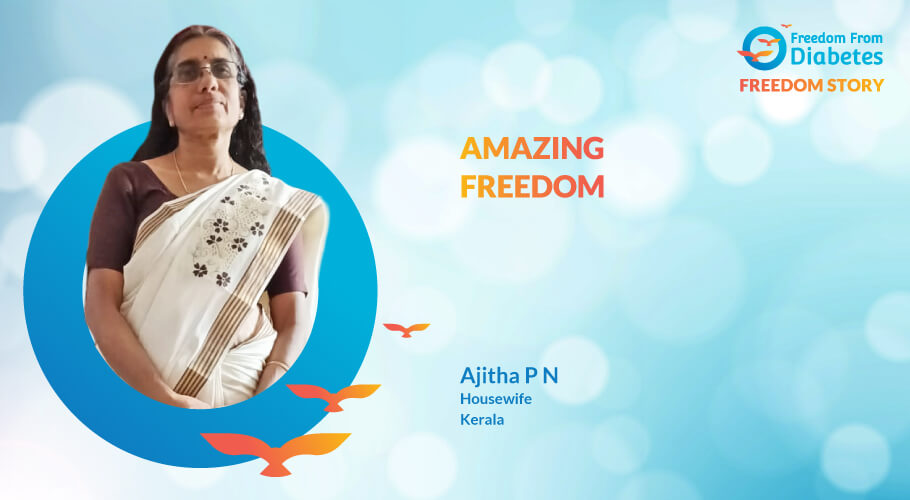 Amazing freedom
Name- Mrs. Ajitha P N
Age- 58 Years Young
Profession- Housewife
Place - Kerala
Hello,
I'm Ajitha P N from Kerala
What inspired me to join FFD?


I wanted help to reverse my diabetes which I found in FFD.
Diabetes story


Around 10 years ago, in 2012, I suffered from leg swelling that did not resolve. Tests done as suggested by the doctor revealed diabetes.
I had expected it because my father, his elder brother, and all my cousins are diabetic. In fact, my brother got it at 32.
Introduction to FFD


I came to know about FFD through Facebook.

Mrs. Ajitha P N
Reversal story


Initially went for ayurvedic treatment but even after that I found my HbA1c to be 6.5%. Then I started allopathic medicines.

In 2013, my father's leg had to be amputated due to uncontrolled sugars. That was the time I decided to do something immediately.
My FFD journey began from the DRS webinar of Dr. Pramod Tripathi followed by my admission to the FFD diabetes reversal program HTP.
Amazingly my diabetes medicines stopped in around five months. Cholesterol medicines too were stopped in few days after that.
"Meanwhile, I lost 10 kg of weight after being vegan."
All this could not be possible without the FFD teams' guidance.
Key quotes


"This diet is very helpful to diabetic people"

"Normally we take carbs, but the proportion suggested by FFD is superb"


Key takeaways
Medicine stopped

Cholesterol reversed