Amazing Diabetes Reversal- 2000 km Away!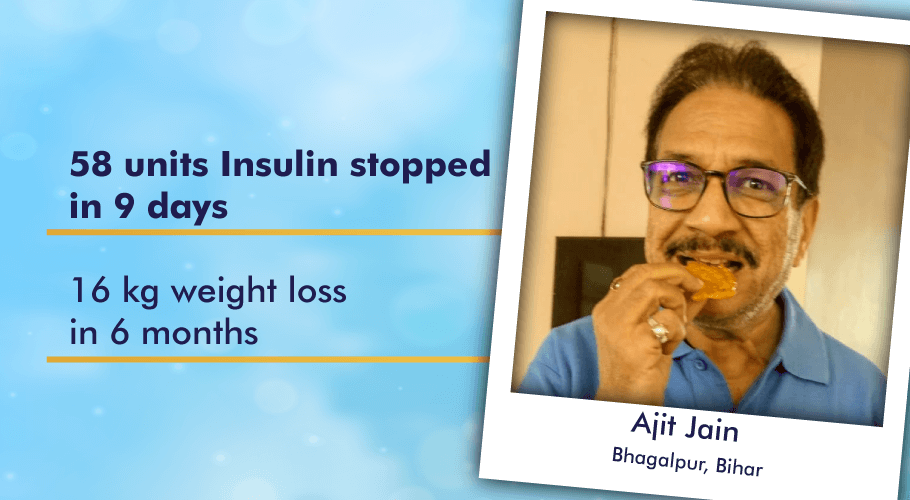 Diabetes Reversal Success Story of Mr. Ajit
Name- Mr. Ajit Jain
Age- 56 years
Profession- Trading Business
Place - Managing Director
I can proudly say "I am Free From Diabetes"
Namaste, myself Mr. Ajit Jain, age 56, from Bhagalpur Bihar. Bhagalpur is also famous as the Panchakalyan Bhumi of Champapur, the 12th Tirthankara of the Jains, Lord Basupujya. I am a Kirana wholesaler and managing director of Hyderabad-based Pvt Ltd Company named Avdaan Spices Brand.
I was detected to have diabetes long before in 2003 and was started on medications. As the days and years passed my sugars started becoming uncontrolled and had to be started on insulin.
The insulin dose rose up to as high as 58 units. I also suffered from other issues like acidity, sleeplessness, tiredness, hypertension, fatty liver grade 1.
All this had made my life miserable. When looking for any hope about my condition, I came to know about "Freedom From Diabetes". Without wasting time, I joined FFD's Diabetes Reversal Program i.e. Holistic Transformation Program 50th Batch.
I must say, this was the best decision of my life. Just within 9 days of joining the HTP program, my 58 units of insulin were stopped. It was unbelievable to me.
I had become so depressed and negative in my life that I never thought something good can ever happen to me. Slowly, my medicines were also reduced. For safety reasons, I was kept on low-power medicines which were a great decision by the FFD's Diabetes specialist doctors.
My deficiencies like Vitamin B12, iron, and vitamin D3 were dealt with wisely. Today, I am on one pill of BP but I believe it will also stop soon.
My weight reduced by about 16 kg to fit my length and my HbA1c which was 9.6 reduced to 5.9 after 6 months. The various processes of Inner Transformation and Soul Mind Body meditation by Pramod Sir helped me to calm down and release tension.
I can confidently say today I have no disease or mental discomfort of any kind. People are scared of the diet plan of FFD, especially about the stoppage of milk products, but wherever there is a will, there is the way.
One should be disturbed by it. My wife was instrumental in getting me to follow the instructions of the FFD diet and I managed to lose a considerable amount of weight due to that.
I want all my friends to know what the magic of FFD's Diabetes reversal Program has done to me so that it will also inspire them.
In today's time, we can say that the great work Diabetes specialist Dr. Pramod Tripathi Sir is doing for the welfare of the people through his FFD is commendable.
He is acting selflessly like an angel sent by God. He has done a great job by reversing diabetes which was thought to be a never-ending disease.
I bow to him and the entire FFD team.