An inspirational story from Aligarh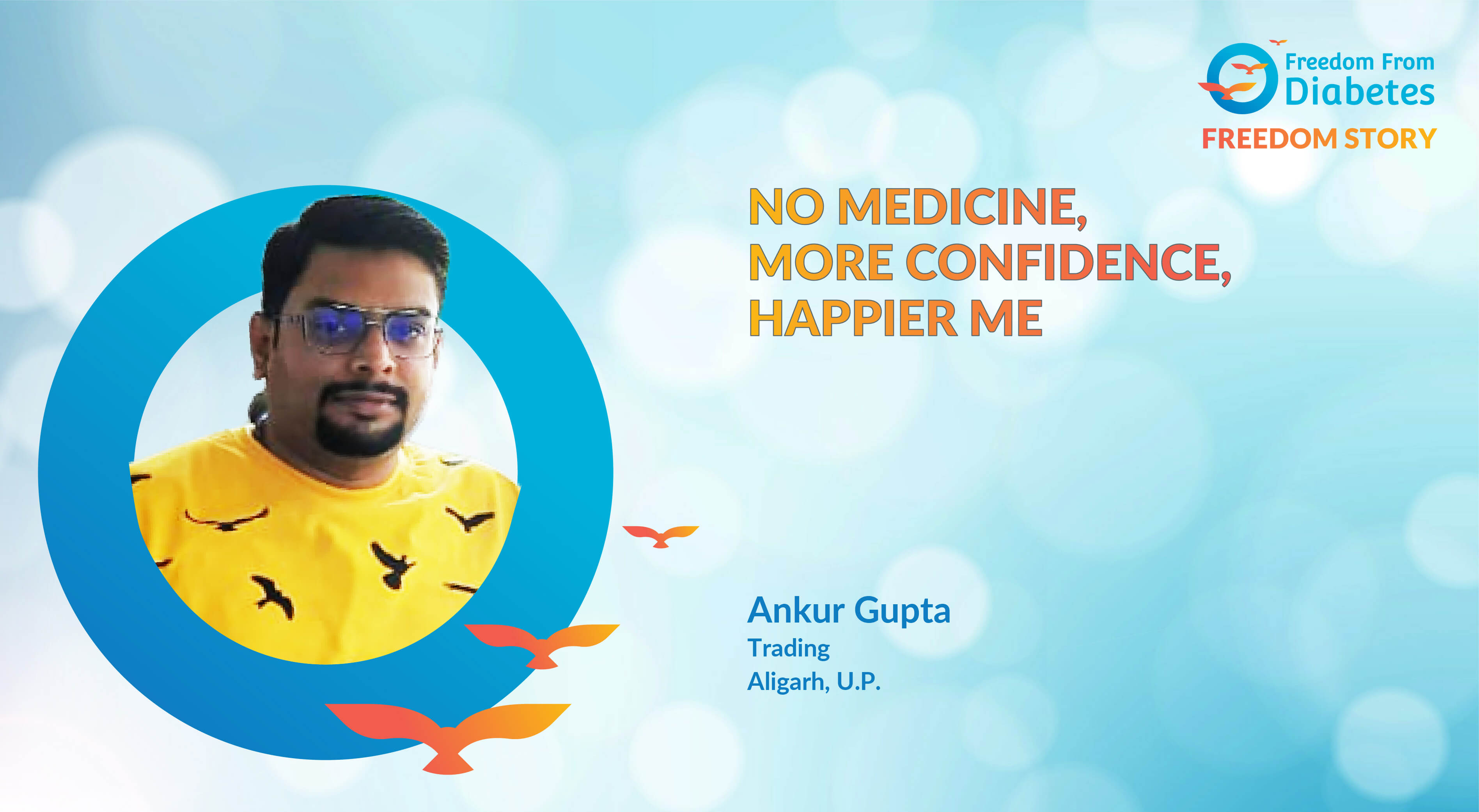 Name- Mr.

Ankur

Gupta

Age- 32 years
Profession- Trading

Place - Aligarh, U.P.
Why did I join FFD?

Responsibilities at an early age, strong family history of diabetes had done the damage. When I came to know that diabetes can be reversed, I immediately joined Freedom from Diabetes.
Introduction

Hi friends
I am Ankur Gupta, a 32 years young, gentleman from Aligarh, U.P. I am an avid investor and learner, a trader by profession who is passionate about CA and CFA. My father was severely diabetic, my mother is a diabetic and my sister (married) is also a diabetic. So there is a strong family history of diabetes in my case.
How did I get diabetes?

I was diagnosed to have diabetes somewhere around January or February 2016. At that time, my HbA1c was approximately 6.5 or 6.6. My father was in the hospital due to symptoms of diabetes like stress, hypertension, night blindness, etc. The doctor said that it was because of stress and depression.
Little about my background

My father had severe diabetes and due to that, we faced lot many financial and personal issues. I had to take on the responsibilities at an early age. All this affected my studies and put me into stress and depression. This was the main reason why I got diabetes at such an early age.
Mr. Ankur Gupta
How I met FFD and my FFD journey

Thankfully, I was never on insulin. Took only tablets to maintain sugar levels. The last 13-15 years of my life were the worst patch of my life. Now, I wanted to settle physically and mentally, in all spheres. I came to know about FFD through YouTube and that was the best thing that happened.
I saw hope in FFD and joined the FFD diabetes reversal program HTP batch 79. All 4 protocols - diet, exercise, inner transformation, and medical are wonderfully blended and executed. Now, I feel what I ate all these years was so wrong.
FFD team is very encouraging and supportive. I was guided very well on diet, exercise, and other aspects. As a result, the medicines that I took for diabetes stopped. I comfortably lost 6-7 kg without starving. I am free from medicine now and don't want to take any medicine again.
How I feel now

I am happy to share that I got married in February 2022. After joining FFD, my confidence level has boosted. I have started believing in realistic & visionary matters, not imaginary. I want to set my basic routine by changing my habits to remain medicine free and healthy all my life. I want to be happy always.
Takeaways
Freedom from medicine
Increase in confidence & positivity
Happier