An inspirational weight loss story...from Ranchi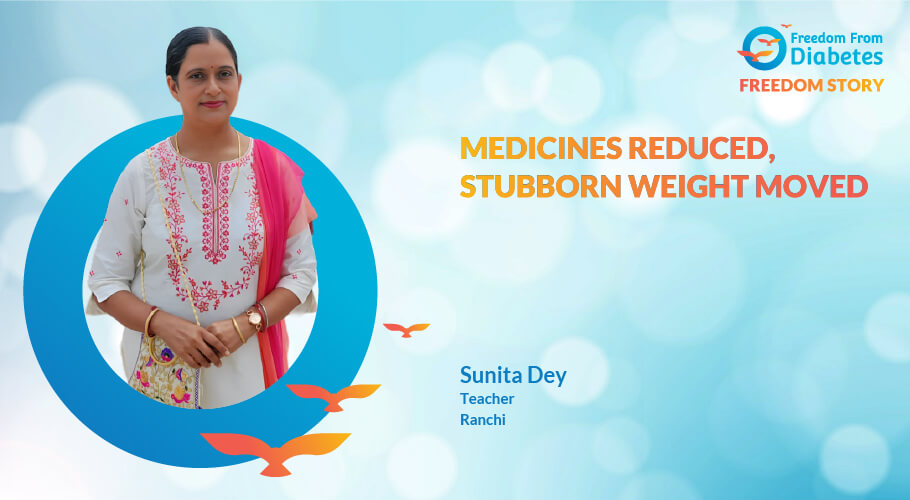 Medicines reduced, stubborn weight moved
Name- Mrs.

Sunita

Dey

Age- 50 Years Young
Profession- Teacher
Place - Ranchi


Hello all,
I'm Sunita Dey a chemistry teacher from Ranchi, Jharkhand.
My diabetes story


It was during my pregnancy that I got to know I had high sugar. My doctor at that time explained to me the matter will resolve after delivery and did not give me any advice on diet and exercise.
I continued with my routine and finally landed up with a very high sugar level of 542 seeing which was immediately put on 40 units of insulin. I did start doing yoga and walking then which benefitted me to some extent. Insulin was stopped.
My obesity story


A smooth sailing life without any major stressors rewarded me with excess weight. I had tried regular walking per the doctor's advice but this did not help me much on the weight front. I also joined an organization where I focused on doing yoga. I did lose 1-2 kg but nothing much.
How did I get to know about FFD?




It was through YouTube that I came to know about FFD. About 12000+ people had become free from diabetes medicines at that time. I felt if these many can do it, I should also try it.
Why did I choose FFD?


I never liked being on medicines. With FFD, I saw a hope of going free of medicines. The introductory webinar by Dr. Pramod Tripathi added to my confidence and I enrolled in Freedom from Diabetes type 2 diabetes reversal program - HTP immediately.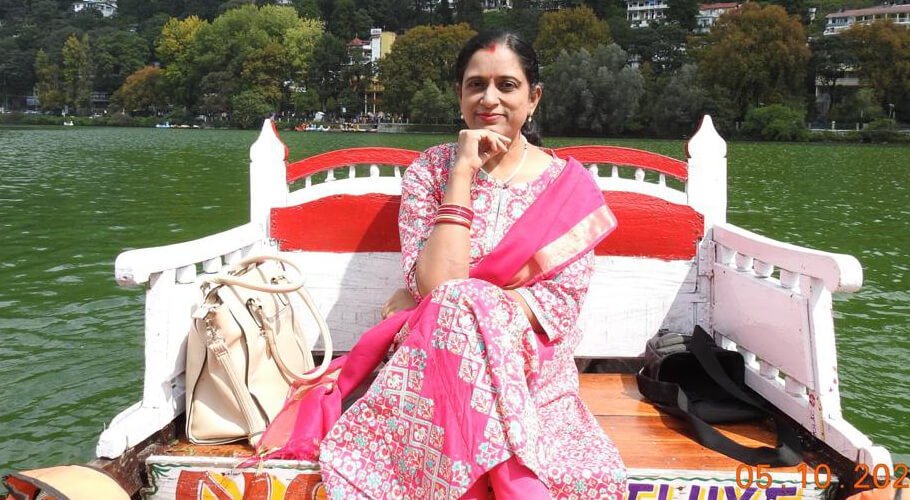 Mrs. Sunita Dey

Diabetes reversal story


My diabetes medicines have reduced remarkably after following the 4 FFD protocols. I am sure I become free from them soon. My HbA1c was never really very high but it is now under 6 which I am really happy about.
My athletic identity is of a Yogi as I love doing yoga. I have already completed 80 Suryanamaskars and planning to do 108 soon.
Unbelievable weight loss story




My weight loss has been remarkable, 12 kg. The real game changer has been the intermittent fasting part designed by FFD.
FFD diabetes reversal diet is superb and only after coming here I realized the importance of diet. My dress size has come down from XL to medium.
I can enter any clothing boutique without hesitation now. I tried losing weight in many ways, but only FFD helped me achieve such big weight loss.


Key quotes


FFD has shown me the path to an active lifestyle.
Key takeaways
Weight loss 12 kg
Medicine reduced