Beyond reversing my diabetes, FFD gave me the techniques to ensure I never suffer from it again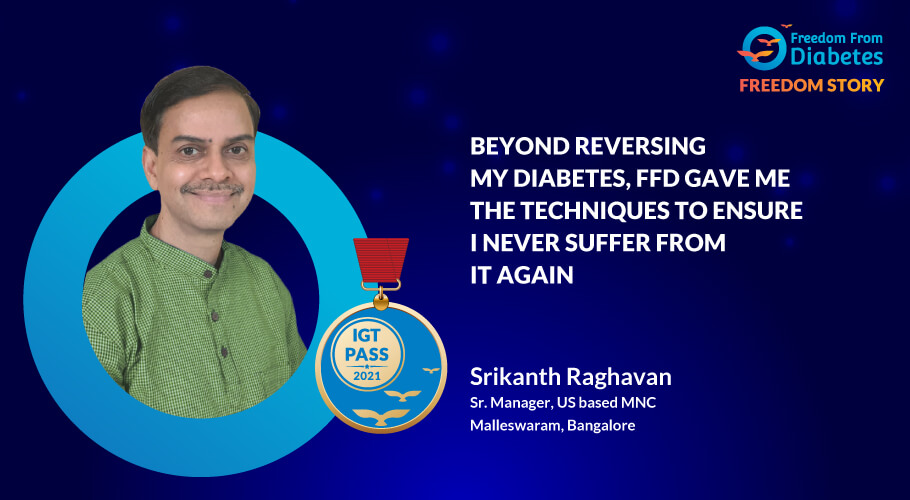 Name- Mr. Srikanth Raghavan
Age- 56 years
Profession- Sr. Manager, US-based MNC
Place - Malleswaram, Bangalore
Diabetes Strikes!


In 2012, I needed minor surgery, but pre-surgery tests showed my blood sugar levels (BSL) were quite high. The doctor postponed the surgery and prescribed oral medicine to get my counts under control. Unfortunately, the high blood sugar persisted. There could be only one diagnosis: diabetes!
My mother was diabetic too, and I have a wicked sweet tooth, so I guess I should have been more aware; but, diabetes, in the initial stages is almost symptomless, as I'm sure many others have discovered to their regret.
Worsening Health


Diabetes brought several health problems: the soles of my feet became inflamed, making it difficult to walk. My eyesight began to deteriorate, and I experienced frozen shoulder too.
My doctor put me on Glycomed GP, an oral medicine, which I needed to taked regularly at breakfast. It was quite a chore to remember, and I longed for the days when I was medicine free.
By chance, I happened to listen to an online talk by the eminent Dr. B.M. Hegde. He spoke very highly about a doctor in Pune who doing some amazing work in reversing diabetes. The doctor's name was Dr. Pramod Tripathi.
Mr. Srikanth Raghavan
On the Freedom Trail


I immediately began researching the net and soon landed on FFD's website, where a new batch was being announced. Without hesitation, I enrolled in the Holistic Transformation Program (Batch 68), in March 2020. It was the best decision of my life.
As it happened the batch I enrolled inset a new record as the largest batch in FFD's history, with a staggering 1000+ participants!
The program is very well structured and facilitated by an amazing team of experts in diet, exercise, stress management, and, of course, medical care. The program comprises four discrete phases, and I saw wonderful results in each of the phases.
During Phase 1 itself, I saw amazing results: I lost 3 kgs (which for low BMI like mine is significant!); my HBA1C came down to an impressive 5.5 and my cholesterol levels dropped significantly too.
This took a great load off my mind, as I no longer felt anxious about the various counts from my tests.
The rest of the phases gave me a well-rounded approach towards tuning my body and mind.
Transformative Living


It was great learning. I wore the hat of a student rather than that of a patient. As a result I now have full confidence in my ability to manage my BSL and other aspects of my health.
By the end of 2021, I was well enough to climb the Glycemic Ladder. This is a process wherein participants add foods of a successively of a higher GI, while their BSL is strictly monitored. I'm happy to say, I encountered no negative results.
With this confidence, I enrolled for and successfully cleared, the intermittent glucose tolerance (IGT) test. My next milestone is to clear the glucose tolerance test (GTT).
Now, I exercise 5 days a week and stick to the diet recommended by the dietician. I no longer worry about diabetes. I know that even if there is a spike in my BSL, I have the proven techniques to restore my body back to good health. It's a great feeling, and it's all thanks to Dr. Pramod Tripathi and FFD.