Can't Believe My 18 units/Day Insulin Got Stopped, Thanks FFD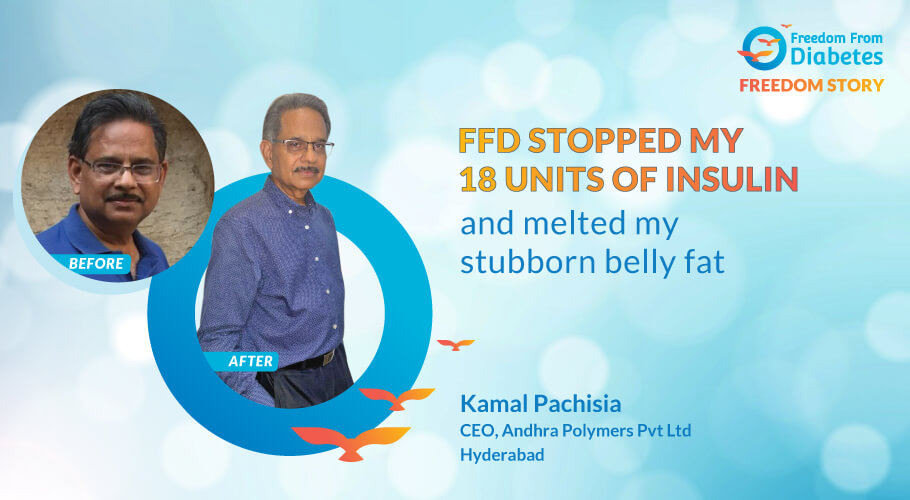 Name- Mr.

Kamal Pachisia

Age- 68 years
Profession- CEO, Andhra Polymers Pvt Ltd
Place -

Hyderabad

, Mumbai
FFD is not just an organization that deals with diabetes reversal but it is much much more. Truly, I learned a lot at FFD.
Myself, Mr. Kamal Pachisia, 68 years old Director in an industrial company named Andhra Polymers Pvt Ltd, Hyderabad. I am the CEO of the company for the last 20 years. Our company is a leading manufacturing company for producing Pipe Seal, Railways' and Submarines' components since 1985.
My scope of work remained to handle Marketing, Finance, Plant Management, expansion, and new projects. Academically, I am a Chartered Accountant enjoying fellowship with the institution of Chartered Accountants of India since 1976.
My diabetes was diagnosed 15 years back in 2004-2005 when I was told to get my tests done as my body reacted by showing symptoms of hypertension and diabetes. I remember that time I was having some anxiety and work pressure issues.
Sugars kept rising and fluctuating over time. My HbA1c spiked to 8.5 from 7 despite the increased doses of medicines. Metformin got changed to Januvia 100, Januvia to Glimepiride ( Amryl M2) and then insulin got added ( 18 points of Lantus ).
I was on 2 types of tablets and 18 units of insulin when I joined FFD.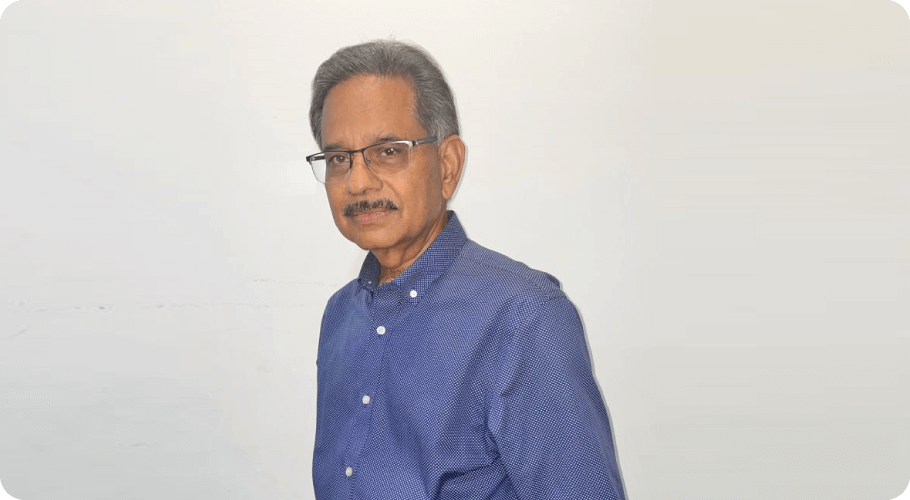 Mr.

Kamal Pachisia 
I have a family history of diabetes. My mother got diabetes at the age of 50 and all my 4 siblings and I inherited it! I did not face any problem until 2018 but developed Neuropathy (pain and sensation in both feet) later.
Inspired by one of our friends Mr. Sudhir Gupta, who has achieved significant benefits from FFD, I decided to join FFD in Dec 2020.
Within a fortnight of joining the FFD's Diabetes Reversal program, my insulin was stopped, and then within 3 months, I had stopped Januvia 100, Glimepiride (Amryl M2). Now, I am on just one medicine, Reclide 40, before dinner. What progress I had made with FFD's help. I got the most unexpected - Freedom From Insulin. Nice.
My BP medicine has been reduced from Telma 40 (daily) to Telma 20 on alternate days. Coming to the most interesting part. I am a regular morning walker for the last 40 years and do yoga intermittently.
Neither did my weight reduce, nor my belly fat. To my pleasant surprise, something much impossible had happened to me. Within 45 days of joining FFD, I noticed MY BELLY FAT HAD MELTED! My weight had reduced from 72 kg to 60 kg ( down from 25 BMI to 21 BMI ).
A 35-inch size waist trouser reduced to 32-inch waist. Now with a flat tummy, I can freely wear chinos and jeans! (jokingly) Besides walking and yoga, I have added strength-building exercises like nitric oxide dump with dumbbells, resistance bands, and push-ups, etc.
These have helped to build and tone my muscles but full results are yet to be seen. Though I am full of energy, my face looks a bit pulled down but I have been assured that it would be okay with increased calories.
Indeed, FFD has taught me a lot. Even though there is a strong family history, there is stress, there is anxiety you can achieve "Diabetes Reversal" and "Good Health" with efforts in the right direction and guidance. Plus, I also learned that it takes real thorough knowledge to melt the most difficult 'Belly fat'.
I am thankful to Dr. Pramod Tripathi, Dr.Malhar, and the FFD team comprising Dr. Sreevani, Dr. Pooja, and Dr. Yogini who are always there to answer my queries, give medical/ diet advice.