Diabetes, BMI and Weight all reversed with FFD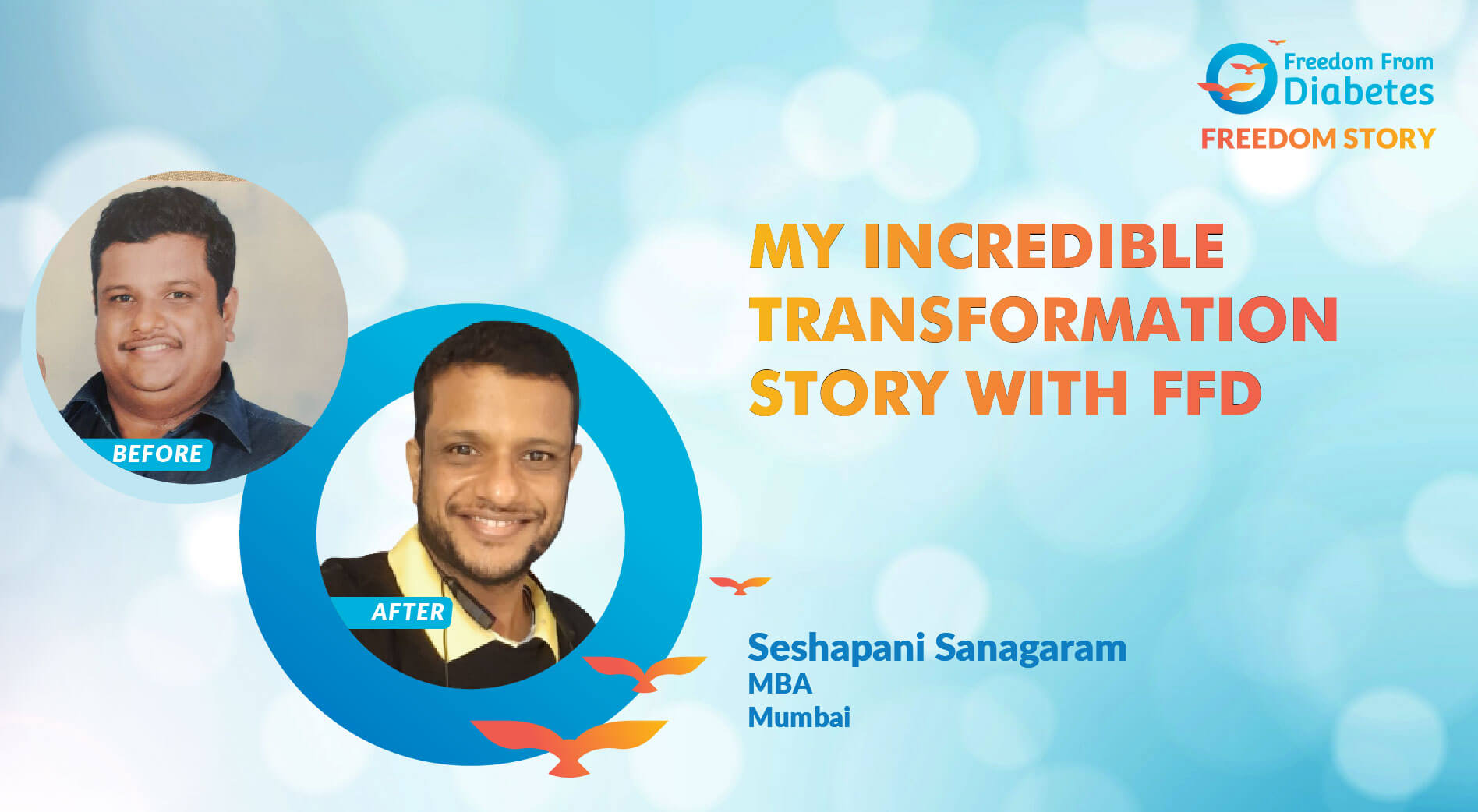 Name- Mr.

Seshapani

Sanagaram

Age- 43 years
Profession- MBA
Place - Mumbai
There is no individual who sees me after a certain duration of time who would resist himself congratulating me on my Transformation...
I am Seshapani Sanagaram, 43 years young, MBA from Mumbai. I work in a managerial position for a private company. Talking about family history, my mother has diabetes.
I remember in 2009, I suffered from rashes which were very irritating. Upon seeing my doctor, he raised suspicion of diabetes and told me to get my tests done. The diagnosis was diabetes.
Getting diabetes at the very age of 28-29 years was quite shocking for me. I was fatigued with heat boils, severe headaches and a lot of health ailments. All this did generate negativity in me.
So I was begun on anti-diabetic medicines. For 12 years, I was also on cholesterol medicine and blood thinners. Weight-wise too, I was on the higher side with a BMI of more than 30.
All-in-all, my quality of life had deteriorated and was taking a toll on me. I wanted to get rid of diabetes and excess weight, anyhow.
Got to know about FFD through my colleague who resides in Pune. He gave me the information that FFD helps people reverse diabetes.
Mr. Seshapani Sanagaram
I attended the orientation program, Discover Reversal Session (DRS) of Dr. Pramod Tripathi in 2020. His way of explanation and his extensive research on diabetes left no doubt for me to enroll in this prestigious program named HTP.
My weight was never under control. My blood sugars too were never under control. I can say FFD Diabetes Reversal Program is a blessing to mankind. The diet protocols, exercise regime, juice feasting, and water fasting are introduced in such systematic intervals that results are bound to come.
To put the long short, I was out of medicines within 3 months of joining my program. It was a great feeling to be free of 13 years of diabetes medicine. My weight loss journey too has been amazing.
From a person who was obese with 30+ BMI, I came down to a very normal BMI level of 21 which is a great achievement I feel. In numbers, my weight came down from 92 kg to 65 kg.
My health saw a great improvement in all spheres. HbA1c came from 10+ to 5.7 range. All I can say is joining FFD is the best decision of my life.
Also, it would be unfair on my part if I don't mention my wife Sindhu who so relentlessly understood the diet regime and allowed no deviation in my food habits. She has been very instrumental in my transformation journey.
God bless Dr. Pramod Tripathi and his entire team for relentlessly serving society.