Diabetes, BP all gone at incredible FFD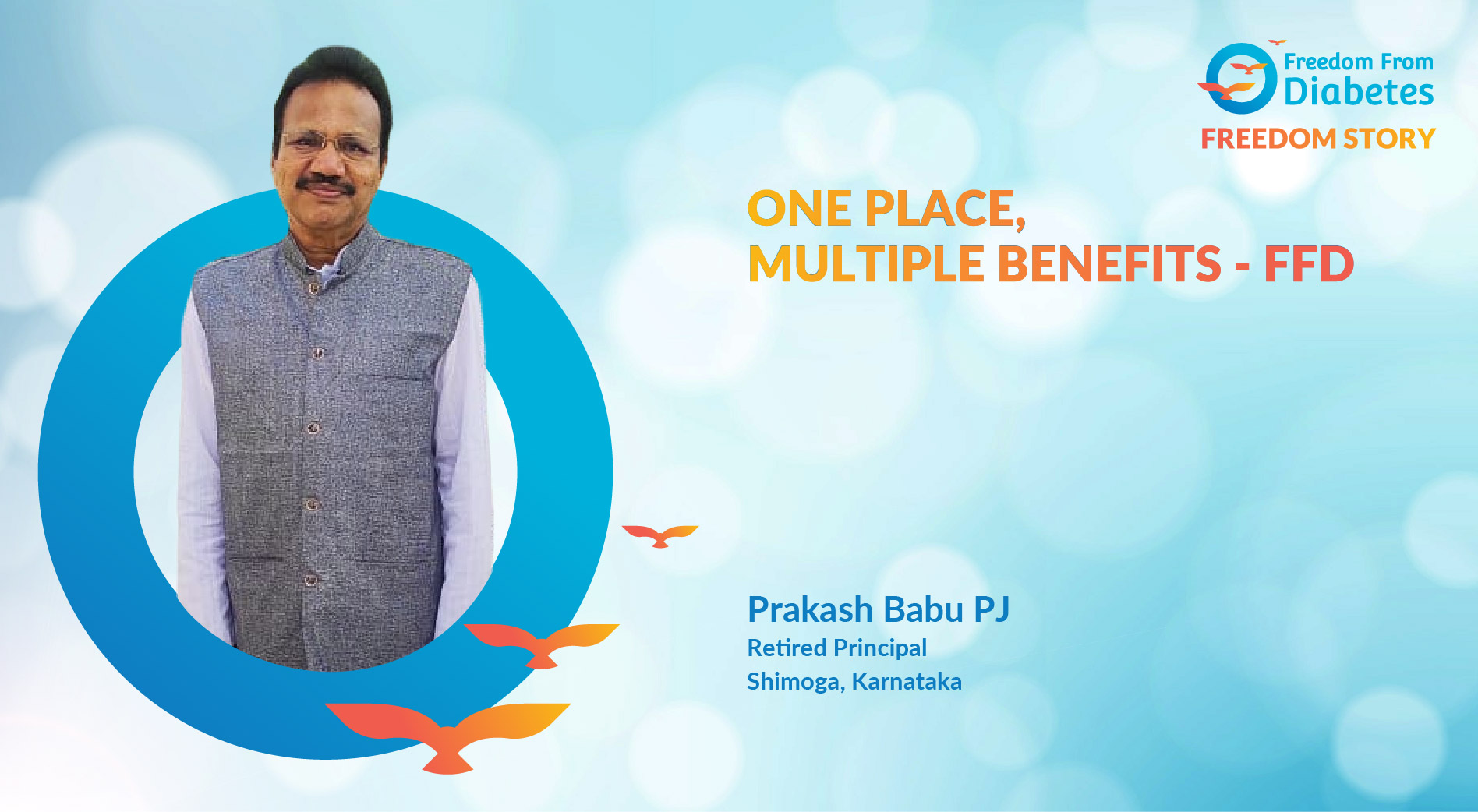 One place, multiple benefits - FFD
Name- Mr.

Prakash

Babu

PJ

Age- 63 years
Profession- Retired Principal

Place -Shimoga, Karnataka
Trigger

I was taking 6 tablets a day for various ailments. Did not wish to take them lifelong if there was a way.
Introduction

Hello All
I am Prakash Babu PJ, a 63-year-old, retired principal from Shimoga, Karnataka. Medical history wise both my parents have diabetes. I worked happily throughout my tenure and never faced any stress personally or professionally.
My diabetes diagnosis

In May 2008, I was very much into my job working as a principal. That time, I started facing a weird feeling of tiredness and heaviness in my head.
Saw my doctor, and got tests done and this is how I came to know about my diabetic status. The news was a bit shocking as my body did not show me any typical signs of diabetes.
Mr. Prakash Babu PJ
Problems I faced

Cholesterol was found in the higher range in 2015. By 2019, was started on medicines for hypertension too. Constant headaches, heaviness in the head, gastric issues, and frequent urination were bothering me too. By the time, I came to FFD, I was on 3 tablets each day for diabetes, 1 for BP, and 2 for gastric issues.
How did I get to know about FFD?

I happened to watch Dr. B. M. Hegde's recorded video on Facebook and this turned out to be a life changer for me.I wanted to get rid of those tablets as I was having a lot of side effects like numbness in my leg and gastric problems due to them.
FFD journey

FFD diabetes reversal program HTP batch 80 was the one for which I enrolled my name for. The program based on 4 protocols of diet, exercise, inner transformation, and medical, excellent FFD experts, FFD app, and mentors, is incredible. You get truly customized treatment here.
All my medicines related to diabetes stopped in just 20 days. HbA1C came down from 6.7 to 5.6. I became free of hypertension medicines too. I lost almost 10 kg in 4 months which seemed like a bonus.
Impression

I am not only free from diabetes but free from gastric issues, headaches, and complications of diabetes. Feeling lighter and energetic. Thank you so much, Dr. Pramod Tripathi and the Freedom from Diabetes team.
Takeaways
Freedom from diabetes medicine
Freedom from hypertension medicine
10 kg weight loss
No headaches, no gastric issues