Diabetes Reversal story of a radiologist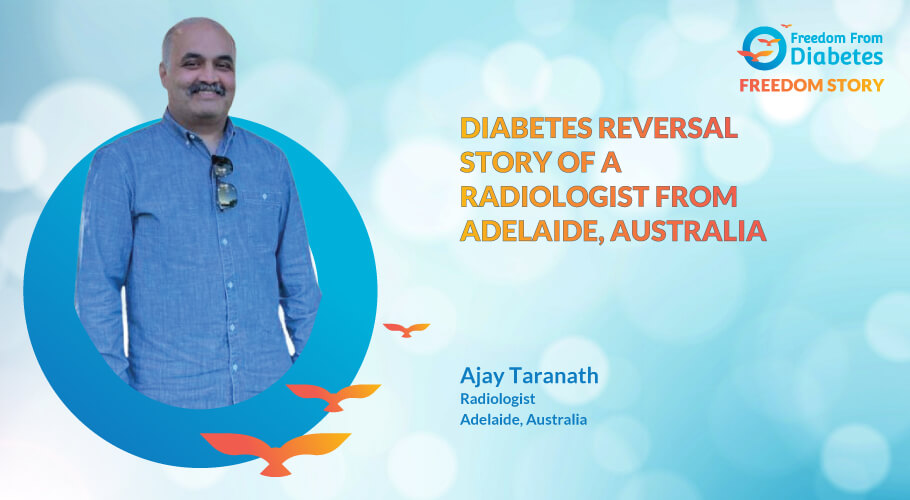 Name- Mr. Ajay Taranath
Age- 51 years
Profession- Radiologist
Place - Adelaide, Australia

As a medical professional, I am aware of the dangers of diabetes, especially as my own maternal uncle fell victim to type 2 diabetes at a young age. As a result, I regularly undergo health checks to monitor for any health issues.
In 2010, one such routine blood test by my GP delivered a diagnosis of diabetes. This may have been triggered by my high BMI and my excess weight might also have kept it going.
As a result of my diabetes, I developed hypothyroidism. Prior to this, I had already been diagnosed with hypertension. All these medical complications had resulted in a menu of medicines as well.
Thankfully, I did not need insulin, but I was on oral medicines for diabetes, hypertension, and a thyroid supplement as well.
I was scouting around for a way to handle my diabetes when my wife's cousin, who had successfully completed the FFD course, introduced me to FFD's reversal program. Seeing the change in my wife's cousin, I was inspired to join FFD too.
I subsequently enrolled in the 78th batch of FFD Reversal Program - HTP (Holistic Transformation Program)...Like everyone's journey, mine too began with accepting that I had to take control of my health and life that began with diet and exercise.
Mr. Ajay Taranath
FFD has evolved very clear diet-fitness-stress management-medical protocols, which are facilitated by experts who provide step-by-step guidance on all aspects of the program.
I found the initial period difficult, with identifying the food groups that could be consumed at breakfast, lunch, and dinner. I had to also plan meals that I could consume for the ensuing week in advance.
The FFD app was very helpful in that it lets me access the recipes and prepare some meals. Some of these I liked instantly, others I grew to like in time.
On the exercise front, I found the movements easy to understand. As a result of the diet and exercise, I lost about 10 kilograms. The exercises also helped ease my backache considerably. Another benefit is that I don't snore as much as I used to.
Gradually, the FFD routine has ceased to be something that I had to remember to do every day. It is now a part of my life.
I am extremely happy with where I am today. Although I successfully lost approximately 10 kgs of weight, it is by no means the end of the road.
I plan to keep going until I reach my target weight. I feel full of energy and ready to face anything the day might bring, and it's all thanks to Dr. Pramod Tripathi and the FFD team.