Diabetes Reversal Success Story of Mrs.Anjuman Mujawar
Name- Mrs. Anjuman Abdulsattar Mujawar
Age- 67 years
Profession- Retired Bank Employee
Place -Pune, India
Dr. Pramod Tripathi rightly says 'Energy follows intention'. I am in great appreciation of Dr. Pramod sir and the FFD team's great and pure intention to change the lifestyle of people, which works not only for diabetics but for everyone.
Myself, Mrs. Anjuman Abdulsattar Mujawar from Pune. On the work front, I worked as a cashier for 18 years and 11 years as a special assistant outside cash in all bank sections in Solapur. I took VRS in 2007.
From what I can recollect, I have always been on medications. Plus, I have multiple allergies like allergy to almond, cashew, rajma, sago, chana dal, green chana, milk products, pineapple, grapes, olive oil, betel leaves, methi seeds, mushroom, ragi, maida, white pumpkin, banana, peach, papaya, tamarind. Am allergic to sulpha drugs as well as many antibiotics also.
The reality about me being a pre-diabetic came out like this. I relocated to Mumbai to be with my son, but I was having trouble adjusting to the new environment, so I became irritable and moody.
My son took me to the doctor for a health checkup in March 2014, and I was diagnosed as a prediabetic. The doctor prescribed Glyciphage 500 1 tablet to me then. I also underwent several surgeries like Angiography and hysterectomy in 2004, ovarian cyst in 2013, cataract in 2012, and hernia in 2014.
Before retirement, I was very active, talkative, and busy, but after retirement and the marriage of my son, I became sedentary and lonely at home as everyone was busy with their work schedules.
I had no specific diabetes symptoms, but low energy, sweating, frequent urination in the night, weight gain, nervousness, crying for minor incidents, feeling lonely, and being of no use as my lifestyle changed dramatically.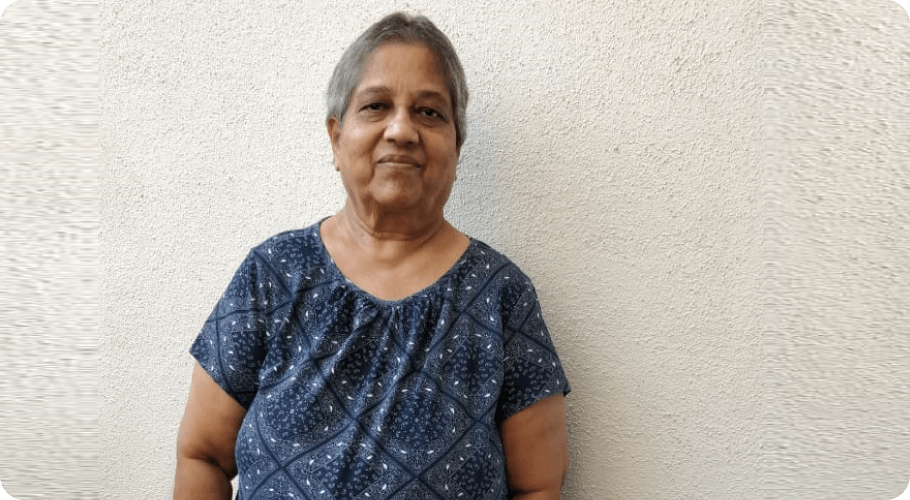 Mrs.Anjuman Abdulsattar Mujawar  
All the above points to the fact that I had many health problems Stress of having a lot of medicines plus physical stress lead me to have diabetes. Interestingly, there is no family history of diabetes.
I saw Dr. Pramod Tripathi's TV interview on Sahyadri Channel where he was giving information about Diabetes Reversal. Then I attended the 25th September Foundation Program. The main reason for joining FFD's Diabetes Reversal Program was to address all of the above health issues, as well as to restore my mental state to where it was before.
Up until 2016, I used no insulin and only Glyciphage 250, which I stopped in TRP 16 on the 25th of December, the second day of TRP 16. Then, in August of this year, my HbA1c rose to 6.4, so Dr. Monica from FFD placed me on one tablet of Reclide, which I ended on during HTP 60 on 15th October 2020, after just 3 months. My weight also reduced from 90 kg to 79 kg making it an 11 kg weight loss.
I am a very cheerful, energetic, flexible, and most adaptable person in my family now. Following FFD protocols to the greatest extent possible in terms of diet. My interactions are smooth as they used to be earlier.
Dr. Pramod sir and the FFD team's pure intention works. I am very grateful to have been associated with them. I would want others also to benefit like me and this thought inspired me to become a Mentor.
I completed TRP batch 16 and have been a part of the FFD family since September 2016. My family, relatives, and friends have also benefitted along with me. I am not only drug-free but also emotionally and mentally transformed which allows me to handle daily problems and routines with ease.
Thank you, Dr. Pramod Tripathi and FFD.