Diabexy Sugar Control Atta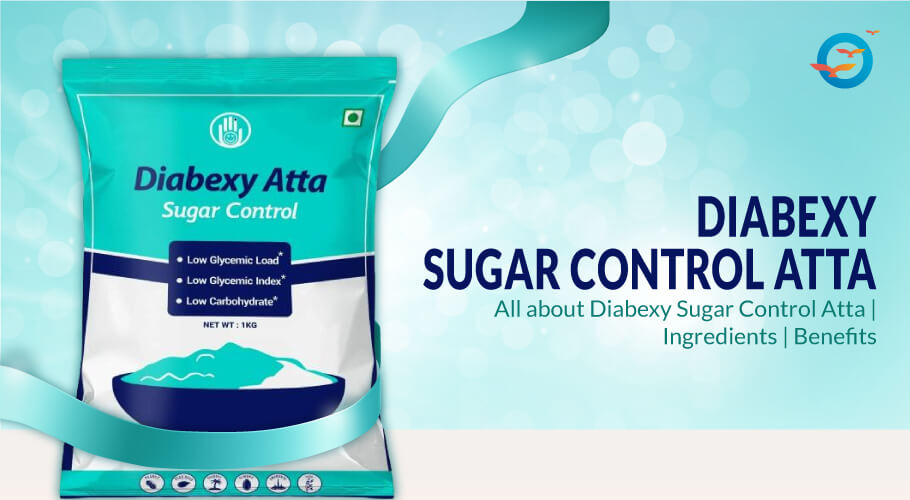 About "Diabexy Atta":

Who doesn't love their rotis? For most Indians—and we're talking of more than a billion people here—rotis, which are made from wheat, are a standard accompaniment to every meal. But though there is much goodness in wheat, it has downsides as well. It can trigger adverse reactions in people allergic to gluten or those with celiac disease.
It is also loaded with carbohydrates and, although it has a Glycemic Index of 54, which is not high, by virtue of its significant carbohydrate content, it has a high Glycemic load, making it unsuitable for diabetics. It is also known to cause digestive problems, including flatulence, bloating, and constipation.
But not all wheat varieties are bad. And the flour we get from these wheat varieties is actually good for diabetics. Wheat varieties such as Khapli, Durum, Bansi, and Spelt among others are known to dampen glucose spikes. Not only are these varieties high in fiber, but they also have a low Glycemic Index (GI), the combination of these two virtues helps slow the rate of glucose absorption into the bloodstream, and improves digestion.
¦ To know more about wheat varieties that are good for diabetics, read our article: Best wheat varieties for diabetics.
But if you find it a hassle to source these varieties, and get it ground, Diabexy has a readymade solution for you: Diabexy Sugar Control Atta
Diabexy, a food product company known to produce food products suitable for diabetics has a popular wheat flour called Diabexy Sugar Control Atta. The atta has a low glycemic load, making it suitable for diabetics to have.
Understanding Glycemic Load

While the Glycemic Index ranks foods according to their rate of absorption into the bloodstream, it doesn't take into account the quantity of carbohydrates in the food. Glycemic Load (GL) on the other hand can tell you how high your blood sugar level (BSL) might increase if you consume a given quantity of that particular food. 1 GL equals 1gram glucose. And 1gram glucose increases BSL by 20 points.
GL of Wheat vs Diabexy Atta
Based on the above formula we can calculate that the glycemic load of wheat flour, which is 50 per 100g, will increase blood sugar by 1000 points.
However, the estimated GLof Diabexy Atta—as per the manufacturer—is just 7, i.e. it will increase BSL by just 140 points. In other words, Diabexy Atta will have 85% less impact on BSL than normal wheat atta.
This product aligns well with Diabexy's stated mission: to help people to live a diabetes-free life.
"Diabexy Atta"
Ingredients
:
Oats
Wheat
Lentils
Peanut
Quinoa
Almond
Coconut
Flax Seed
Amaranth
Soya flour
Wheat bran
Sesame seed
Pumpkin seed
Sunflower seed
Himalayan pink salt
Isolated soya protein
Isolated wheat protein
"Diabexy Atta" Benefits:


High in protein
Low GL—better sugar control
Precautions:
Read the information provided on the label carefully before use
Diabexy atta should be stored in a cool dry place, away from direct sunlight.


Disclaimer
The contents of this article are intended for informative purposes only. We make no claims about the product in any way. Before making any change to your diet or adding any medication, it is recommended that you consult a qualified medical professional.