Dr. C. G. Raghu: Surgeon's story of diabetes reversal with FFD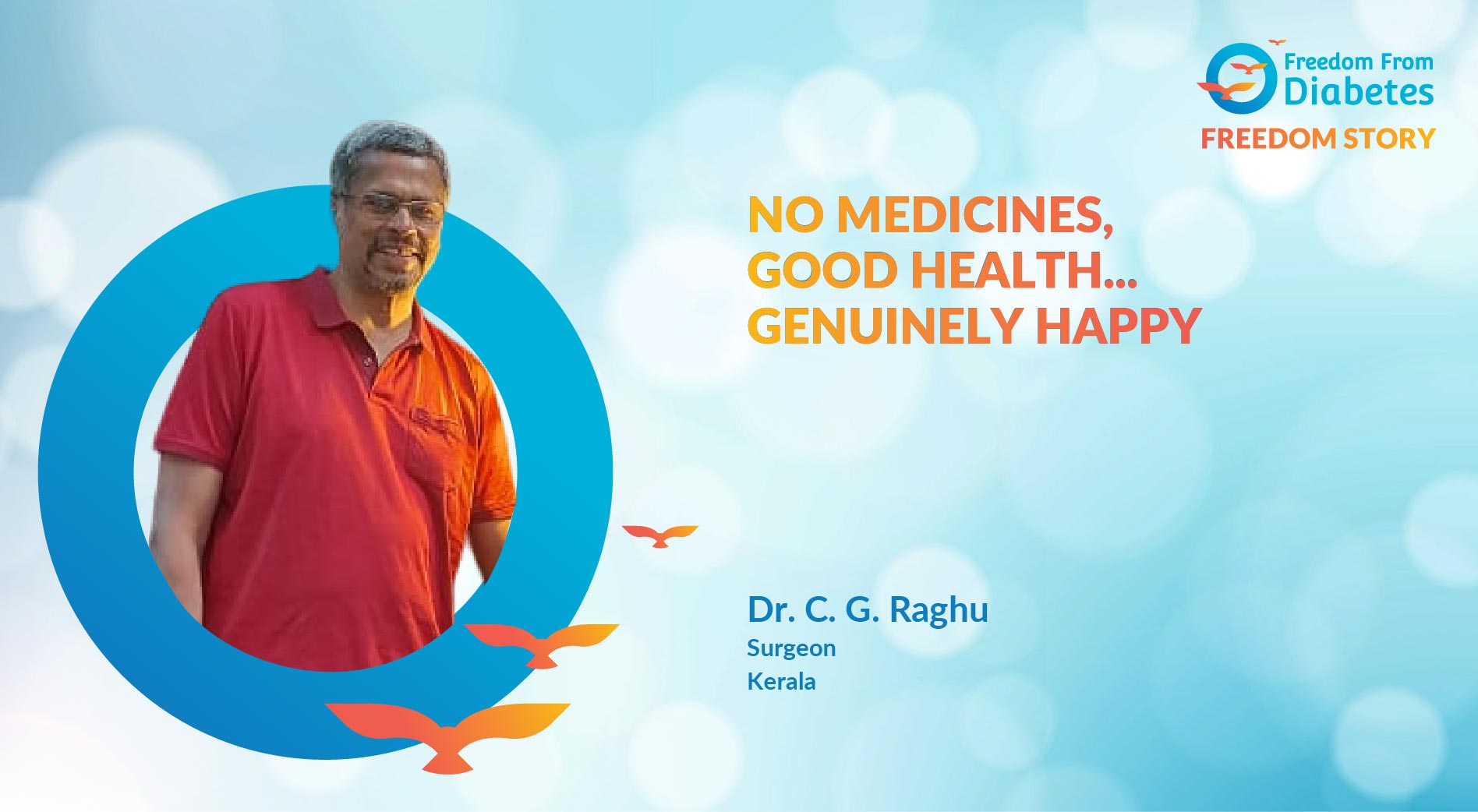 No medicines, good health... genuinely happy
Name-

Dr

. C. G.

Raghu

Age- 65 Years Young
Profession- Surgeon
Place - Kerala
Hello Friends,
I am Dr. C. G. Raghu a surgeon from Kerala.
Why did I join FFD?
FFD's method of Diabetes Reversal was convincing.
Diabetes story

I have a strong medical history of diabetes with my father and mother both having it. So, was expecting it. The sign of eating more than usual was the trigger point for getting my sugar tests done.
Initially, I was suggested to go on diet control, but later on, was put on oral tablets. I was on insulin too for some time which was stopped after doing intermittent fasting. I used to get foot cramps. The major issue though was constantly increasing weight.
How did FFD happen?

I came to know about the concept of Intermittent fasting and was already following Dr. Jason Fung. I saw a popup about FFD while looking for more information and it just changed my life. Watched videos of Dr. Pramod Tripathi, got convinced, and finally joined FFD diabetes reversal program HTP batch 76
Dr. C. G. Raghu
Reversal story

The FFD program has been incredible. The way Dr. Pramod Tripathi has designed the 4 protocols is just amazing. All my medicines stopped within 10 days of joining. My FFD doctor, Dr. Amruta has been a great guide and support for me. She was pretty confident about the stoppage of medicines.
I had already reduced 22 kg through intermittent fasting, so per the FFD doctor, just did not need to reduce any further weight. Rather I was given the advice to gain weight which I did.
When I joined FFD I was at 78 kg, now I am 81 kg. On the exercise front, I regularly do NOD (nitric oxide dump) and situps. I think health-wise, I have improved a lot
Key quotes
"I genuinely feel well now."
Key takeaways
Medicine stopped
Healthy muscle gain
Happy with the FFD team