Enjoying Energetic Life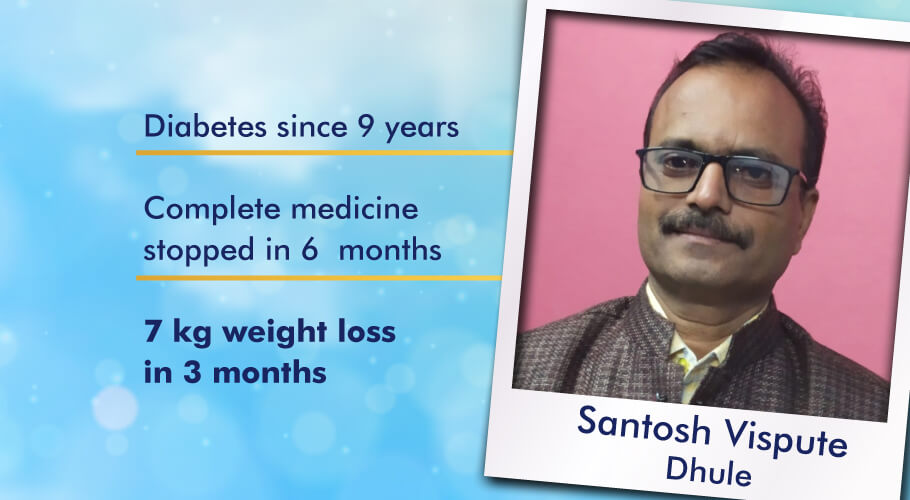 9 Year of Diabetes Reverse in 6 months
Name- Mr. Santosh Vasudev Vispute
Age- 52 years
Profession- Teacher
Place - Dhule
Hello everyone, Myself Mr. Santosh Vasudev Vispute, age 52 years from Dhule. I am a teacher by profession. My diabetes was detected when I had gone for a root canal treatment to a dentist.
My sugar at that time was 284. Then the usual procedure happened, going to M.D. and starting medicines for diabetes.
For a few days, my sugars were controlled on medicines but later on, they started fluctuating due to various reasons like lack of exercise, not following a proper diet, etc.
All this was very disturbing for me and also I realized that I had started feeling more tired and less energetic.
Now, I started searching for different ways to improve my diabetes, and one day while searching on the internet I came to know about "Freedom from Diabetes".
I immediately found out about FFD Nashik doctor Dr. Vaishai Jadhav and attended FFD's Diabetes Reversal Program i.e. Discover Reversal Session of HTP. I got so convinced about the theory that I immediately paid money for HTP and started with my diabetes reversal journey.
I started following the FFD's Diabetes reversal protocols and soon all my medicines started reducing. I also developed a liking for exercise.
I have lost a good amount of 7 kg of weight also. My waist circumference has also been reduced by 2-3 inches. I am feeling very energetic and enthusiastic now.
All my tiredness and lethargy have gone now. I am very happy with my progress.
Thanks to Dr. Vaishali Jadhav and FFD.