Fenugreek Seeds benefits in Diabetes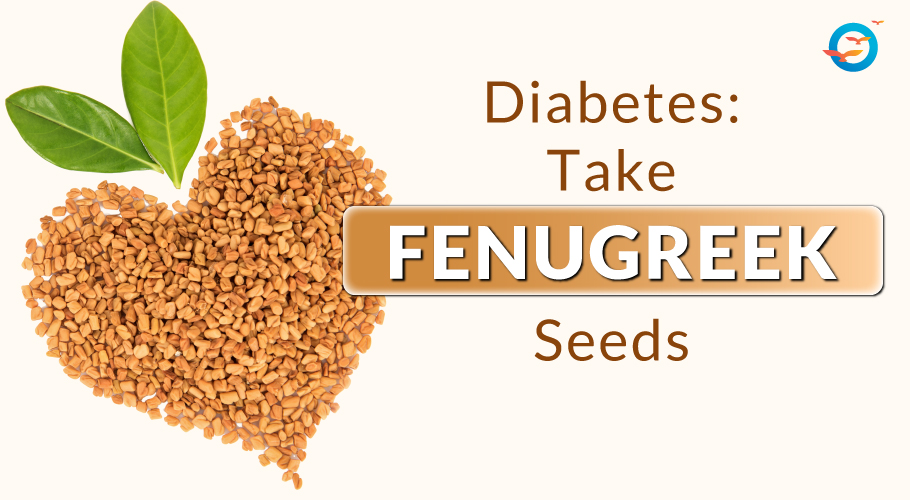 Fenugreek seeds - a boon for Diabetics

The most commonly used food items are grains, vegetables, fruits, animal products. All of us will agree that seeds fall into much neglected and underused categories. But it should not be so... Actually seeds are a "powerhouse" of lots of vitamins, minerals, and antioxidants and should be included in the daily dietary regime.

What is a seed?

The small, hard part of a plant from which a new plant grows is called a seed. Seeds have all the materials required to develop into plants. Due to this quality, they are extremely nutritious.

Fenugreek commonly called Methi is a great leafy vegetable used to prepare delicacies like methi paratha, aloo methi sabzi, and more. But did you know that Fenugreek seeds are very beneficial especially in diabetes:
Let us first know about nutrition facts for 1 teaspoon or 3.7 grams (g) of fenugreek seeds:
Calories: 12
Protein: 0.85g
Total fat: 0.24g
Carbohydrates: 2.16g
Total dietary fiber: 0.9g
Cholesterol: 0 milligrams (mg)
Sodium: 2mg
Calcium: 7mg
Iron: 1.24mg
Magnesium: 7mg
Phosphorus: 11mg
Potassium: 28mg
Zinc: 0.09mg
Vitamin C: 0.1mg
Thiamin: 0.012mg
Riboflavin: 0.014mg
Niacin: 0.061mg
Vitamin B-6: 0.022mg
Folate, DFE: 2 micrograms (µg)
Vitamin A - 2 international units
Fenugreek Seeds -Calories
100 grams of fenugreek seeds provide 323 calories.


Fenugreek seed benefits:
Fenugreek (Trigonella foenum-graecum ) seed is used as a dietary supplement in India.
It is commonly used for diabetes treatment.
Its multiple mechanisms are seen to help diabetes population.
Soluble fiber, trigonelline, diosgenin, saponins, and 4-hydroxy isoleucine are the active components present in fenugreek seeds.
Soluble fibers present in the extract of fenugreek seeds slow down the enzymatic digestion of carbohydrates and also reduce the absorption of glucose, and thus reduce post-prandial glucose levels.
Fenugreek seeds contain amino acid 4-OH Ile which increases the glucose-induced insulin release in humans thereby control blood glucose levels.
In addition, fenugreek stimulates glucose uptake in peripheral tissues and has been shown to have insulinotropic properties.
Fenugreek is easily available as well as a cost-effective product.
The higher dosages of fenugreek seeds show a more hypoglycemic effect. About 10 grams of fenugreek seeds soaked in water (hot) can help in controlling type-2 diabetes.
Recipes in which fenugreek seeds can be used:

One can add fenugreek seeds in Dosa and Idli batter

One can definitely add fenugreek seeds/powder in the preparation of sabji, dal tadka, rice, etc.
Sprouts can be beautifully mixed with fenugreek seeds.
One can prepare appe by adding few fenugreek seeds to it.
A little bit of fenugreek powder can be added to Wheat flour.
Can include fenugreek powder to besan chilla.
Considering the above benefits, diabetics should definitely start consuming fenugreek seeds.
They largely help in slowing down digestion plus help in lowering sugar levels.


Disclaimer:

This Blog solely serves our marketing purposes, for Authentic knowledge for this topic, Please join our upcoming Discover Reversal Session