FFD helped me stop 16 units of insulin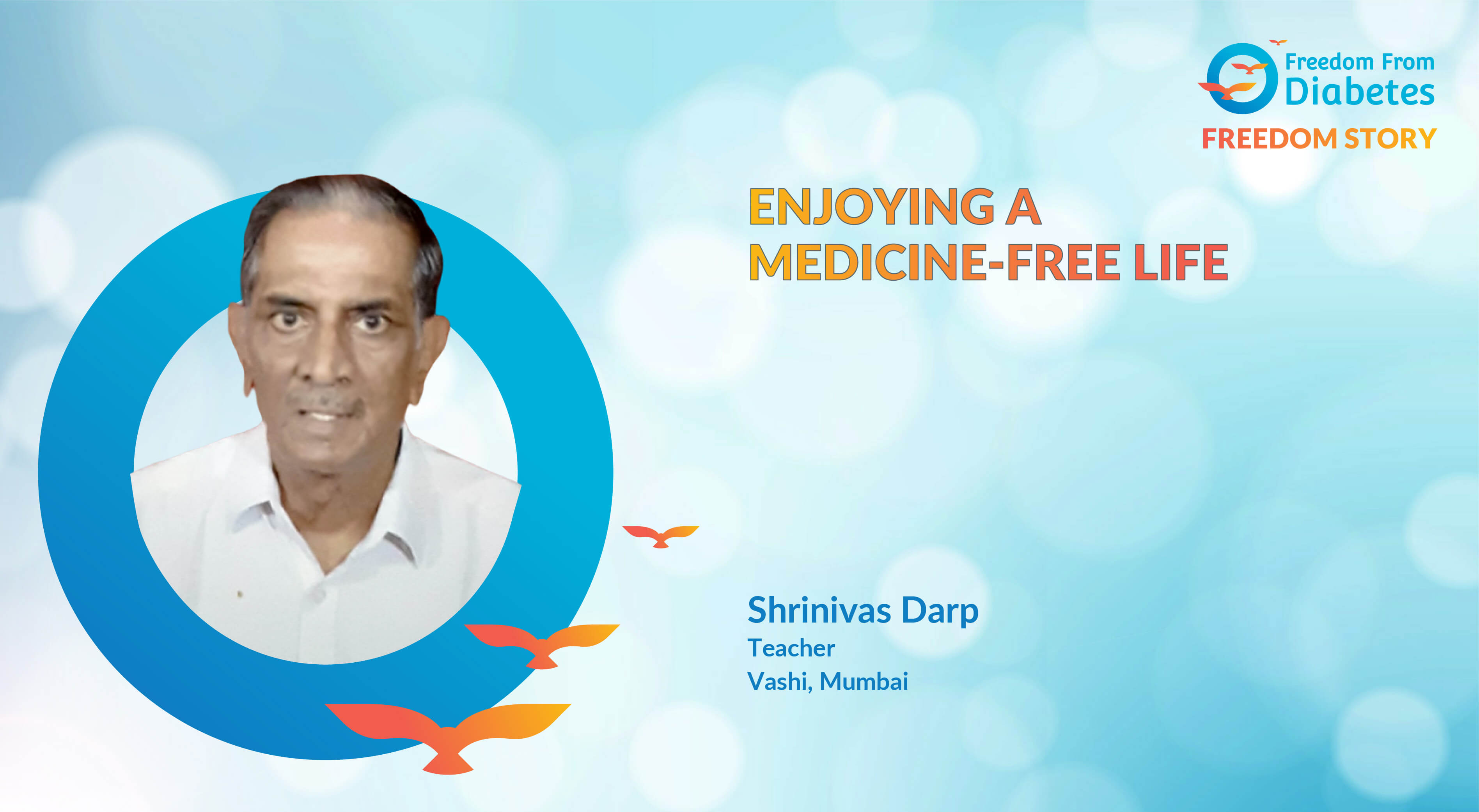 Name- Mr. Shrinivas Darp
Age- 75 years
Profession- Teacher

Place - Vashi, Mumbai
What made me rush to FFD?

Alarming HbA1c of 15 and PP2 reading well above 400.


Introduction


Hello Friends

I am Shrinivas Darp from Vashi, Mumbai. Though a civil engineer by qualification, I am doing social service by teaching mathematics in a school in order to remove the scare of mathematics from the minds of students. Luckily, there is no history of diabetes in my family.

How did I get to know I am a diabetic?

I was very happy teaching mathematics but COVID happened. My school got closed. This was a setback for me. My diabetes was first detected in June 2021 when the HbA1C reading was 12.5. I think the frustration of the closure of school might have turned out to be the precipitating cause.


Mr. Shrinivas Darp
My FFD journey

On 13th January 2022, my HBA1C reading was 15.0 with PP2 reading well above 400. I had read about FFD on the Internet and immediately joined it after watching the introductory session held by Dr. Pramod Tripathi on 20th Jan. My initial units of insulin were 16. On 7th Feb.
The insulin dosage was brought down to 6 units after which the dosage was replaced by medicine. I continued to take medicines till the latter half of February. I am free of medicines since last more than 4 months. My weight has come down from 54 kg to 50 Kg.

My blood sugar levels were daily monitored by Dr. Subodh Deshmukh. Side-by-side, Diet Expert Dr. Devki Desai and Exercise Expert Dr. Supriya Joshi guided me in their respective fields to overcome diabetes. Other parameters of my health are monitored by Dr. Rajesh Wandre.
I express my gratitude to all these four doctors for their contributions to my diabetes reversal. Of course, one cannot forget Dr. Pramod Tripathi, who initiated this campaign and has given immense guidance through various sessions organized by him to cover different aspects of the reversal of diabetes.

Gratitude

I feel contended as the program has not only helped me reverse diabetes but also helped me get rid of my and my children's anxieties and worries. My present health regime is 30 minutes of exercise and pranayama followed by 15 minutes of swimming in the early morning. I also do walking 5-6 km in 6 stretches and staircase exercise up to 150 steps daily. If I, at 75 can achieve so much, you too can.

Takeaway
Freedom from insulin

Good control over anxiety

Improved fitness