FFD Helped Reverse My Diabetes From 1000 Km Away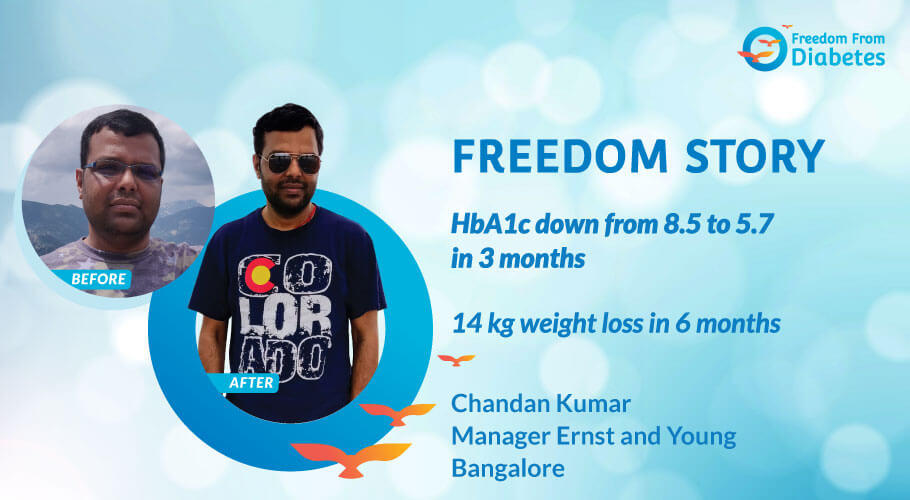 Diabetes Reversal Success Story Of Mr. Chandan
Name- Mr. Chandan Kumar
Profession- Maneger Ernst and Young
Place - Bangalore
3 years ago, on my doctor's advice, I got all my tests done. To my shock, my fasting sugar was 300 mg/dl. I was a Diabetic. At 32! My doctor straightaway put me on diabetes medication to control my blood glucose. But I didn't want to just control my diabetes. I wanted to be free from it.
When I heard about "Freedom from Diabetes" (FFD), I wasn't too sure of participating, since it was an online diabetes reversal program and I was based in Bangalore, around 1000 km away from their center. But when I attended the Discover Reversal Session of their Holistic Transformation Program (HTP), it was like a lightbulb went on in my head.
I knew this was my road to freedom. I was most impressed with Diabetes specialist Dr. Pramod Tripathi's depth of knowledge, his visible commitment to helping patients reverse their diabetes, and the tremendous results he had already achieved.
I immediately joined the FFD's Diabetes Reversal Program i.e. Holistic Transformation Program (HTP) and just as immediately began experiencing reversal signs. My numbers started going down as did my medication.
The FFD app was invaluable. It's easy to use and kept me connected with the team assigned to my case. They adjusted medication—invariably downwards—prescribed exercise routines and dietary guidelines almost on a daily basis.
Within 3 weeks my diabetes medicines were totally stopped. In 3 months, my HbA1c which was 8.5 came down to a normal range of 5.7—that too without medicine. And, to my delight, I went from an XXXL 92 kg to a svelte 78 kg.
It took just 6 months and happened almost without any special effort. My family still can't believe the transformation and the speed with which it happened. But the results are here for everyone to see.
Thank you, FFD for helping me get my life back.