FFD Not Only Helped Me Beat Diabetes. But Chronic Migraine Too!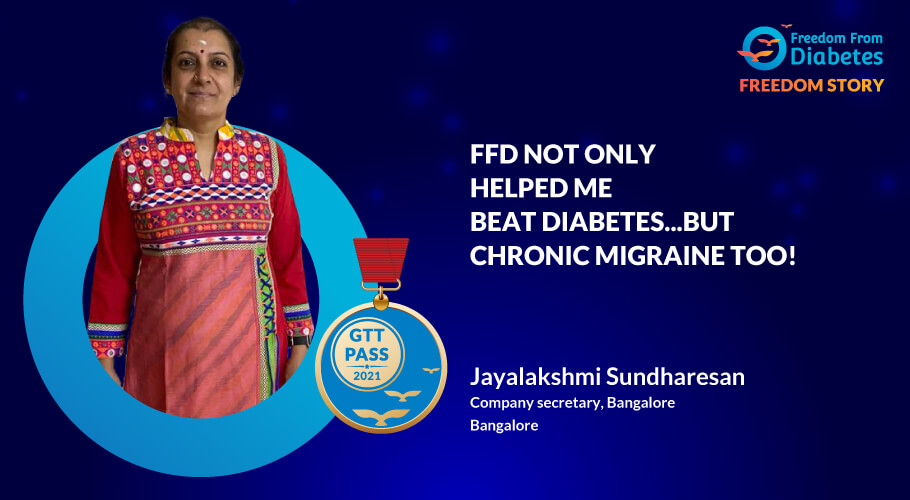 Name- Mrs.

Jayalakshmi

Sundharesan

Age- 49 years
Profession- Company secretary
Place - Bangalore, India
Diabetes attacks silently, the symptoms are often so subtle as to be missed until it is too late. So it was with me. I was gaining weight and slowly other problems began cropping up—aches and pains, severe migraines and very heavy menses.
Migraines have been plaguing me since the age of 10; for many years I was taking migration medicine. But after a while the medicines gave no relief.
in 2019, my BP started increasing along with my migraine. I was prescribed a medicine which was for BP as well as migraine. Frustrated and worried at the thought of being on medicines all my life, I decided that I had to somehow get free of all my medicines.
A ray of hope

In 2019, I came across FFD on Facebook and was very impressed with Dr. Pramod Tripathi's speech and the confidence with which he spoke of reversal. I attended the Discover Reversal Session in October 2019. It was an eye-opener.
Everyone—diabetic or not—should attend this session. It was informative and full of useful tips. For the first time, I felt hope. That very month, I enrolled in FFD's Diabetes Reversal Program (HTP Batch 51)
My journey

of reversal

Barely 15 days after starting the program, the doctor stopped all my diabetes-related medicines. A few days later my BP medicines were also stopped.
The cherry topping was that as my course progressed my migraine problem also started resolving itself. I am now free from chronic migraines too.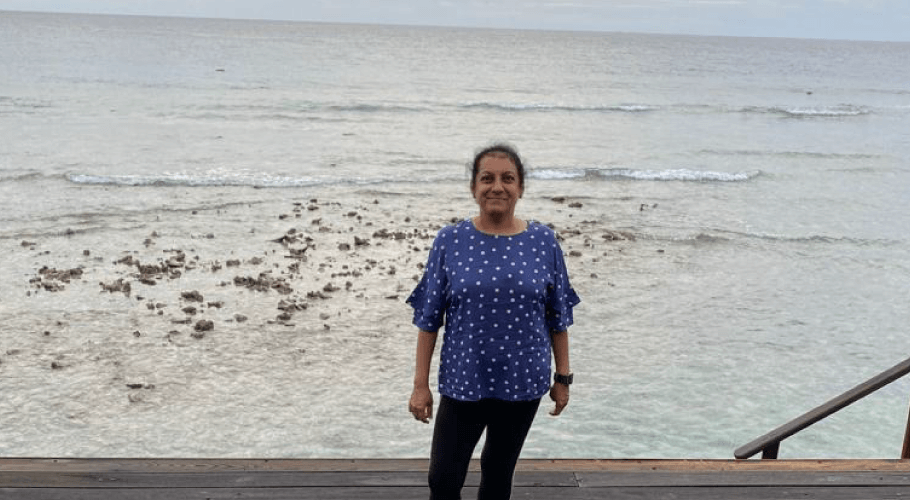 Mrs. Jayalakshmi Sundharesan
On Losing Weight

HTP is great for weight loss as well, and I soon lost 5 kg. But then I hit a plateau. I was a good 80 kg when I had begun and was aiming to lose at least 20 kg. 5kg was just not enough.
FFD's team of experts came to my rescue. They made changes in my diet and exercise and I was back on track. By June, I had lost 20 kg—my target weight loss number.
I was off medicines, free from migraine, and at my desired weight. But there was one more goal to achieve—GTT.
On Clearing GTT

The Glucose Tolerance Test is the litmus test for diabetes. After consuming 15 teaspoons of sugar in a single setting, BSL readings are taken at hourly intervals. Passing GTT meant being diabetes-free!
Along with me, several other FFD-ians would be participating in the test. FFD was very supportive and we were given personalized tips. With my sister's encouragement, I took the test and cleared it. I was overjoyed.
For me, FFD is almost divine in their guidance and support, and knowledge. I surrendered to the program and decided to do whatever is told. My faith totally paid off.
I loved the program, and the team is wonderful—always willing and able to help. And, you can do the program at home, which is a great blessing in these difficult times.
Thank you, FFD for changing my life.