Freedom from insulin, excess weight and more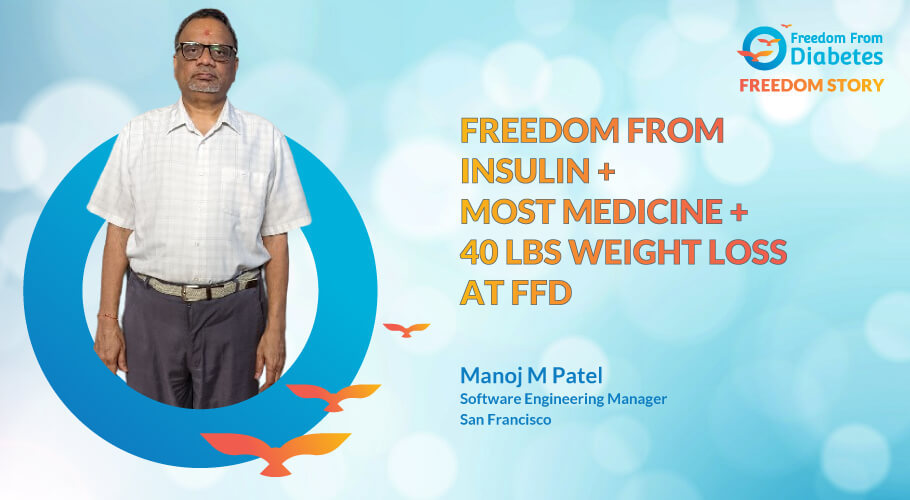 Name- Mr.

Manoj

M

Patel

Age- 54 years
Profession- Software Engineering Manager
Place - San Francisco
The FFD program is a good informative and scientific program! I am Manoj M. Patel, a 54 years young Software Engineering Manager at Google from the San Francisco Bay area.

My father had diabetes and I had witnessed his suffering. In 1995, I suffered from an infection, got it treated but in no vain. The infection was just not healing.
I had never ever faced such a situation before so I went to see my doctor for it. The tests done according to his suggestion revealed I had diabetes.

So my fear was right. I had got it much much earlier, at an age of 28-29 years. This was not a piece of good news. Diabetes is a progressive disease if unattended or untreated. It gets worse day by day and medicines do not help much.
I tried exercise, ayurvedic medicine, lost some weight that came back, and changed some parts of my food but nothing was working consistently in the long term. As a result, I gained weight and suffered from complications like sleep apnea, mild diabetic retinopathy, etc.

I joined FFD with 10 units of insulin which were started just a few days before with Metformin, Farxiga, and Repaglinide.
Mr. Manoj M Patel
Got to know about FFD from a friend's brother in Mumbai who participated and lost weight through the program. His transformation was amazing and inspired me to look for more information about FFD and join it.

The online session by Dr. Pramod Tripathi was just superb. It gave us a clear idea about how the Diabetes Reversal will actually happen. I soon joined HTP batch 77.

FFD diet people went out of the way and spoke to my wife to clear a few doubts in relation to diet. Simply great, very few do this dedicated kind of work.

Dr. Tripathi's knowledge is incredible. He was the one who found out that cholesterol medicine overdose was the reason behind my sleeplessness and advised me accordingly.

When I informed the FFD team about my tour to New Jersey for Akshardham Mandir construction community work, they took a pro-active call and gave me appropriate diet and exercise instructions during that time.

My adherence to the program was 100% and so the results were great too. I do not need to take insulin anymore. One point one needs to understand very clearly is diabetes does not go overnight. The degree of reversal depends on how deep your disease is and the degree of reversal varies from person to person.

My sleep apnea has reduced to a considerable level now. I am happy to share that I have shed 40 lbs of weight mainly in the stomach area which is great.

I am on a positive path to Good Health. Thank you, FFD