Gaurav Kushwaha: 8 years medicines stopped in 2 months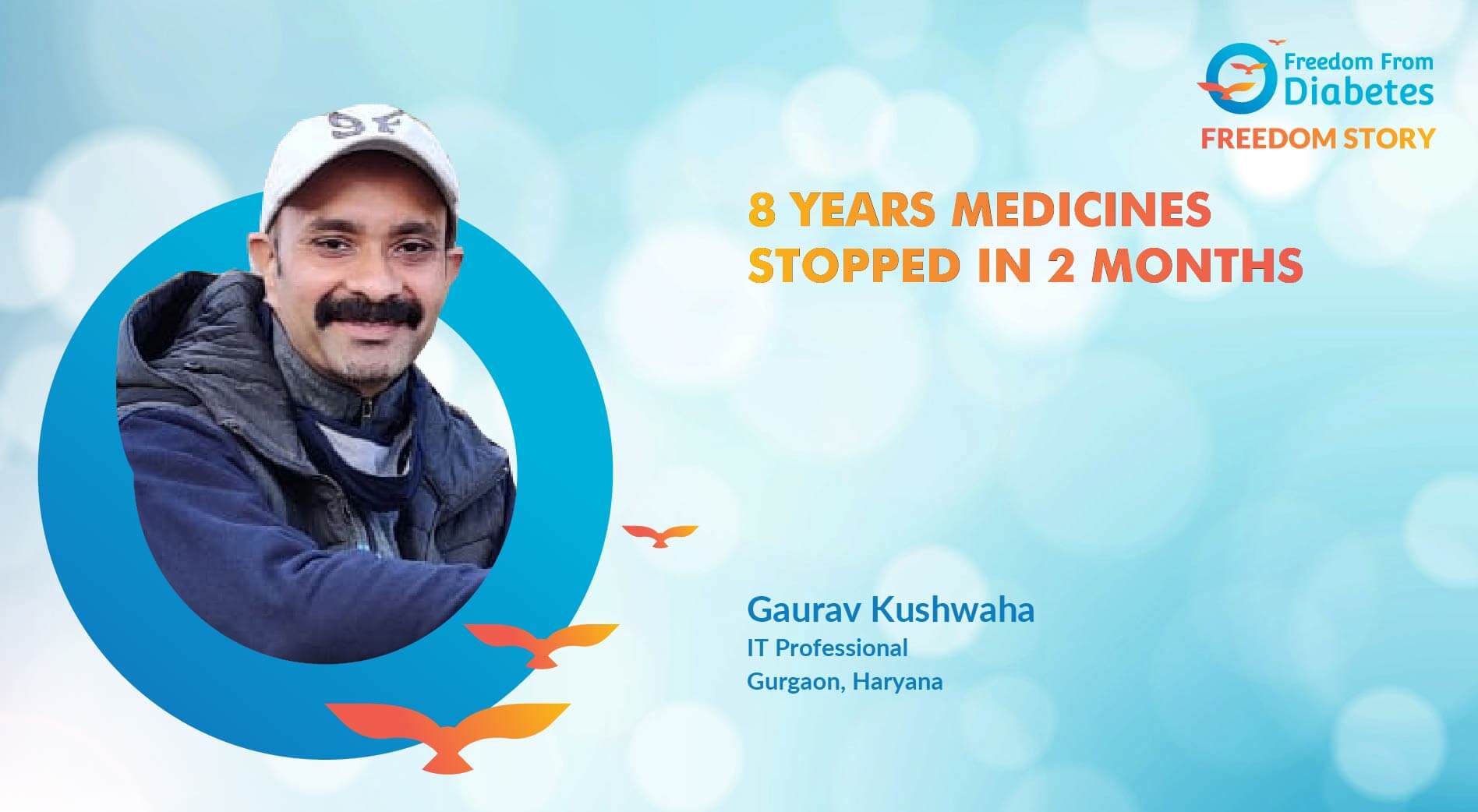 Name- Mr. Gaurav Kushwaha
Age- 43 years
Profession- IT Professional
Place - Gurgaon, Haryana
Things start getting difficult if you look at them as a burden. But if you start enjoying it, the process becomes pretty smooth and you get positive results. The same happened to me. FFD showed me the right path and I enjoyed following it.
I am Gaurav Kushwaha, 43 years young, IT professional from Gurgaon, Haryana. We all very well know, what it takes to work in IT. Family history-wise, would like to share that both my parents are diabetic.
I came to know about my diabetic status in a random medical check-up done in 2013. I was very young, 35 years of age then My sugar levels were quite high. So my doctor immediately put me on medicines to control sugars.
With diabetes, I also suffered from acidity and sleep issues. In 2019, my thyroid levels were found to be low, and was started on medicines for hypothyroid too.I was on medicines for almost 8 years till I came to FFD. I never used to feel energetic, had pain in my legs.
COVID came and it shook my life too. After COVID lockdown, when all of us were locked inside our houses with zero movements, things changed. I could get my routine test done only after 1 year on January 2021 and was shocked that I had not only gained a few kilograms of weight but my H1BAC in spite of taking medicine was 8.7.
Mr.Gaurav Kushwaha
Clearly, something had to be done. Then, I remembered a session that I attended in Gurgaon a few years back and searched for the process and registered for the introduction class of Dr. Pramod Tripathi of FFD.
By attending the class, I decided to go for the one-year program i.e Holistic Transformation Program. The initial one month of the program was tricky as I was not sure that it was actually possible but when I reached the second month I could see my weight going down and most importantly my sugar levels getting under control with changes in lifestyle.
I had the issue of high fasting sugars actually which I later came to know is known as Dawn's phenomenon. FFD doctor suggested I have apple cider vinegar in the night and this problem was sorted. FFD people have a really deep level of knowledge. Amazing!
I started enjoying and the rest is history. My diabetes medicines stopped in 2 months of joining the FFD program. BMI went down by 2.3 points in 3 months which is a great thing. I am a truly different person now.
I follow tennis, running, and gym with yoga 15 min each day.
Thank you, FFD for guiding me during this journey!