Got truly customized treatment at FFD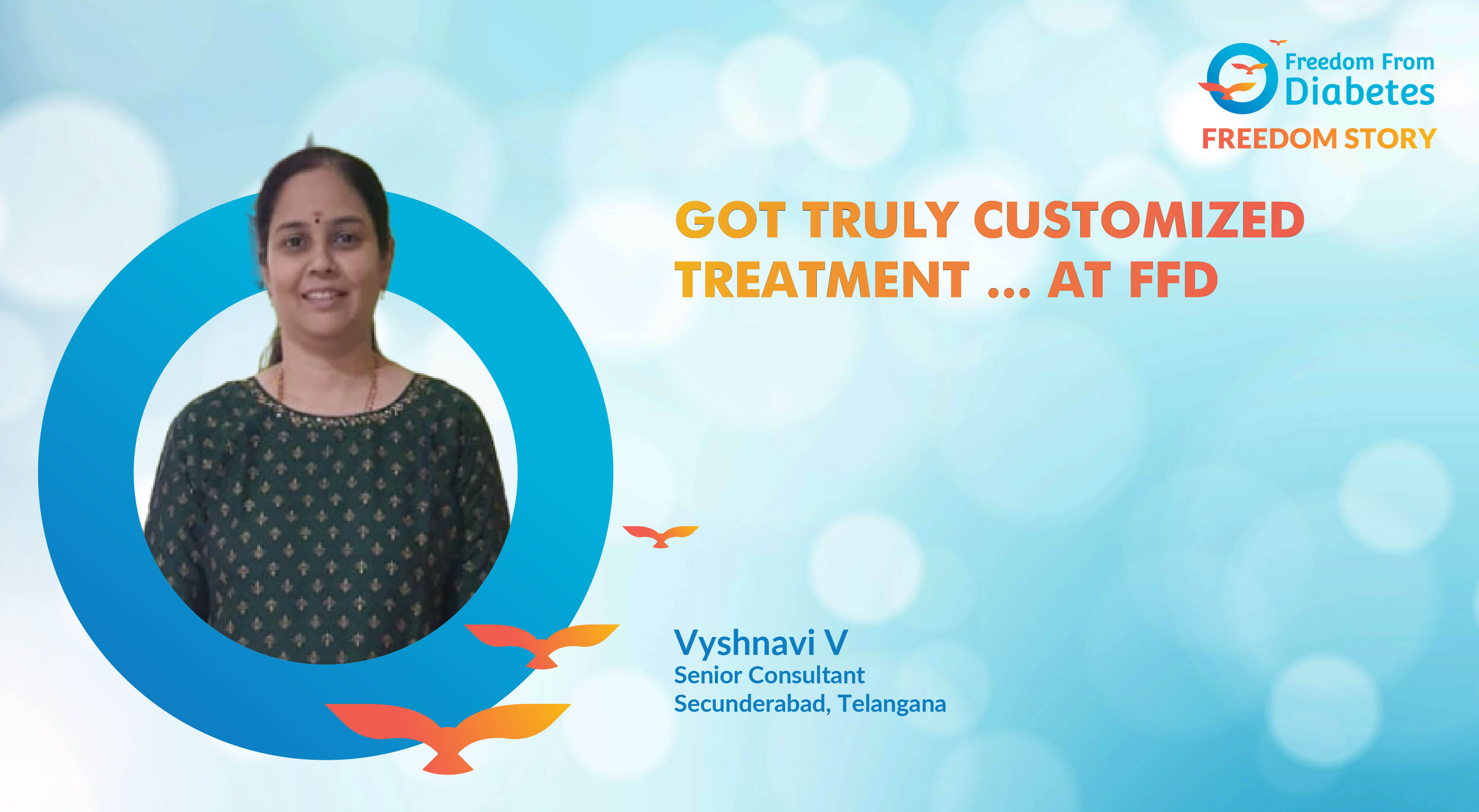 Name- Mrs.

Vyshnavi

V

Age- 42 years
Profession- Senior Consultant

Place - Secunderabad, Telangana

It is very rare to get more than your expectations. FFD proved me wrong. I am Vyshnavi V, a 42 years young, senior consultant from Secunderabad, Telangana. I do have a family history of diabetes from both sides, maternal and paternal so I was pretty aware that I might get it someday. But I never thought it would be like this...

COVID time was a tough time for me too. Luckily, I did not face any issues in the first wave but the second wave did not spare me. I suffered from COVID in the second wave.
As I was recovering from it, which was June 2021, I started experiencing weakness, hormonal imbalance, headaches, and started putting on weight. Went to a physiotherapist for shoulder pain. The doctor asked me to check for diabetes as I had frozen shoulders on both sides. Then came to know that HbA1c is 7.4.

I mainly suffered from weakness, frequent urination, hunger pangs, acidity, tiredness, anxiety, weight gain, back pain, joint pain, hair loss, and frozen shoulder.

I did not want to go on medicines so opted for Ayurvedic treatment. As I was searching for a good solution, I came across a video of Dr. Pramod Tripathi talking about how to reverse diabetes. It was very encouraging news for me.

Came to know that there is an online introductory session known as DRS which is conducted by Dr. Pramod Tripathi himself.
Mrs. Vyshnavi V
This session with Dr. Tripathi was very impressive. I learned about the causes of diabetes and its reversal process. Without a doubt, I joined the FFD Diabetes Reversal Program - HTP batch 78 with the aim of getting over post-COVID weakness, weight reduction, and good control of HbA1c.

The 4 FFD protocols are truly the pillars of good health. I faced a few issues in the beginning but later on did adjust to the diet and exercise protocol very well.
The FFD team does a commendable job. They give customized treatment in a real sense. As my BMI was more than 25 I was given instructions according to it. As a result, I lost 8 kg in phase 1 itself.

I am happy that I have lost almost 19.5 kg of weight. Headaches have disappeared, and HbA1C after 3 months is 6. My sugars are under good control.
I have been very lucky as I have never been required to take medicines for diabetes. All the credit goes to FFD. I really got more than what I expected.

Thank you, Dr. Pramod Tripathi and FFD.