Hitendra Badrakiya: 7 Tablets Stopped in just 5 Months and Regained Health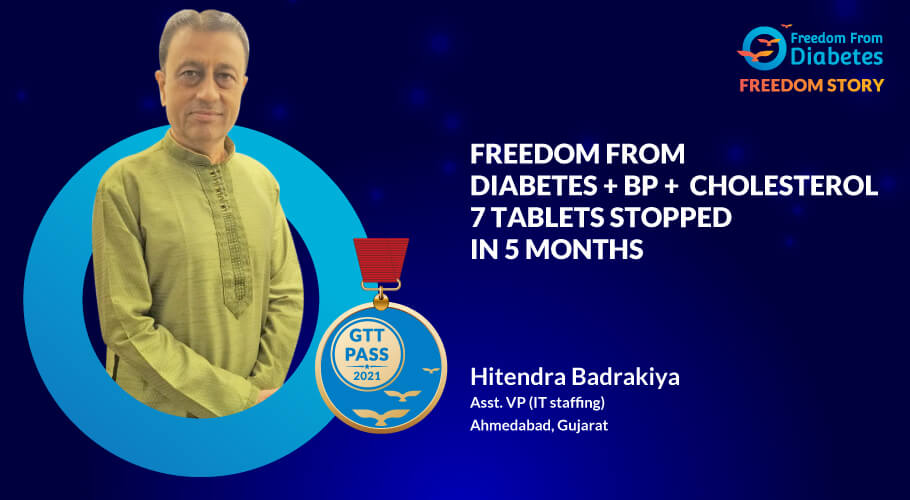 Name- Mr. Hitendra Badrakiya
Age- 51 years
Profession- Asst. VP (IT staffing)
Place - Ahmedabad, Gujarat
The strategy and structure of the FFD program are very scientific and realistic. And this is the reason why I could successfully reverse my 13 years of diabetes plus the co-morbidities like BP and cholesterol.
My Diabetes Story
It was a normal day in September 2008, when I was descending steps in my apartment for office. I felt dizzy and blanked out for a couple of seconds. Luckily, I caught the support and prevented a fall.
Having been doing a complete nightshift job from 7 p.m. to 5 a.m. for 4 years, I felt, had taken a bearing on my health. Body check-up revealed high sugars and borderline cholesterol. I was immediately put on medications for diabetes & cholesterol and blood thinners too.
Diabetes mellitus came to me as a surprise as none of my parents had any history. Over time, diabetes medicines gradually increased in number and power. Eventually, my blood pressure continued to elevate and BP medicines started. My life changed completely. Every time I traveled, I had to carry sugars with me to take care of hypo.
Whenever my meals were delayed due to office meetings or for any reason, sugars used to drop affecting my concentration on work. My doctor always reminded me to reduce weight in every visit, but it won't budge. I did Yoga, cycling, swimming but my weight did not reduce. It continued to hover between 81-82 kg.
Fear factor
Last year, when the pandemic started, reports started coming in that people with diabetes & hypertension were more vulnerable and the virus affected them more.
I had both, coupled with allergic rhinitis, which was a deadly combination. I started remaining stressed and excessively cautious, which made things worse.
Every day, I was taking 1 tablet for diabetes, 3 for hypertension, 1 for cholesterol, 1 for blood thinner, and 1 for allergy. I started pushing myself to do something about taking 7 tablets every day.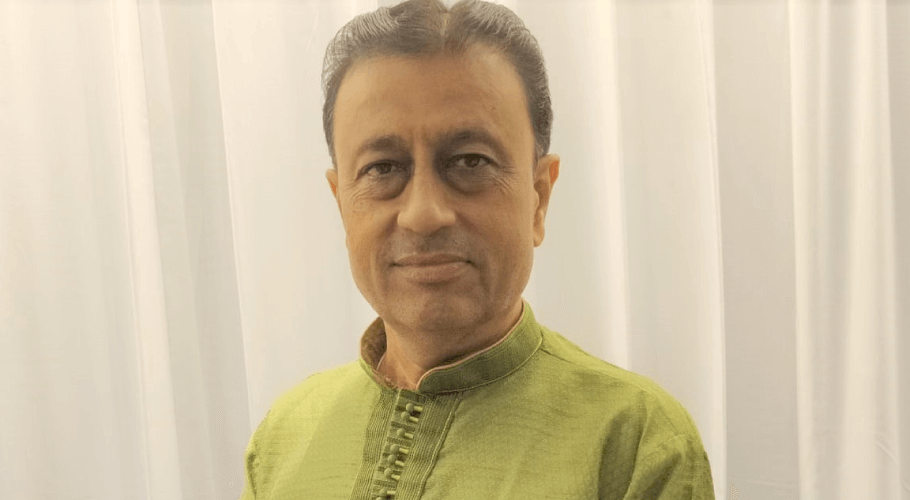 Mr.Hitendra Badrakiya
Encounter with Freedom from Diabetes
My allergy doctor, who also is a family friend, informed me about Dr. Tripathi and how one of his acquaintances had benefitted. I Goggled and learned about FFD and found it interesting.
I enrolled for the Discover Reversal Session and found the explanation, strategy, and structure of the program very scientific and realistic. I made up my mind to enroll and started my program in November 2020. In hindsight, this happened to be the best decision I took.
My Freedom from Diabetes journey
I started seeing visible changes right from the first week itself. Sugar medicines started reducing from the third week and eventually stopped in December.
Hypertension and Cholesterol medicines took a little more time to go and were stopped by March 2021 - I guess partly it was due to stress related to the second wave of the pandemic.
Being in IT field, work-from-home came to me as a blessing which enabled me to follow the Diet & Exercise protocol diligently.In Phase 4, the Athletic Identity phase, I increased exercise.
My weight reduced by about 17 kg from the peak. My stamina increased and my body started coming in shape. In Phase 1, I could barely do 12 Suryanaskaras.
Today, I am able to do 108 Suryanamaskaras every Sunday, completed 27 times till now. I intend to continue doing it every Sunday. My current exercise regime includes 3 days of strength exercises, 2 days of Yoga, and 1 day of cycling (30 km) every week.
I continue following FFD diet protocol and occasional binges. I enjoy sweets too, in moderation though.Now, I am medicine free and passing GTT was the icing on the cake!
Gratitude
I sincerely thank Dr. Manisha Shah, Dr. Niyati Patel, Dietician Pooja Shah, Exercise Expert Revathi, and Inner Transformation Expert Sandhya Joseph Robin all from the FFD team for their support, guidance, and, of course, scolding, when required, in this journey.
I want to convey my sincere gratitude to my wife and daughter for their support in this journey. They gave up on Pizzas, Sandwiches, and Aloo Parathas for the entire year, so that I don't deviate from FFD protocol.
Now, I feel more energetic, more confident and calmer, and more composed.
Thank you, FFD.