How I went from XXL to Small Size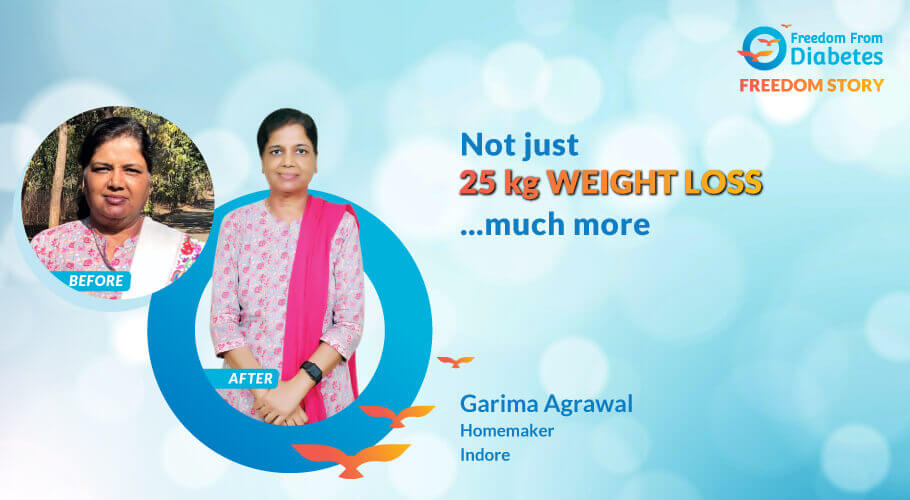 Name- Mrs.Garima Agrawal
Age- 52 years
Profession- Homemaker
Place - Indore
"Diabetes" word was not new to me. I very well knew how dreadful diabetes was. My mother was a diabetic patient. She suffered from diabetes for 25 years. My elder sister is also diabetic since the last 10 years.
In November 2020, I fell ill for a month. During this period, I had undergone various tests and came to know about a high hbA1c level of 7.6.
My blood pressure and cholesterol were also not behaving properly. I was also having health issues like sleep disorder, depression, hypertension including obesity for 2 years prior to this.
With medicines for diabetes, I was also started with medicines for high cholesterol and BP.
One thing I knew for sure I have to come out of it. My diabetes was just recently diagnosed and I had hopes that something definitely can be done.
My extensive research finally had paid off. I got to watch a video about FFD on YouTube and that moment became a life changer for me.
I was pleasantly surprised to know about the online first session of Dr. Pramod Tripathi and attended the same in December 2020. it was around a 2-hour live session where I got to know many things about diabetes and its reversal.
I had never heard anything like this and was completely blown by this information. The next thing that I did was, immediately enrolled in Intensive reversal Program batch 65.
IRP 65 started on 12th December 2020. Little did I know that I would get such amazing results in a short span. My diabetic medicine stopped in just 5 days of joining FFD. My cholesterol and blood pressure medicines also stopped in a couple of days.
All this was like a dream come true.
By following all 4 Diabetes reversal protocols, I had started noticing a reduction in my weight. I lost around 18 kg in the first 3 months and the total weight of 25 kg in 6 months.
I have lost more than 25 kg weight since I have joined FFD. My Kurti size has been reduced to small from XXL and I am very happy to have got all my wardrobe changed with a new set of clothes.
My energy level is great and I feel very young nowadays. Positive compliments from friends and relatives about my weight loss are overwhelming.
I feel lucky that I found FFD at the right time. I was really very depressed when I got diagnosed with diabetes as I have seen the suffering my mother went through last 25 years of her life.
I am really very thankful to Dr. Pramod Tripathi and the entire FFD team for giving me a healthy and happy life.