I Am in Top Gear Mentally and Physically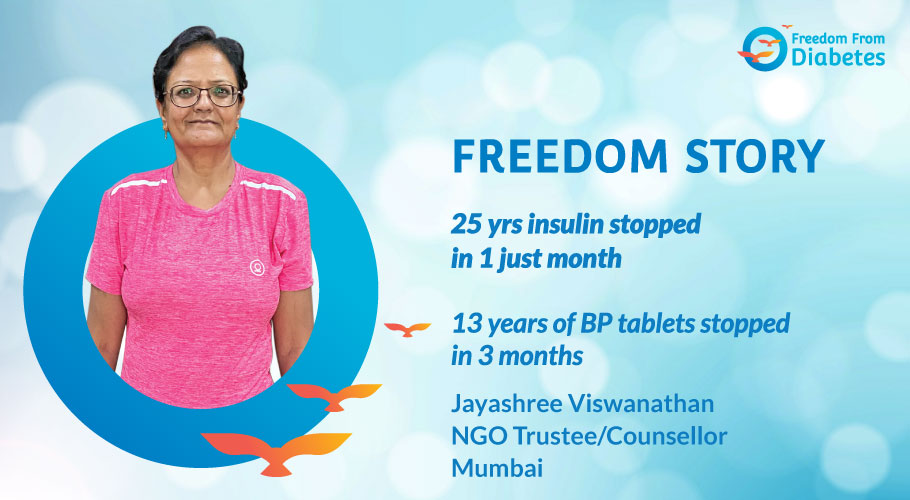 Mrs. Jayashree stop 25 years of Insulin in Just 1 month
Name- Mrs. Jayashree Vishwanathan
Age- 56 yr
Profession- NGO Trustee / Counsellor
Place - Mumbai
Hello! Myself Jayashree Viswanathan, 56 years old, from Mumbai, a trustee of an NGO and also work voluntarily as a counselor there. I have a very long history of diabetes of 30 years, which was diagnosed during my pregnancy in the year 1990. For a few years, that is, 4-5 years I was on diabetes medicines.
Later, my sugars could not be controlled on medicines and I had to be put on insulin. I also suffered from problems of high cholesterol, hypertension, hypothyroid, sensory neuropathy, retinopathy, frozen shoulder. Life with medicines, insulin and several other problems accompanying it had pushed me to a very negative side.
Searching for some hope, I came across "Freedom from Diabetes" on FACEBOOK. Came to know from there about the Mega event happening in Mumbai and attended it. The session very well covered the causes of diabetes and how and in which way diabetes reversal happens.
Convinced, I enrolled myself in the Diabetes Reversal Program i.e. Holistic Transformation Program Batch 56 and my reversal journey started! I started following the 4 Diabetes Reversal protocols diligently and within 1 month itself, I was told to stop my 25 years of insulin!
The BP medicines that I was taking since 2007 also stopped in around 3 months. My weight which was 82.7 kg has reduced down to 67 kg now.. 15.7 kg weight loss.
WOW!
Yoga and cardio workout is now an addiction. I do pranayama and meditation at least 3 times a week. I have realized that if I continue to work with the FFD way lifestyle for the rest of my life, I will never get back to insulin. I am still on one tablet but that is for safety. One day I will get out of that also.
Friends, I realized STRESS also played a big role in my case! But now I know how to manage my stress. Sugar levels are mostly in the normal range, but even if they go higher I do not stress anymore!!!! I am now healthy in body and mind. The journey from being an insulin-dependent diabetic to a now INSULIN FREE person is something which I am still not able to believe.
Million thanks to Diabetes specialist Dr. Pramod Tripathi, the whole team of doctors, experts, mentors. They are all so good.
As a parting thought, I would like to say "Friends, freedom can be achieved by each of us, in our own way and pace but follow the protocol. Never give up."
Thanks To,
FFD